A 'Cog' In The Ducks Machine
Andrew Cogliano has been a catalyst for Anaheim so far in the 2014 Stanley Cup playoffs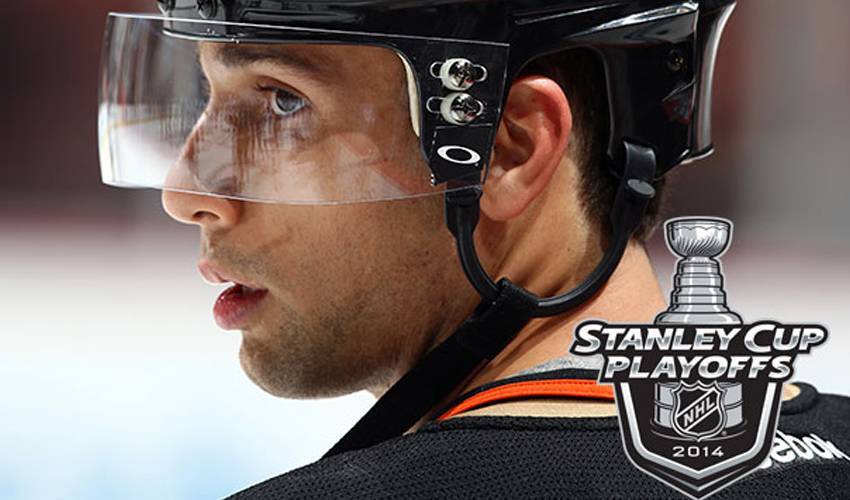 Andrew Cogliano might have been a little late on the scene after the red light went on, but the Anaheim forward, who helped engineer a series-clinching tally, had plenty of people waiting for him to arrive.
After fighting back from a two-goal deficit in the third period of their Game 6 Western quarterfinal in Dallas, Anaheim had a chance to punch their ticket to the conference semis with a win in overtime.
Cue Cogliano.
The 26-year-old winger, puck on his stick, weaved his way along the boards in the Stars end, found Nick Bonino in the slot, delivered a perfect pass, and then watched as his linemate snapped home the winning goal.
"I thought 'Bones' did a great job getting open," recalled Cogliano. "I was able to get him the puck and he took a perfect shot. You never want to get to a Game 7, anything can happen, and you never want to go to deep in overtime because anything can happen, too."
As his teammates celebrated along the boards, Cogliano leapt into the proceedings.
"When I got there, I was just looking for any place to jump," he said. "It was a great feeling, a great way to end the series."
And although he wasn't the one who netted the winner, it was obvious Cogliano's teammates were appreciative of his major role in the victory.
"Before I could get to Nick, a few guys grabbed me first," he remembered. "You appreciate that. I think everyone was just so happy that we won the game."
When Anaheim took to the ice for their West semifinal series against Los Angeles, it represented the first time Cogliano skated in the second round of the playoffs in his NHL career.
The Toronto native, who set an NHL record by scoring overtime goals in three consecutive games (in March of 2008), would jump at the chance to contribute another series-capping assist.
But, Cogliano knows meaningful contributions aren't always about seeing your name and number on the scoresheet.
"My style of play is about creating energy, working to be part of a momentum-changing line," he said. "It's about forechecking well, doing whatever it takes to give our team the best chance to win. I want to maintain a strong work ethic. It's what I expect from myself."
Cogliano admits it was nice to head into round two off an emotionally charged victory.
"To get past a good team like Dallas, a tough team to play against, winning on the road, after being down two goals, is important as you move forward," noted Cogliano, who has six points in 11 playoff games this year. "Hopefully, we can build off that."
The Ducks can close out the series with a win on Wednesday night in Los Angeles.