Old friends, old rivalries and a new way to win each night
Old friends and old rivalries - Dallas Stars teammates Andrew Cogliano, Corey Perry and Joe Pavelski are also undeniably old school.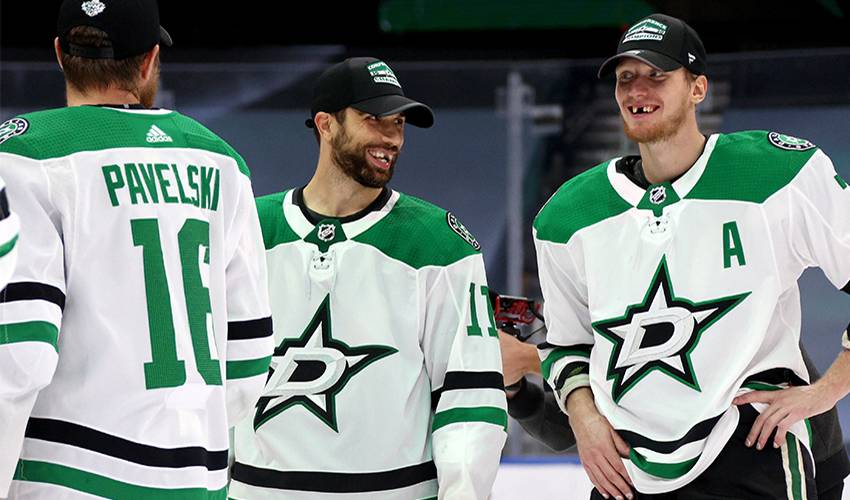 Feature photo: Getty Images
---
What does Andrew Cogliano share in common with Dallas Stars teammates Corey Perry and Joe Pavelski?
Well, for starters, a ton of playoff experience, an old-school mindset and a team-first attitude.
Aside from the fact that they've each played over 1,000 regular-season NHL games, forwards Cogliano, Perry and Pavelski are also no strangers to Stanley Cup Playoffs experience.
Pavelski (155 games, 114 points), Perry (139 games, 95 points) and Cogliano (94 games, 28 points) have each made their mark in post-season play over their careers.
Only one of them, Perry, has ever hoisted the Cup. The right wing was a member of the Anaheim Ducks squad that won it all in 2007.
Now the three forwards are united by a single goal, namely delivering the city of Dallas its second NHL championship and first since 1999.
"We're old school in the fact that we do a lot of things the same in terms of how we approach the game," said the 33-year-old Cogliano. "We're at the rink early, we're probably the earliest guys out on the ice for practice – we probably do a lot of the same things in our routines and how we prepare. Just being in the league for as long as we have, we do things a certain way, things that we've been used to doing for a long time. We have a lot of veteran guys on our team, so it's fun to go through this journey with guys that have been around for a long time."
Cogliano and Perry are familiar with one another having played together in Anaheim.
Perry played 14 campaigns with the Ducks, racking up a total of 776 points (372 goals, 404 assists) in 988 games with the club. He was also the league's 2010-11 Hart Trophy and Maurice Richard Trophy recipient.
Cogliano who was dealt to the Ducks from Edmonton July 12, 2011, spent the following eight seasons in California. He played 584 games and recorded 233 points (102 goals, 131 assists.)
One player the pair got to know well, at least on the other side of the ice, during their Anaheim days was then-captain of the Pacific Division rival Sharks, Pavelski.
In 2009, Anaheim bested their state rival in the opening round of the playoffs, while the Sharks swept the Ducks in the 2018 quarterfinals.
Perry and Pavelski, who both signed with the Stars as free agents last July, and Cogliano, dealt to Dallas last January, don't have to worry about Golden State rivalries anymore.
It's all about the Lone Star State these days.
Cogliano, who had the fourth-longest ironman streak in NHL history at 830 games couldn't be happier at how things have turned out. It's easy to understand why he'd feel that way.
Pavelski's nine goals (inlcuding one hat trick) this postseason gives him 57 tallies in postseason action, including 12 game-winners – three in overtime. He's fifth among active players in playoff goals.
For his part, Perry, who has 38 career playoffs goals, is making an impact in typical fashion.
While averaging 13:18 minutes of ice time per game in the post-season, the right wing, known for his ability to agitate his opponents, has six points, 32 hits, and 11 blocked shots.
"Those guys are obviously a huge factor for us, especially as to what they bring during the playoffs," praised Cogliano. "We have a good group of guys. We have lot of different personalities, younger guys, older guys, European players, North American players – it's a great mix. I think over this last little bit, we've really come together and we've really bonded well. Having guys you've played with and against is just an added bonus."
The trio and their teammates now face the Tampa Bay Lightning for all the spoils. Game 1 of the final starts September 19 night in Edmonton.
Cogliano is ready to take the next step in what has been a challenging year for the sporting world and beyond.
"This is a much different scenario and obviously, these are different circumstances than we've ever seen before," said the Toronto native.
"Ultimately, we are where we want to be. It's pretty special to be part of this team. It's tough to describe, being in the bubble, but the bottom line is that we have a series to play, one that we're trying to win – that's all it really comes down to. You do your best, and bring your best every night. Hopefully we can win this."
Having three seasoned stars on your side certainly helps the cause.
"We've found different ways to win. Call it what you want… you really need some luck throughout the playoffs. You need bounces to go your way. And we've had that. Guys have scored big goals at big times. There are things that have happened throughout playoffs that have turned out well for us, which is encouraging. As it's happened, we've also played well. We've played hard every series. We've been very detailed. Now, it's about just putting it all together at the end of the year, staying in the moment, but also being dialed-in. We'll do that, and hopefully it gives us the best chance to win."