Cogliano's quiet contributions creating momentum
Whether he's observing a scouting report or beating the Zamboni to the rink, Andrew Cogliano is always prepared for the opportunity to make a difference on the ice.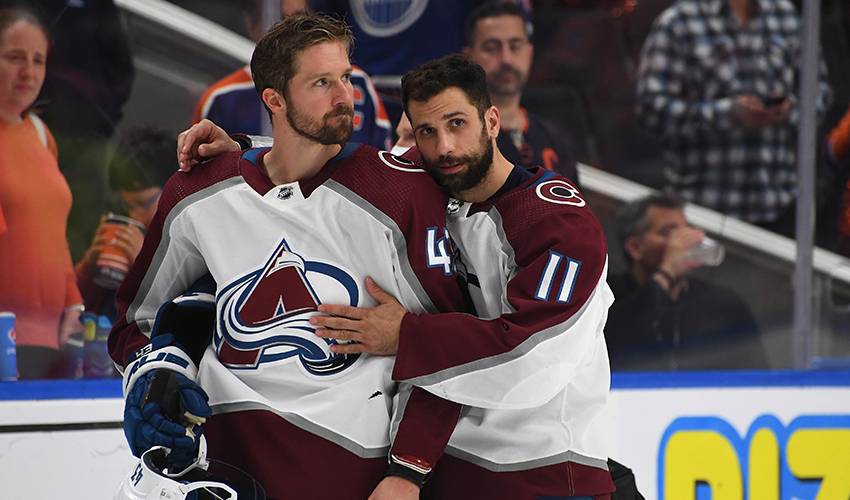 Feature photo: Getty Images
---
Meet Andrew Cogliano, Colorado's steadfast student of the game.
Days before the Avalanche and Oilers started a 4-0 series sweep that would see his club advance to the Stanley Cup Final, the 34-year-old Cogliano, who began his NHL career with Edmonton, spoke about what it takes to get to that next step for the opportunity to hoist hockey's greatest team prize.
"I just think as the series go on, it always seems like you need more guys and you need more depth," said the 2005 first-round NHL Draft pick.
"You need guys playing the right way and making an impact during the game. It gets harder. It gets harder for top-end guys. Sometimes the best players on each team neutralize each other out. Sometimes, it comes down to guys in other parts of the lineup stepping up and creating momentum, making thing happens and having an impact to bring success for the team."
In Game 1 of the Western Conference Final, the line of Cogliano, Darren Helm and Logan O'Connor was at the top of its game.
Cogliano had a goal in the Colorado 8-6 win, O'Connor had an assist, and Helm, who netted the series-winning tally against St. Louis in the second round, dished out a team-leading five hits and carried a plus-one rating.
The trio also did plenty of heavy lifting in the offensive zone, cycling the puck inside the Oilers' blue line, relentless on the forecheck and creating scoring opportunities.
For Cogliano, who missed some post-season time with an upper-body injury, the unit's effective play was the result of two-pronged gameplan: homework and execution.
"I think there's tendencies you could pick up on that you could use as a line to have success," he explained.
"If it's a way a team breaks out, if it's a way a team plays defensive coverage, if there are weaknesses you can try and exploit as a line – through my experience, I've seen that certain teams play a certain way, certain teams have tendencies that you zero in on. Whenever I see that – I look at that when we go over any of the pre-scouts – I try to analyze things in my own head and then bring that to the guys I'm playing with and try to communicate and talk and use that to our advantage. You really try to find those little things that go a long way in being successful."
Cogliano is steadfast in his belief that those little things can go a big way in determining the difference between moving on in the playoffs or being sent packing.
It's why he dedicates a fair bit of his time away from the rink at this point in the year to educating himself on the opposition.
At a point in the season where the stress meter is at its highest, Cogliano prefers to block out the noise, an approach he's worked diligently to perfect over the years.
"I just try to stay quiet. I feel like there's a lot that goes on. There's a lot of media. Sometimes, in the past, you get caught entertaining a lot of things in your head, whether that's conversations with people or media attention, things outside of the series – at the end of the day, there are times I try and quiet that down and focus on the game. That's one thing I've tried to do this playoffs, to focus on the hockey game and being my best and as good as possible. It keeps you fresh, really, when you do that."
His playoff viewing has steadily declined since the first post-season puck drop.
That said, watching the First Round was more than just entertainment for Cogliano.
"I have watched a little bit. I feel there are times you try and get away to clear your head a bit. With the playoffs, it can be really intense, where a lot of the focus is on you and your game, trying to be your best. Watching hockey, especially early in the playoffs, is something enjoyable, to feel the energy of the games and the crowd and get a good feel of that playoff atmosphere. It helps you with your own preparation and mindset."
With Colorado now just one series win away from reaching their Stanley Cup dreams, Cogliano's focus is on what he and his linemates can do to make that a reality.
"It gets harder as the playoffs goes on and with the best teams, you have guys step up and form lines that create momentum, play a certain way, and help the team create and identity. And that's something our line has tried to do as we've moved on."