With A Little Help From His Friends
Andrew Ladd uses the things he has learned from other leaders in his career to help shape his captaincy in Winnipeg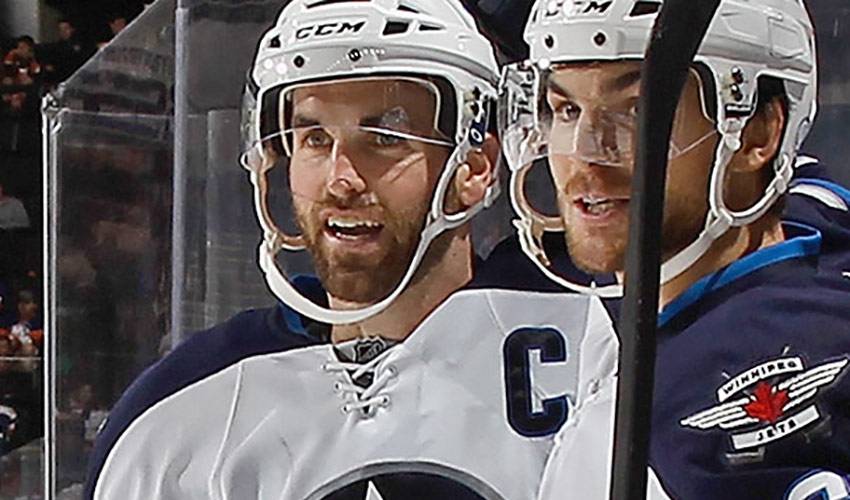 The foundation for understanding what it took to be a leader at the NHL level came years before Andrew Ladd had the 'C' sewn on his sweater.
It's understandable why he would recall his initial big-league experience, 29 regular season games with the Carolina Hurricanes in 2005-06, followed by 17 playoff contests that culminated in a Stanley Cup championship for the native of Maple Ridge, British Columbia.
Closing in on 10 years later, Ladd, one game shy of 650 for his career, has no shortage of fond memories from his formative years in the NHL, including seeing his name etched on hockey's most sought after team trophy.
"I felt very fortunate to be part of that run, to be able to win it all in my first year," said Ladd, who contributed two goals and three assists in that post-season. "It was a great learning process, too. I was surrounded by a lot of veteran players who really helped me along, especially when each game was so meaningful."
And, whether he knew it or not back then, those very same players were providing Ladd with the skills necessary to one day become a leader himself.
"You look back and you remember a lot of things, the advice, the words of encouragement, the manner in which veteran guys handled themselves," said the left winger, who was drafted fourth overall in 2004 by the Hurricanes. "It was an ideal situation for me to be in. I think the key was listening to what they had to say and taking something away from each of those conversations.
"Rod Brind'Amour, Ray Whitney, Glen Wesley, Doug Weight, and so many others, I watched how they went about preparing for games," he continued. "What also stands out is how we practiced extremely hard. You saw that it wasn't only the games that were important. It was also being fully prepared for them."
It's certainly no surprise that Ladd, who was named the captain of the Atlanta Thrashers on November 18, 2010 (a role he maintained when the franchise was relocated to Winnipeg prior to the start of the 2011-12 season), integrated some of the aforementioned players' leadership ideals into his own approach.
"You do what you are most comfortable with when it comes to being in that role, but I think you are able to add a little something from the people you learned from," he offered.
Nearing the mid-way point of the 2014-15 campaign, with the Jets currently in a playoff position, the captain, along with the team's other leaders, is keeping the focus on a short-term approach to ultimately achieve the long-term goal.
"It's a long season," noted Ladd. "We need to look at each game as it comes, to put our energy in being prepared for that, to maintain the cohesiveness in our play, and to keep depending on our system. We want to be that tough team to play against. And that starts in how we ready for each game, how we work before then, how we practice, how we prepare. We want to be in sync every time that puck drops."