The Players Bring Style & Charity To Winnipeg
Andrew Ladd, Chris Thorburn & many of their Jets teammates will walk the runway on December 8th in the NHLPA Charity Fashion Show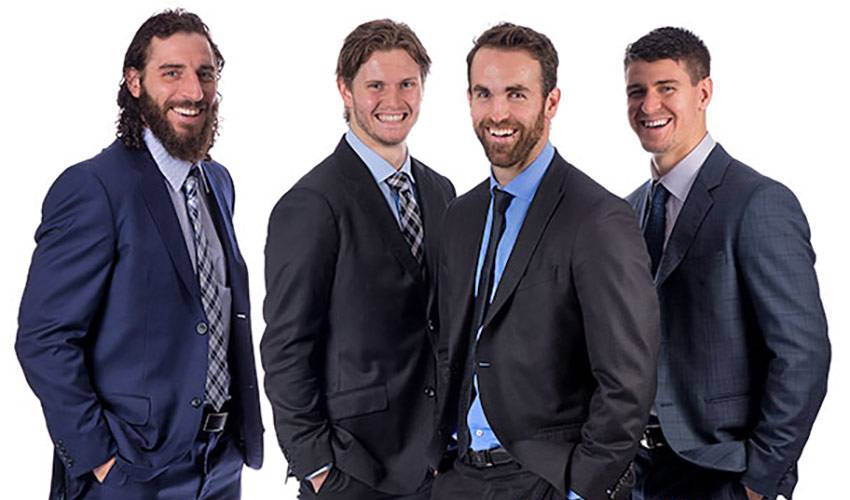 It's a unique, must-attend event in Winnipeg, one that unites a passion for fashion with raising funds and awareness for five important charitable causes.
On December 8, the National Hockey League Players' Association (NHLPA) will put the spotlight on style and philanthropy, all showcased in the NHLPA Charity Fashion Show, which benefits will benefit a number of local charities selected by the players' themselves, as well as the the Winnipeg Jets True North Foundation (http://jets.nhl.com/club/microhome.htm?location=/winnipeg_jets_true_north_foundation).
Several players from the Winnipeg Jets, including Andrew Ladd, Chris Thorburn and Jacob Trouba, will walk the runway wearing top brands from BESTSELLER HOMME/FEMME, Harry Rosen, New Balance, Estee Lauder, Nobis, NYGARD Slims, Therapy Boutique, U.N. Luggage, Silver Jeans, & Birks, in an event that takes centre stage at the RBC Convention Centre in Winnipeg.
The fashion show will directly benefit a number of local charities chosen by the Players' themselves, including The Boys and Girls Club of Winnipeg (www.bgcwinnipeg.ca), KidSport Winnipeg (www.kidsportcanada.ca/manitoba/winnipeg), Children's Hospital Foundation of Manitoba (http://goodbear.mb.ca), Marymound (www.marymound.com/main) and Can DO People Inc. (http://candopeople.ca). The charitable wing of the Jets organization, the True North Foundation, will also be a beneficiary of the evening's festivities.
"It's a night that everyone can get together, have fun and raise money for some great causes and show support for these very important charities," said Jets forward Chris Thorburn, who is supporting Can DO People Inc., a non-profit adult day program for individuals diagnosed with Autism Spectrum Disorder and other Intellectual development disabilities.
"It's important for us to be involved in this event for many reasons, and it has a great team bonding element to it," he continued. "It also gives people a chance to see us away from the rink and it's something new and exciting. Also, it raises money for charities within the province that do great things for individuals and families that need support."
While there won't be any first star honours handed out for the Jets players on December 8, Thorburn is hoping to earn some serious style points from his teammates.
"I'll do the best I can considering I am the only guy on the team with modeling experience," he said with a laugh.
Winnipeg captain Andrew Ladd is ready to take up the challenge.
"I'm looking forward to seeing everyone walk down the runway," said Ladd, who is supporting the Children's Hospital Foundation of Manitoba. "It will be interesting seeing guys outside their comfort zone."
But, can he school his teammates in the fine art of fashion?
"Probably not," offered Ladd. "But I like to think I have a decent sense of style."
The bottom line for the players, however, is in putting the spotlight on their associated charities and interacting with fans.
"This is a great opportunity to raise some money for some great local charities while allowing people to see us in a different light," said Ladd.
"When we received the call from the NHLPA that Jets captain Andrew Ladd had nominated the Children's Hospital Foundation of Manitoba as his Foundation of choice, we were truly honoured," stated Lawrence Prout, President & CEO, Children's Hospital Foundation of Manitoba. "Being recognized by Mr. Ladd shows his compassion for the over 120,000 sick and injured children that visit the hospital each and every year.
"As Winnipeg Jet fans, the Foundation is looking forward to watching this inaugural event take place," he continued. "Giving fans the opportunity to come up close to their favourite hockey players while they support our local community is truly inspiring. We hope this event continues for many years to come."
Tickets to the event cost $125.00 and are available through Ticketmaster.ca.