From gold medallist to fan – Andrew Ladd on passing down the world juniors tradition
Playing for his country on the world junior stage was a dream realized for Ladd.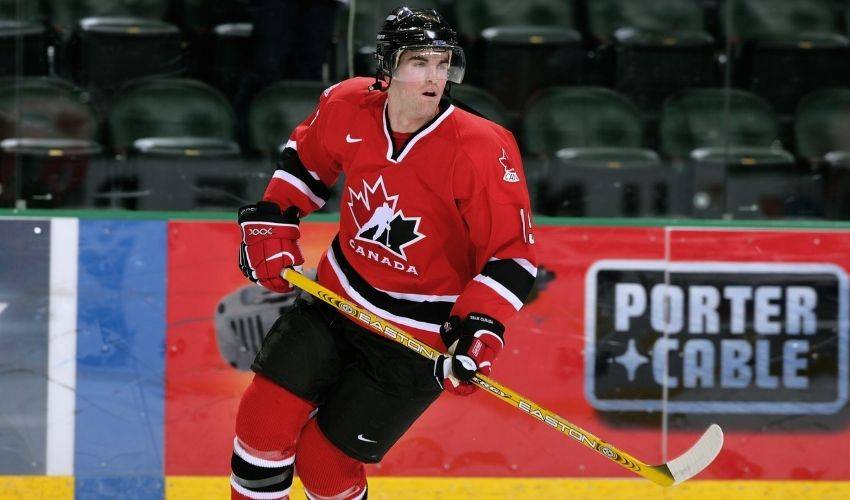 All photos courtesy of Getty Images
---
There could be a rivalry brewing in the Ladd household over the IIHF World Junior Championship.
When this year's annual hockey tournament for many of the top young players in the game recently got underway (Team USA are the defending champs) in Alberta on December 26, Andrew Ladd and his family were certain to be following the action closely.
The 36-year-old Arizona Coyotes forward, who won gold at the 2005 event with Team Canada, joked that not everyone might be cheering for the red and white this time.
"My younger kids are getting to the age where they're interested and watching hockey. We have two Canadians [Locklan, age 8, and Andy, age 7] and one American [Walker, 5], so we might have to set up a little rivalry when we sit down to watch the games together. Walker was born in Chicago, so we'll have to see how that all unfolds."
Now in his 16th NHL campaign, the British Columbia native was part of a celebrated Canadian squad that featured several future NHL star players, including Sidney Crosby, Patrice Bergeron, Ryan Getzlaf, Shea Weber, Dion Phaneuf and Jeff Carter. Ladd faced off against the likes of Alexander Ovechkin and Evgeni Malkin (Russia), Tuukka Rask (Finland), Phil Kessel (USA) and David Krejci (Czech Republic) who also played in the tournament held in North Dakota and Minnesota.
"I think being a part of it – there was the NHL lockout and the team [Canada] lost a heartbreaker in 2004 – was something so special. I really wanted to be part of this team. With the games being so close to Canada, people coming down from Winnipeg to cheer us on, it was a team and an event you really wanted to be part of."
Playing for his country on the world junior stage was a dream realized for Ladd.
In fact, it was the first thing on his list of hockey objectives when he was a kid.
"For me, growing up watching that tournament every Christmas, I had bigger aspirations of playing in that tournament than I did of playing in the NHL. Which, I think for a lot of young Canadian kids, that's probably the case until they get a little older. I can remember every Boxing Day, waking up and saying, 'Okay, the games are on today, let's watch the world juniors.' So, to be able to pull that Canadian jersey for the first time and see your name on the back, to understand that you accomplished something you had set out to do, it's something you will always remember."
Ladd and his teammates defeated Russia 6-1 in the gold medal matchup to finish the tournament having outscored their opponents by a total score of 41-7 over six games, one year after the U.S. had rallied to beat Canada 4-3 in the gold medal game. It was the start of a five-year championship run for the Canadians at the tournament.
The key to taking gold 16 years ago, recalled Ladd, who had three goals and seven points in six games, was in having a team that could win in any number of ways.
"I don't think we had a particular identity. We just had so many players with the high-end skill, combining the pro game with physicality. We could be physical and wear down teams fast, but we could also have the skill to play at that pace and put a lot of pressure on the other side. There weren't many weaknesses at all throughout our lineup, where people could say, 'Okay, this is how we could beat this team.' We had the ability to roll over teams and beat them into submission, so to speak."
That experience also gave Ladd, the fourth overall pick of the Carolina Hurricanes in the 2004 NHL Draft, a preview of what was in store for playoff hockey.
The knockout stage of the world juniors was the epitome of pressure, offered the player who finds himself less than 30 games away from reaching the 1,000-game mark for his NHL career.
"It's such a unique format in the single knockout, once you get into the playoff rounds where that can be it. The urgency, once you get into those games, is like playing a Game 7 in the NHL playoffs. To be part of the preparation for that and how the guys prepared for that pressure, it was a great experience for me."
Ladd, who also represented Canada in the World Championship for three consecutive years beginning in 2011, is looking forward to once again watching the world juniors and perhaps reliving his gold-medal moment.
"I really enjoyed it before I played in it, and I still enjoy it a lot now. It's great hockey, with so much on the line. It always brings back a lot of great memories for me."