Ladd Foundation Taking Off
The Ladd Foundation, a donor-advised fund, supports a broad range of causes, namely focused on youth and the environment, with an awareness of issues impacting the health and well-being of young people, such as disabilities, illness, mental health and poverty.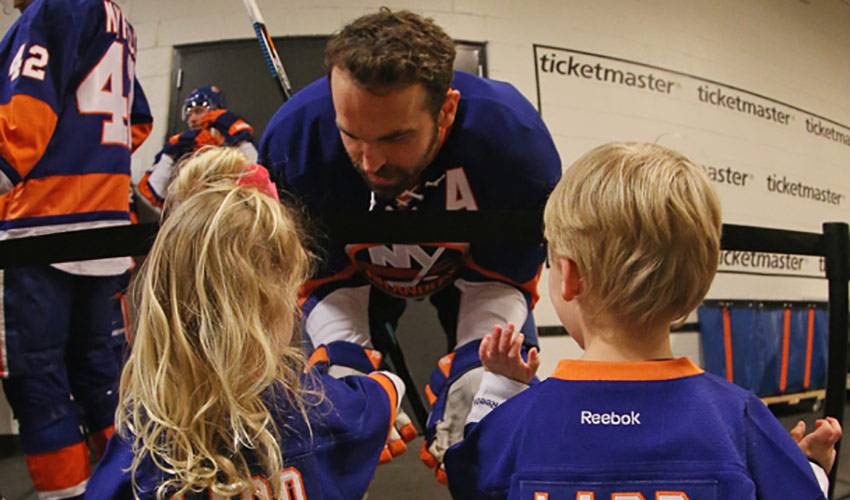 Andrew Ladd understood the importance and significance of helping others long before he skated in the NHL.
Throughout his big-league career, one spanning 12 seasons, the veteran left-winger, who has played with Carolina, Chicago, Atlanta, Winnipeg and the New York Islanders, has contributed to countless charitable organizations and initiatives.
A long-time supporter of disadvantaged children and a Special Olympics advocate, Ladd was the honorary spokesperson for the Dream Factory in Winnipeg, which grants wishes to sick children.
Ladd's Leaders, created after Andrew signed as a free agent with the Islanders on July 1, 2016, allows people to nominate a young leader within the community that has made an impact, or donated their time to a worthy cause.
If selected, each Ladd's Leader gets an invite (with an adult chaperone) to an Islanders home game at the Barclays Center, and sits in Andrew's seats for the night.
In 2014-15, Ladd was nominated for the prestigious Mark Messier Leadership award. The honour recognizes an individual as an outstanding leader within their sport, and as a contributing member of society, particularly through charity.
The 31-year-old, who has also supported country music legend Garth Brooks and his "Teammates for Kids" Foundation, knows first-hand just how impactful supporting others can be.
Raised alongside intellectually and physically disabled foster siblings and family members, Ladd grew to appreciate their struggles and strengths.
"My one adopted brother has fetal alcohol syndrome and the other has numerous physical and mental disabilities," he noted. "My uncle had Down Syndrome. Growing up, I didn't think of them as having disadvantages. My parents treated us all equally. As I got older, I understood their disabilities and appreciated what they had to overcome on a daily basis. They never judged anyone, always had a smile on their face and were always willing to help others. They all had a massive impact on not only how I approached hockey, but life as well."
Those experiences were inspirational in the formation of the Ladd Foundation, a team effort headed by Andrew and his wife Brandy, a couple who has contributed their time and effort to several causes over the years.
The Ladd Foundation, a donor-advised fund, supports a broad range of causes, namely focused on youth and the environment, with an awareness of issues impacting the health and well-being of young people, such as disabilities, illness, mental health and poverty.
The foundation's stated goal is to provide individuals with limited opportunity access to new, exciting experiences, namely through sporting events.
"It's definitely been a few years in the making," said Andrew, a two-time Stanley Cup champion and former captain of the Winnipeg Jets and Atlanta Thrashers. "Towards the end of my time in Winnipeg, we really talked about wanting to do something. After we signed in New York, we figured it was time to get this started. We wanted to set up the Ladd Foundation to help out as many important causes as we can, ones that are close to both our hearts. It's been nice that we are both involved in this."
A mother of three, Brandy received her Doctorate of Optometry from The New England College of Optometry and is currently on maternity leave. During Andrew's time in Winnipeg, she served as a Board Member for the Winnipeg Jets True North Foundation (WJTNF) for five years, acting as the liaison between the wives and girlfriends of the team and the Foundation.
She also worked with wives and girlfriends in various initiatives in Chicago, Atlanta, and Winnipeg, including helping to organize numerous game-day fundraisers.
Through her leadership, a team cookbook was published and sold, with funds directed to the WJTNF.
Now, Andrew and Brandy are working side-by-side through their efforts with the Ladd Foundation.
"The one thing about setting up a charitable endeavor is trying figuring out what you want to put your time, effort and money into," noted Andrew. "For us, we didn't want to restrict ourselves to one cause – we wanted to help as many causes as we could."
The first Ladd Foundation event, Fishing 4 A Cause, will see proceeds go to the Rick Hansen Foundation and the Fraser River Sturgeon Conservation Society.
Join @markscheifele55 @BogosianZach @ledpipe08 @DuncanKeith @colinfraser #tylermyers catching sturgeon for a cause! pic.twitter.com/QmwKSXQcph

— Ladd Foundation (@LaddFoundation) June 14, 2017
Taking place in British Columbia from July 18-21, the event includes Sturgeon fishing with an NHL player, a group that includes Ladd, Duncan Keith, Mark Scheifele and Tyler Myers.
"Obviously, we can help raise money and awareness for people with disabilities, while also shining the light on Sturgeon conservation," said Andrew. "We wanted to have an event that was unique. The NHL players that come, people will have the chance to talk to them, get to know them, and hopefully, get a lot out of it.
"Growing up just outside of Vancouver, I remember meeting (Canuck legend) Trevor Linden when I was really young and how excited I was to meet someone I looked up to. That's always stuck with me throughout my career, understanding the importance of the role you're in and how you can utilize that to help others."
It's something Andrew and Brandy Ladd are reminded of often, even more so with the launch of the Ladd Foundation.
"We're both motivated to help others," said Andrew. "It's fun to have something in your life where you are helping people, to feel you are doing something positive. The feeling you get back is beyond rewarding for us."