A Night Under The Stars in Calgary
Matt and Katie Stajan hosted a deeply personal fundraiser in memory of their late son Emerson to benefit the NICU at Calgary Foothills Medical Centre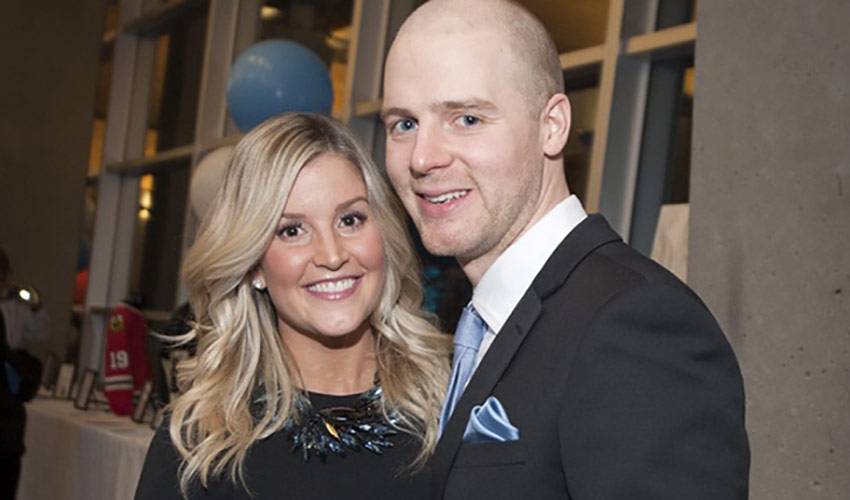 It was a fundraiser that had deeply personal ties, but Matt Stajan, befitting of his unselfish nature, instead chose to speak passionately and gratefully about the impact others had, including that of his wife, Katie.
Hospital visits. Autograph signings. Charity events. Stajan, who turned 31 in December, has lent his time and support to countless endeavors since he first skated as a rookie for the Toronto Maple Leafs in 2002-2003.
Every single one of them, the Calgary Flames forward admits, have been worthwhile.
A Night Under The Stars, a fundraiser that took place on January 3 for the Neonatal Intensive Care Unit (NICU) at Calgary's Foothills Medical Centre, however, was particularly meaningful.
The Stajans are still deeply touched by the widespread support they are receiving from family, friends, teammates, fans and hundreds of others after their son Emerson passed away shortly after he was born in March of 2014.
Less than a week ago at Canada Olympic Park, the community stepped up to help the couple raise funds and awareness for the NICU.
"My wife and her team, they really deserve the credit," said Matt, the 2013 Flames' recipient of the Ralph T. Scurfield Humanitarian Award for perseverance, dedication and leadership. "She was amazing in how hard she worked to pull all of it together. A lot of the times, it's the players who find themselves in the spotlight in these situations. But, we're lucky to have the support of so many people, including our significant others."
At the end of the evening, a formal gathering that saw Calgary restaurants joining in to help, $100,000 was presented, funds that will go to the NICU through the Flames Foundation for Life.
"No doubt, there have been tough times we have had to endure," admitted Matt, who came to the Flames on January 31, 2010, in a multi-player trade. "We wanted to do what we could to make a difference, to raise awareness for the great work that the NICU does. So many people were there for us throughout the grieving process. We want to honour our late son and we want to thank everyone for the support we have felt."
That group includes Matt's Calgary teammates.
"There are good people in that room, people that truly care for one another," he offered. "I know anyone can say that. For Katie and myself, we think about it often, the way my teammates, the wives, everyone who is part of this team, was there for us. That's something you won't ever forget."