Equipment got kids on the ice, players got them out of their shells
To the casual observer, it would appear to have been nothing more than a group of young people meeting their hockey idols. It was much more meaningful.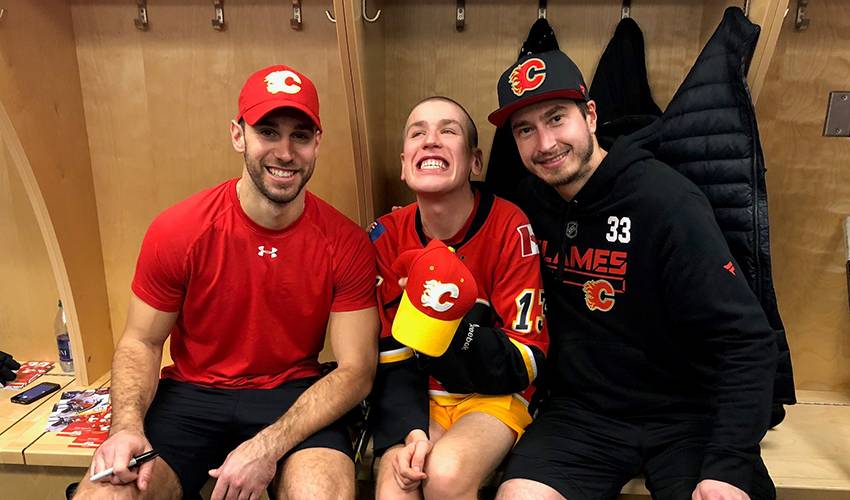 To the casual observer, it would appear to have been nothing more than a group of young people meeting their hockey idols.
For the kids, their parents, and the group of current and former NHLPA members, it was much more meaningful.
Kevin Hodgson, Executive Director of Super HEROS (Hockey Education Reaching Out Society), is still smiling. And so are many others.
December 4, as part of an event supported by the NHLPA's Goals & Dreams fund, the Calgary Flames Foundation and the Calgary Hitmen (Western Hockey League) organization, Calgary Flames players, past and present – David Rittich, Sam Bennett, Matthew Tkachuk, Cam Talbot and recently retired Matt Stajan – spent time on and off the ice at Scotiabank Saddledome with youth between the ages of seven and 17 from Super HEROS,
Hodgson was deeply moved by the scenes he saw throughout the day.
Through NHLPA Goals & Dreams, the player-driven charitable initiative that assists grassroots hockey programs around the world, including in NHL cities and players' hometowns, Super HEROS players were given 25 full sets of brand new hockey equipment.
"First and foremost, new experiences, people, and places are hard for a lot of our players," he started. "For their families, it can come with a lot of anxiety because they have no idea how their child will be able to cope with everything and how other people will react around them. Every single person that our families came in contact with treated them with respect, patience, and made sure they felt welcome. That doesn't happen everywhere they go, I can assure you. Going to the mall, the movies, anywhere in public means planning for if it goes south, and an exit strategy."
"None of the families needed that. Seems like a small victory for us, but is a huge one for them."
Hodgson is one of the driving forces behind the new Super HEROS programming model that's been adapted specifically for youth with cognitive challenges, specifically, Autism and Down Syndrome. Featuring an on-ice program that runs 24 weeks and focuses on an introductory skill development incorporating an increased self-esteem, sense of achievement and belonging, Super HEROS also offers non-hockey activities. It's the first program of its kind in western Canada and is run at no cost to participants.
NHLPA Goals & Dreams, established in 1999, isn't only about providing new gear to those who need it. Part of the program's mandate is to also deliver once-in-a-lifetime moments – just like with Super HEROS.
"Since NHLPA Goals & Dreams began and throughout its history, the commitment has remained the same – to help children around the world experience the thrill of playing hockey," said Matt Langen, Manager of NHLPA Goals & Dreams who made the trip to Calgary for this event. "G&D continues to support many worthwhile programs, including Super HEROS. This relationship serves as a great example of the program's dedication to providing new equipment and experiences – and in doing so, delivering wonderful possibilities to appreciate our incredible sport."
After taking in a Flames practice, the Super HEROS players, who also had the chance to skate with members of the Hitmen, were taken downstairs for lunch where a meet-and-greet took place between NHLPA members, Stajan, who served as an NHLPA player rep during six of his 14 NHL seasons, and the kids.
Mike Kelm, a detective with the Calgary Police Service, agrees.
His son, Noah, is part of Super HEROS.
While his parents weren't certain how the day would play out, the normally reserved 17-year-old left his parents, Mike and Karen, almost speechless.
"Matt Stajan sat down with Noah and watched the Flames practice and I watched in amazement as Noah talked his ear off for 20 minutes straight," Mike recalled. "This is a kid who just doesn't have conversations with strangers, but there he was talking about hockey and football with passion and excitement as though like it was with a family member. It was remarkable – all of the players were gracious with their time and had awesome, truly personal interactions. There is something different about NHL hockey players, they are the best of the best and most are equal to that off the ice as well. To be honest, it was difficult to keep my emotions in check all day. Noah had a really rough week leading up to this and it was amazing to see his joy."
The Kelms were also touched by the conversations they and Noah had with Flames goaltender Rittich.
Rittich's younger brother, Tomas, has autism, along with other developmental issues. Although he lives a mostly independent life, Tomas has limited social skills and his capacity to communicate, connect and keep relationships remain challenging.
The Calgary backstopper was up-front in sharing his and Tomas' story with the Kelms, among others.
"There are so many things that I took away from this day," Rittich said. "I think the biggest thing is the smiles on the kids' faces, how they really enjoyed spending time with you and your teammates. For me, it reminds of me of my relationship with my brother. You kind of know what to expect. I talked with a couple of the parents and they really appreciated our time, but for me, it was something I was happy to do, to spend time with the kids and have some really nice conversations."
None of it went unnoticed or unappreciated by the families.
"Dave was unbelievable, he knew just how to speak to Noah and shared with me his own family experience which really built a connection with both Noah and myself," Mike said. "Hockey has given Noah a voice and the ability for him to open a conversation with confidence and that translates to opening the world up to him. We are incredibly proud of him and his growth both on the ice and off."
Noah's love of goalies was evident from the moment he first spoke with Rittich and Talbot.
The Calgary goaltending tandem managed to make a lasting impression on the teenager and the highlights for the Kelms were seemingly endless.
"For Karen, it was Noah skating over on his own to do an interview with Flames TV. To see Noah have the confidence and pride in who he is, and wanting to share his excitement for the day with the world… this is a level of communication that we have not seen before."
Stephanie Nitschke still has a difficult time picking out only one highlight from the day.
Her son, seven-year-old Lincoln, enjoyed the opportunity to further the bond he has with his teammates, while getting to know the Flames players.
"The interaction was so incredibly heartwarming," said Stephanie. "All of the players were wonderful with the kids, taking the time to speak with all of them, asking how they were doing, and taking photos. It was great to see them take extra time with one of the young players who was excited to interview everyone. Another teammate would love to be a goalie, and David Rittich and Cam Talbot sat down with him. It was just the best to see how excited he was.
"All the kids seemed to really love meeting the players and saying hello. Lincoln was beaming for days following the event – he was so excited. In addition to David and Cam, Matthew Tkachuk, Sam Bennett, and Matt Stajan were so gracious and kind with the kids. They all really made for an awesome afternoon."
Rittich, as he does often does, thought of his brother throughout his interactions with the players from Super HEROS.
"I love my brother," the Czech Republic native said. "He doesn't have the opportunity to do the things I do. I'm really glad he comes to see me here every year, and when I am home, I spend as much time with him as I can. For me, this day, I think and I hope the kids enjoyed their time."
There's no doubt they did.
"I had six parents during the course of the day say to me, 'My child has never done that before…'", said Hodgson. "I had a parent say to me yesterday that it was so nice that their child got to skate at the Saddledome and have all of these experiences because they were hockey players, not because they were disabled."
"All of the families commented about how genuine, caring, engaged and thoughtful all of the players guys were. The biggest compliment our parents can offer to people is that they would be happy to have their kids around them again."
The undrafted 27-year-old Rittich was glad to have support from his teammates and elsewhere.
"I'm really glad Goals & Dreams can be part of this. Hockey can be a very expensive for everyone. You can see that kids want to play hockey, but for some of them, their family isn't able to afford it. It's a really good program, Goals & Dreams. The Flames Foundation and Goals & Dreams have been great."
Nitschke is grateful to see her son on the ice in new equipment.
Finding the right gear hasn't been easy.
"With Lincoln's medical condition, we weren't sure if he would be able to play hockey, let alone figure out the equipment necessary that would work from him. The opportunity of having the equipment donated means so much to our family, because it took a huge amount of pressure and anxiety off of what would work, what wouldn't, and of course the expense of everything. This allowed us to focus on Lincoln's development, which has truly been the best experience for him.
"His confidence has grown exponentially since beginning hockey this year, and we are so grateful for every opportunity and experience he has received."
Mike Kelm sees the very same determination in Noah.
And while it's not the NHL stage, Super HEROS players feel just like their big-league heroes courtesy of an assist from NHLPA Goals & Dreams.
"That equipment has been like a suit of armor for Noah. Once he puts it on, he is confident and willing to try things that we never imagined. Noah believes that he belongs and is truly a hockey player."