Matt Stajan announces retirement after 14 NHL seasons
Matt Stajan has announced his retirement from professional hockey today following 14 seasons playing in the National Hockey League (NHL).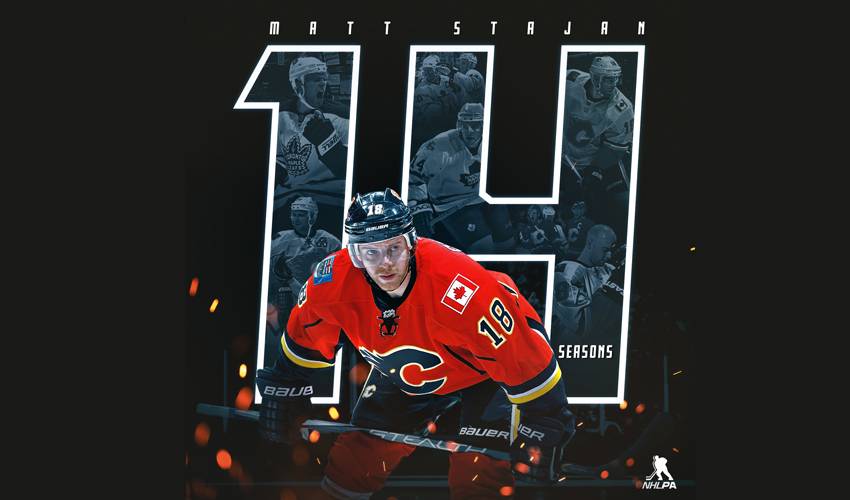 ---
MATT STAJAN ANNOUNCES RETIREMENT AFTER 14 NHL SEASONS
Forward played in 1,003 NHL career games
TORONTO (Dec. 3, 2019) – Matt Stajan has announced his retirement from professional hockey today following 14 seasons playing in the National Hockey League (NHL).
Born in Mississauga, Ontario, Stajan tallied 413 career points (146 goals, 267 assists) in 1,003 NHL games. After he was drafted by the Toronto Maple Leafs in the second round (57th overall) of the 2002 NHL Draft, Stajan played five-plus seasons in Toronto prior to being traded to the Calgary Flames, where he played over eight seasons.
An effective two-way centreman throughout his career, Stajan earned a reputation for being a dependable contributor on the ice who played the game with intelligence and selflessness. Off the ice, Stajan was known as a quality teammate in each dressing room he was a part of and, together with his wife Katie, an active member of the community – lending support and time to countless charitable endeavors during his time in both Calgary and Toronto.
Stajan enjoyed a strong junior career with the Belleville Bulls, which also included being a part of the silver medal-winning Canadian team in the 2003 World Junior Championship. Playing for the Maple Leafs – the team he grew up cheering for – Stajan scored his first NHL goal in his first career game, April 5, 2003 versus the Ottawa Senators. The forward enjoyed a productive rookie campaign in 2003-04, scoring 14 goals and 27 points while helping Toronto reach the playoffs, after participating in the NHL YoungStars Game earlier that season. Stajan maintained a strong offensive output in his second professional season, during the owners' lockout in 2004-05, by scoring 66 points in 80 games with the St. John's Maple Leafs. After returning to Toronto in 2005-06, he went on to miss only two regular season games in a three-season stretch played through to the 2007-08 season. In the 2008-09 season, Stajan enjoyed a breakout offensive year, tallying 55 points in Toronto with a career-high 40 assists.
His production continued the following season when he set a career-high in points (57), combined between Toronto and Calgary as he finished the season with 16 points in 27 games for the Flames, following a seven-player trade at the end of January. He was honoured with the Ralph T. Scurfield Humanitarian Award (2013) after his third full season in Calgary for exemplifying the best on-ice perseverance, determination and leadership, along with a dedication to community service off the ice. One year later, Stajan received the J.R. McCaig Award (2014), which is given to the player who best emulates respect and courtesy in both their professional and personal lives.
With the Flames making the playoffs in 2014-15 for the first time in six seasons, he scored the series-winning goal in game six of their first round series against the Vancouver Canucks.
Nearly four years into his tenure with the Flames, Stajan was signed to a four-year contract extension that would ultimately allow him to finish his NHL career in Calgary.
The six-foot-one, 195-pound forward became the 317th skater in NHL history to play in 1,000 games when he reached the milestone March 21, 2018 during a home game in front of close family and friends.
In 2018-19, Stajan played with EHC Red Bull Munich of the Deutsche Eishockey Liga for his final professional hockey season when the team became the first German hockey club to win a berth in the Final of the Champions Hockey League.
Stajan's NHL career did not come without personal hardships. He and his wife Katie sadly lost their first-born child, Emerson, March 3, 2014. In his third game following the tragic loss, Stajan scored a memorable goal in honour of Emerson on a penalty shot versus the Edmonton Oilers. To honour Emerson's memory, the Stajans held 'A Night Under the Stars' Jan. 3, 2015, where they raised over $125,000 for the neonatal intensive care unit at Calgary's Foothills Medical Centre. Over the years, the family has continued to support and donate to the NICU, and in honour of Emerson, the hospital re-named one of their emergency pods – The Emerson Stajan NICU Emergency Pod. The Emerson Stajan Foundation was also created, which continues to support charitable initiatives throughout the community while honouring his memory.
As a player who was actively involved in the NHLPA, Stajan served as a player representative for more than six seasons between Calgary and Toronto.
Matt resides in Calgary with his wife Katie and their two sons, Elliot and Dylan.

Player Statements
---
Matt Stajan
"As a kid growing up in Mississauga, Ontario, it was my dream to one day play in the NHL. To have had this dream come true, and have been able to play the sport that I love so much for so many years, is something I feel extremely fortunate and grateful for. The memories that I have made will truly last a lifetime.
Thank you to the Toronto Maple Leafs and the Calgary Flames organizations for giving me the opportunity to play and compete in the best league in the world. I wore both jerseys with great pride, and I will be forever grateful for the experiences that came along with that. Also, thank you EHC Red Bull Munich – it was a great experience to play overseas for such a great organization.
Thank you to every coach, assistant coach, manager, trainer, to my agents at Newport sports, and all of the support staff that I have met and worked with over the years. You all do so much to support what we do as players, on and off the ice, and it never went unnoticed. Thank you for believing in me, giving me a chance, and helping me grow along the way.
To every teammate I have had the pleasure of playing with, the friendships I have made are
ones that will last forever. There is nothing I will miss more, than the times spent with you on and off the ice.
To the fans, thank you for making this experience that much more exciting.
Thank you to all of my extended family and friends for always supporting me throughout my career. I always appreciated and felt so much support from you.
To my parents, Nada and Mike, and sister Michelle, thank you for giving me every opportunity to help make my dreams become a reality. You encouraged and guided me to always work hard and believe in myself. Without your support, love and guidance, this hockey career that I have had, simply would not have been.
And finally, thank you to my wife Katie, and our sons, Elliot and Dylan. Katie, you have been my person throughout this entire journey and have been there for me in every possible way. I am so grateful for all the sacrifices, love, and unwavering support you provided throughout my career and beyond. Thank you for everything that you do for our family.
Elliot and Dylan, to be able to share this hockey journey with you is something I will cherish forever. I'm so excited for this next chapter together with our family.
I am filled with feelings of gratitude and joy as I close this chapter of my professional playing career. I have so much to be proud of and grateful for, and will forever cherish all the memories I have made over the years.
Thank you everyone for making this incredible journey as a professional athlete one that I will never forget."
Mark Giordano
"Congratulations to one of the best teammates I've ever played with. Staj, you were a true leader on and off the ice and continue to be post-career. It was a pleasure playing against you in the MTHL, and then again in the OHL and NHL. But the best was getting to play with you in Calgary. Can't believe you played 1,000 games with that stick. Worst curve ever. Enjoy retirement with Katie, Elliot, Dylan and Lola. Love you guys."
Luke Schenn
"When I think of best teammates I've ever had, I always bring up Matt Stajan. When I came to Toronto as an 18-year-old, he was the guy that went out of his way to make me feel comfortable and did whatever he could to include me in everything, with all the veteran guys on the team. There's zero chance that any teammate could ever say a bad thing about him! He was also very competitive on the ice, very consistent and could play any role on your team. Amazing career and a guy I looked up to! Congrats to you and your family, Staj!"
Matthew Tkachuk
"Honestly, one of the best teammates I have played with. The way he was able to connect with every single player made him that special teammate that everyone talks about. He made me feel so comfortable coming into the NHL as an 18-year-old! Other than losing to him at the card table, I wish him all the best in retirement because he has earned it!"
-30-