NHL players prepare their paddles for Smashfest X
Set for July 20 in Toronto, several NHL players will take part in an evening that raises money for rare cancer and concussion research.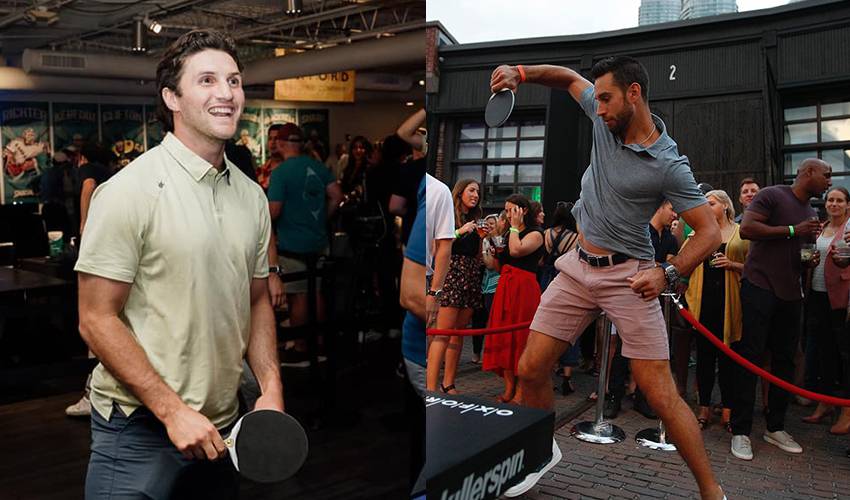 ---

Alex Kerfoot and Cam Talbot are hoping to enjoy some net gains this summer.
Their respective NHL offseasons are in full swing, a steady mix of training ahead of the 2022-23 season interspersed with spending time with friends and family and making the most of the summer weather.
And while they have different items on their daily agendas, Kerfoot and Talbot do have one shared event on their calendars, specifically, the 10th anniversary of the player and fan-driven charity ping-pong event known as Smashfest.
Set for July 20 at Steam Whistle Brewery in Toronto, several NHL players and celebrities will take part in an evening that raises money for two causes, rare cancer and concussion research.
"They do a great job, Dom and the NHLPA, putting this on," said Kerfoot, the defending Smashfest Singles tournament champion. "It's a great event to go to and the turnout is always fantastic. The players really enjoy going to it and the fans who come, really have a great time as well. You get to raise money and awareness for two great causes. The best part of it is the atmosphere. It's engaging, the room is open, and you get the chance to meet a lot of people, where players have access to fans and the fans have access to the players.
Kerfoot, coming off his best big-league offensive season as a member of the Toronto Maple Leafs, hasn't had much time to sharpen his skills ahead of this year's tournament.
The 27-year-old, who is back in his home province of British Columbia, finds himself in the midst of a busy summer but is still hoping to find time to make the trip back to Toronto to support Moore's event.
"We have a ping-pong table at our practice facility in Toronto, so I got in a handful of games last year, but I haven't really honed the game since last year."
Talbot, a veteran of the Smashfest scene, isn't overly concerned with picking up the paddle ahead of the big night.
The 35-year-old goaltender, admittedly, won't be a threat to win the players' crown."I think this will be my fifth time," Talbot told NHLPA.com. "It's my favourite charity event that I've been part of. Every time I'm in town and Dom asks, it's an automatic yes for me. I'm not so competitive when it comes to ping-pong, but it's fun hanging out with the fans, and playing in the mixed doubles Pro-Am tournament. I kind of sit around and I'm just in awe of the guys that play on centre court. You always have a great time, it's a great all-around event and a nice night in Toronto."

Talbot recalled the time Moore asked him to step up to the table at one of the more recent Smashfest events.
It didn't turn out well for the veteran backstopper.
"The last time I was there, I think there were seven guys for the tournament bracket in the middle and Dom needed one more guy to make look stupid in the first round, so he came and picked me. I said, 'sure.' He told me, 'I'll go easy on you.' Going easy on me wasn't enough, let me put it that way. Talent-wise with ping-pong, Dom, he's always been up there. Jeff Skinner, who has been there a few times, he's really good. When I was there, Stephane Veilleux was just unbelievable. It's impressive to play against those guys or to see them play."
Win or lose, the event has become a staple for dozens of NHL players to attend.
Smashfest has been a perfect opportunity over the years for the players, a list that includes Steven Stamkos, Mitch Marner, Tyler Seguin, Logan Couture and Aaron Ekblad, to get their competitive juices flowing before the new season launches.
While the fast-paced action might have some benefits, perhaps, hand-eye coordination exercise, for the players, that's not the case for Talbot.
"The rallies don't last long enough for me when I'm out there. So, I'm accomplishing nothing by being there."
Collectively, however, the players are accomplishing a united goal, in helping support a pair of charitable initiatives that have special meaning to Moore.
"To be part of something that supports two worthwhile causes is really special," said Kerfoot. "Dom is a great person and you're happy to do your part to raise money and awareness for concussion and [rare] cancer research."
Outside of Smashfest, both Kerfoot and Talbot are looking to make the most of their days outside of the rink ahead of the 2022-23 regular season which starts on October 7 when San Jose and Nashville meet up for the first of two games in Prague, Czech Republic.
In between training, each player has plenty on the go over the summer months.
"It's good to be back home for a bit, to see friends and family," said Kerfoot. "Everyone is doing well. My parents are out here, I have three younger siblings, so it's nice to be able to see everybody. I recently got engaged and my fiancée is out here as well. We rented a place close by to everyone, so it's been good. We're hoping to get married next summer, but things book up so fast and there are only a handful of weekends that we can look to with our schedule. We already know other people who are getting married on certain weekends, so the schedule condenses pretty quickly."
If Talbot, back in Ancaster, a little less than an hour's drive west of Toronto, had any designs of putting his goaltending duties on hold for a while, he quickly found out he was needed between the pipes.
"I built a regulation-sized net when we got back in Ontario, for my son to play road hockey. At least twice a day, it's, 'Dad, let's go out and play.' I tried to tell him I play goalie enough as it is. I have an extra set of gloves and an old goalie stick in the garage, and he wants me to play net. I tell him, 'Don't I play net enough, buddy?' And he says, 'No … you have to be in net and I'm going to score.' He has no interest in playing goal, which is a good thing because I don't know if I want him to, but he definitely wants to score goals."
Thankfully, Talbot didn't have to strap on the pads during a trip to Hawaii.
"Right after the season ended, we took off to Hawaii for seven or eight days and took the kids (son, Landon, and daughter, Sloane) to the Disney resort in Honolulu. So that was a lot of fun. My wife and I have been to Hawaii before but never with the kids. They just had a blast. There were all the Disney characters walking around, so they loved that."
The twins, who will turn six in October, quickly picked up their dad's love of the game.
They are counting down the days to head back to Minnesota, eager to get back out on the ice.
"As soon as we got them on skates and they could stand up and skate on their own – they would get frustrated for a while – they just loved it. They were in Minnesota Made Hockey from January to around May, I believe, so they're pumped to go back. For now, we have a pool in the back yard, so it's just training in the morning – I have a gym in my basement – take the kids outside and play road hockey, then jump in the pool when we get hot."
Kerfoot, who came to the Leafs via a trade on July 1, 2019, is looking to court success in another sport.
It appears a Maple Leafs tennis tournament could be on the horizon.
"The racket sports in general are pretty popular on our team right now. Auston [Matthews] and Michael [Bunting] are big into tennis this year. Justin Holl and I have been playing a lot of tennis prior to when they started. In terms of ping-pong on the team, the best player – I haven't seen everyone play – would be Pierre Engvall. He's really good. [William] Nylander is good as well, but I'd give the nod to Pierre."