Mangiapane bakes up new initiative for Calgary youth
Andrew Mangiapane has launched Mange's Breadsticks, a program designed for at-risk youth and supported by the Flames Foundation and the Calgary Italian Open Society.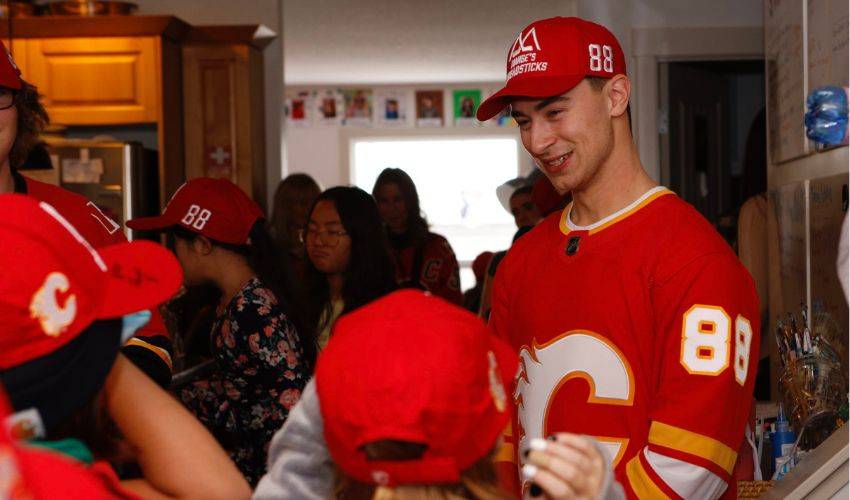 Feature Photo: X / @FlamesFdn
---
Calgary Flames forward Andrew Mangiapane and his fiancée, Claudia Tersigni, have had their fair share of hockey-related nerves before.
But the lead up to meeting kids who will benefit from Mange's Breadsticks – a community program created by Mangiapane and Tersigni for at-risk youth – was different.
"I remember thinking, 'Hopefully, this will work out for the kids the way we want it to,'" said Mangiapane. "I was nervous. I honestly didn't know what to expect."
Tersigni felt the same unease while driving over to the youth centre.
"There are times when you get nervous, maybe when you aren't expecting to. It kind of reminded me of the feeling I had when I was younger and trying a new sport. It just makes you a little unsure of how things will go."
As it would turn out, any concerns over how they would be received completely evaporated the moment that the couple walked through the front doors of the Youth Centres of Calgary (YCC) in Ogden.
Mange's Breadsticks, which has been funded by Mangiapane and Tersigni and matched 100 per cent by the Flames Foundation and the Calgary Open Society, runs two days a week from October to March after school and will provide youth at the centre with the opportunity to learn and benefit from the basics of hockey.
Funds go towards the Youth Centres of Calgary in Ogden, who will operate the program and provide snacks and hot meals for participants.
"It was an incredible time. The kids were so happy and so eager to talk with us, which was fantastic," said Mangiapane, who also provided equipment to the kids through a donation from the Calgary Sports Bank.
"It wasn't an ideal day. It was pretty cold. My hands were freezing when we were playing a little ball hockey, but the kids didn't care at all. Neither did I. They brought a smile to my face."
"The look on the kids' faces throughout our time there, whether it was hockey, playing air hockey with them, the great food the Italian Society made for everyone, or seeing the kids hanging out with one another – everything was perfect," he continued. "We can't wait to go back again."
Mangiapane, a sixth-round pick of the Flames in 2015, is happy to see the program come to life.
"We have been wanting to do something like this for a while. Calgary has been our home for seven years and over time, I've seen how guys on our team, players that I look up to, have given back to the community," said Mangiapane, who recently played in his 350th NHL game.
"I always wanted to do something, but I wanted to make sure it was the right thing at the right time. Doing the ball hockey program and something for kids, teaching them about hockey, was something we eventually landed on. We had so much help from the Flames Foundation, the Calgary Italian Open Society and my agent. It's nice to see it finally happen."
The couple first discussed the idea of creating a program a few years ago.
"It was during COVID when Andrew and I started talking about it," said Tersigni. "We went from that to speaking with the Flames Foundation, Andrew's agent, and others. So, it's very exciting to see this all become a reality."
A registered nonprofit organization that operates after school and during the summer months for at-risk kids in the community of Ogden, Youth Centres of Calgary operates as a safe place for children to have access to food, and to connect with caring individuals in the community – like Mangiapane and Tersigni.
Despite Mangiapane being the recognizable face of the initiative, Tersigni got a taste of what it is like to be a pro hockey player in Calgary during their visit.
"I was fairly confident that I would walk in and the kids would say, 'Who is this person?' I was wondering how I was going to introduce myself. Within 15 minutes of meeting them, they were asking me for my autograph. I thought, 'What is happening?'"
"They were so excited to talk to Andrew, to get to know him. And it wasn't just about hockey. It was nice to see them interact with each other and Andrew, to see their personalities come out, to see their excitement."
Now that it has come to fruition, seeing the early impact the program has had, gives Mangiapane, Tersigni and the kids who are part of it ample reason to be optimistic about its future.
"It was great to see kids, some of who might not have access to play the game, get that chance," said Mangiapane. "I used to play ball hockey with my friends growing up and it was something I'll always remember. You could see that same type of happiness in the kids at the centre. Who knows? Maybe they will fall in love with the game and follow their dream like I did."