Cedric The Entertainer
Cedric Paquette had his teammates on their feet after his game-winning goal in Game 3 of the Stanley Cup Final.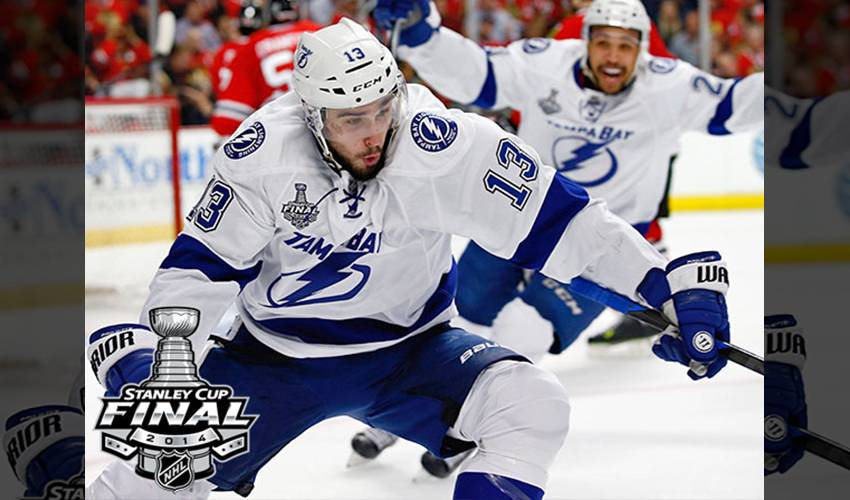 Earlier in the 2014-15 season, Cedric Paquette found himself skating in two leagues. On Monday night in Chicago, the forward was centre stage in Game 3 of Stanley Cup Finals.
He was a 30-goal scorer in the Quebec Major Junior Hockey League, tallying 31 times for the Blainville-Boisbriand Armada in 2011-12. Last campaign, he had 20 goals for the American Hockey League's Syracuse Crunch.
This season, he appeared in a total of five games with Syracuse, and 67 contests with the Lightning. Paquette, who scored his first two NHL goals on November 6, 2014, became the third rookie in franchise history to register a hat trick, the milestone moment coming on January 29, 2015 versus Detroit.
His most significant big-league goal, however, was on the evening of June 8 in front of a boisterous United Center crowd, one that delivered Tampa Bay a 3-2 win and with it, a 2-1 series lead against the Blackhawks.
"Hedy (Tampa defenceman Victor Hedman) got the puck at the blueline," recollected Paquette. "I just went to the net, he gave it to me. I waited until the goalie couldn't see the puck. I think I had the opening."
The goal, with 3:11 left in the third period, was Paquette's first game-winning marker in the NHL post-season. It was part of a big night for the native of Gaspe, Quebec, who recorded six hits, three shots and one blocked shot.
Not a bad night's work.
"I didn't know if I was going to make the team at the beginning," said the 21-yea-old Paquette. "I was there to make the team, right? I did everything I can to make the team, but it wasn't enough. I think we had a good balance."
There are no more question marks these days for Paquette, who was given the monumental task of neutralizing Chicago captain Jonathan Toews in the Stanley Cup.
The centreman, who scored his first NHL playoff goal in the Eastern Conference quarterfinals against the Detroit Red Wings, was quick to praise Tampa Bay backstopper Ben Bishop, who made 36 saves (on 38 shots) in the victory.
"Well, he played well all season," noted Paquette, in the post-game media conference. "I think it's no surprise right now. He held us in the game in the first. I think he did it all year."
Said Bishop: "Thanks, Ceddy."
Two words Cedric Paquette likely heard more than a few times in the aftermath of a masterful Stanley Cup performance.