Grabner likes his change of scenery with the Rangers
If you give New York Rangers right wing Michael Grabner an inch of inspiration he will take a mile.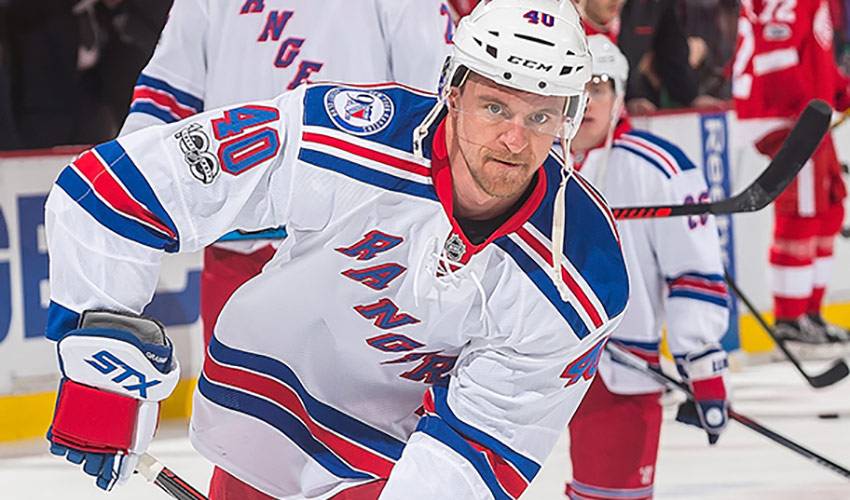 If you give New York Rangers right wing Michael Grabner an inch of inspiration he will take a mile.
For example, at the 2010 draft, the Vancouver Canucks traded Grabner to the Florida Panthers along with Steve Bernier and a first-round pick in exchange for Keith Ballard and Victor Oreskovich.
The Panthers cut Grabner and placed him on waivers at the end of training camp a few months later. This left the Austrian-born forward, who was 23 at the time, disheartened and uncertain about his future.
But Grabner recovered rather swiftly, employing the snub from the Panthers as motivation. The New York Islanders plucked him off the waiver wires and the left-shooting right wing responded with a 34-goal season to finish third in the Calder Trophy voting behind Jeff Skinner and Logan Couture.
Fast forward to last summer. Grabner was not selected to play for Team Europe at the World Cup of Hockey. Sure his production had slipped over the past few seasons, but he still was one of the game's fastest skaters, stingiest penalty killers and had a solid international resume with five goals in four games for Austria at the 2014 Olympics in Sochi.
Team Europe, however, played well enough without Grabner as it surprised the tournament field to advance all the way to the final against Canada. Grabner watched the World Cup with interest and was inspired by efforts of friends like Mats Zuccarello, Frans Nielsen and Anze Kopitar.
"It would have been nice to have played for Team Europe," Grabner said. "But watching the guys I was excited for them. After at training camp, I had a good talk with Mats and it was neat to hear all the stories from the tournament."
Zuccarello became a new teammate of Grabner with the Rangers. He played with Nielsen on the Islanders. He has played against Kopitar since they were kids. Kopitar's hometown of Jesenice, Slovenia is about a 45-minute drive from where Grabner grew up in Villach, Austria.
Villach is in the Austrian Alps. As fast as Grabner can skate he also was a pretty good downhill skier. But hockey was his passion. He even played roller hockey in the summer with neighbours Michael and Thomas Raffl to keep sharp.
The former is a forward with the Philadelphia Flyers and was Grabner's best man at his wedding a few years ago.
It was easy to get excited about hockey with the Raffls living nearby. Their father Peter was a legendary Austrian hockey player and coach.
Grabner marvels at how Villach, a town with a population of 60,000, turned out two NHLers and almost a third. Thomas, two years older than the 29-year-old Grabner, played for the AHL Manitoba Moose last season. But he's back in Austria performing for Salzburg EC.
Thomas Raffl and Grabner played together for their hometown VSV EC when Grabner was only 15. Through VSV EC coach Greg Holst, a Montreal native, Grabner moved to North America to play junior with the Spokane Chiefs.
He immediately attracted the attention of scouts with his speed and skill. The Canucks selected him in the first round (14th overall) in the 2006 draft.
After three seasons in the minors with the Moose, Grabner made the 2009-10 Canucks out of training camp and spent the first month in Vancouver before being demoted and then called up in the final month.
In his four years in the Canucks organization, he enjoyed playing for Vancouver head coach Alain Vigneault and Moose head coach Scott Arniel.
Vigneault, of course, currently is the Rangers head coach and Arniel is his assistant. So it was an easy decision for him to sign a two-year deal with the Rangers last summer.
Motivated in his new setting after watching his friends flourish with Team Europe, Grabner emerged out of the gate with a flurry, scoring 12 goals in his first 20 games.
Even though he has cooled off in the second-half and was slowed with a hip injury, Grabner's 27 goals are second on the Rangers behind Chris Kreider's 28 after the final weekend of the regular season.
"It's been a mix of things," said Grabner, who only scored a combined 29 times in his last three years. "I enjoy New York. Obviously, this is a good team.
"It was an easy adjustment coming here, having played for Scott in Winnipeg and AV in Vancouver. There were no surprises. It was nice when Scott told me that the Rangers tried to get me at the [2016] trade deadline. It was nice to be wanted.
"I also had some good chemistry right away with Kevin Hayes and J.T. Miller as linemates. Then we got hurt at different times and goals stopped coming. But for the most part, the season has gone well and we're looking forward to the playoffs."