Grabner Back For The Islanders
After battling through injuries this season, Michael Grabner is excited about what's to come for the Islanders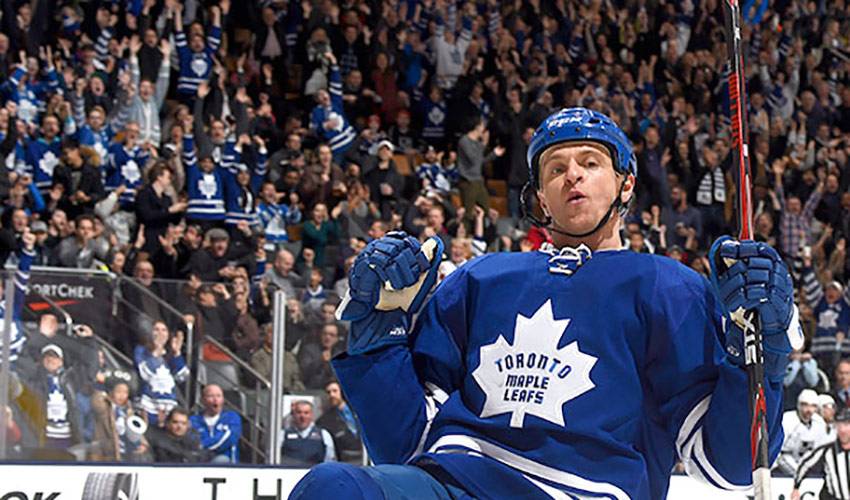 While the weather in his native Austria wasn't quite what he hoped for this summer, the forecast for the New York Islanders is even brighter with Michael Grabner's return to the lineup.
There were plenty of good times to be had during his off-season in Europe, but it was quite the opposite when Grabner returned to North America, finding himself on the sidelines when the 2014-15 season started, a sports hernia injury relegating him to spectator status.
Injuries have wreaked havoc on his campaign, and it's been admittedly frustrating for Grabner, who was drafted 14th overall by the Vancouver Canucks in 2006.
"You never want to be watching the games," said the native of Villach, a city of 60,000 people in the southern part of Austria. "Of course, it's easy to get down. But, the guys have been very supportive. All you can do is work hard and be ready to give it your all when you can get back on the ice."
While the Islanders are in the midst of a dream season, taking up residence in the top tier of the Eastern Conference, having Grabner's world-class speed and offensive savvy back in the fold makes them an even more dangerous squad to contend with.
On Martin Luther King Day, the 27-year-old was at his best, scoring once and adding an assist in a 7-4 home win over the Philadelphia Flyers, while picking up third star honours.
Grabner, like his teammates, are pining for playoff success. In April of 2013, the Isles netted a post-season berth for the first time in six seasons. Last year, they failed to qualify.
"Everyone is very focused on what we need to do in order to have the type of year we want," said the forward, who has appeared in 15 career Stanley Cup playoff games, including six with New York (he recorded four points). "There's a real closeness on this team and a real desire to be a winner. It's always a good feeling when you know everybody is on the same page."
Expectations and confidence are in perfect harmony these days for Grabner and co.
"It's great coming tot the rink and seeing the energy and enthusiasm," he said. "There are still lots of games to play and no one is taking anything for granted. You can't do that at any point of the season."
Although things rained on Grabner's parade, so to speak, in the off-season and at the start of the campaign, it appears as though brighter days are ahead for No. 40.
"Every year, you love the game more," he said. "I can still remember the times when I was in Austria and I didn't know much about the NHL. But, to be able to play against the best players in the world is really a dream come true. Of course, the big dream is to win the Stanley Cup. That's what we all play for."