Unbreakable bond: Kyle Turris and the Capital City Condors
Not long after playing overtime hero for Ottawa in Game 5 of their Eastern Conference semifinal series against the New York Rangers, Turris was once again playing hero, this time in a suit, not a Senators sweater.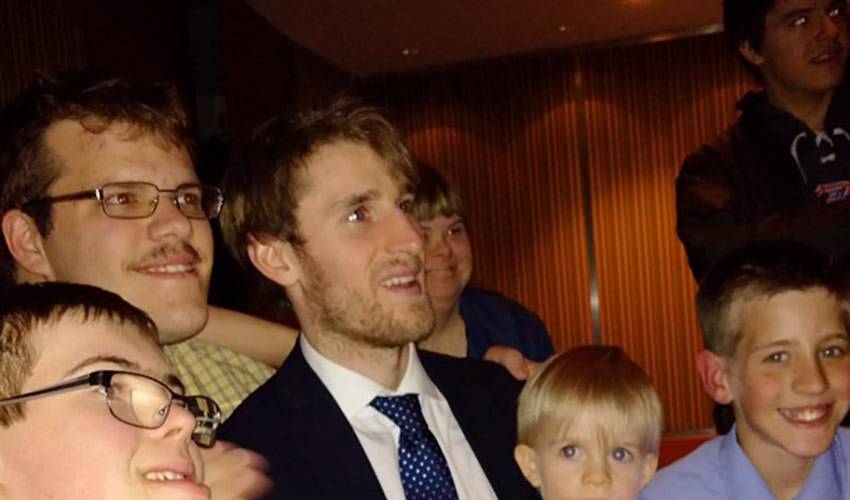 When Kyle Turris walked into the room, kids smiled and parents cried. Jim Perkins did a little of both.
Not long after playing overtime hero for Ottawa in Game 5 of their Eastern Conference semifinal series against the New York Rangers, Turris was once again playing hero, this time in a suit, not a Senators sweater.
The Capital City Condors, a family of hockey teams for people with physical and/or intellectual disabilities, were holding their end of year banquet and awards night on the same evening that Turris and his teammates were facing off against the Rangers.
No one, including Perkins, the Condors co-founder and president, expected to see No. 7 walk through the doors that night. He made an announcement to the large gathering noting Turris wouldn't be able to make it.
Unbeknownst to the 300 people in attendance, the 27-year-old centre secretly had a plan in place.
Less than 90 minutes after netting the game-winning tally, Kyle and his wife, Julie, slipped quietly into the banquet room.
Their presence didn't go unnoticed for long.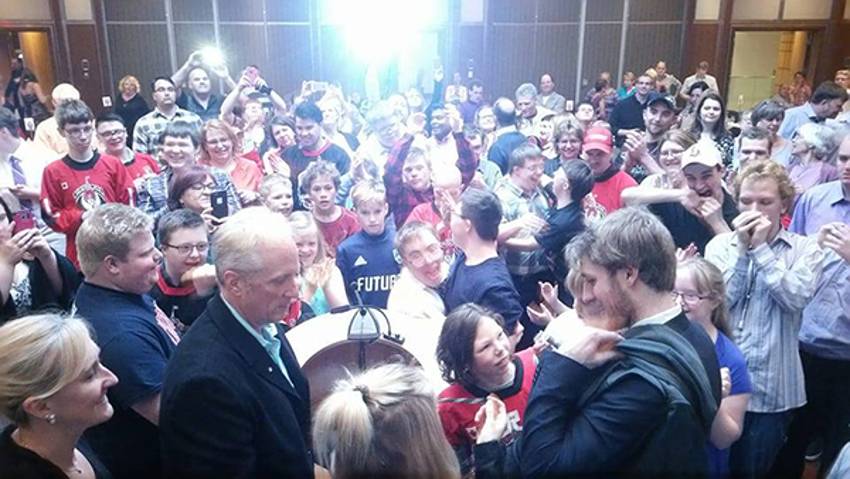 "When Kyle and Julie came to the award nights, the kids were beyond excited, but the parents, I can only describe it as overwhelmed," recalled Perkins. "They understand the dynamics of the playoffs and the responsibility that is on the players at that time of year. For the parents – that he would take that time and bring Julie with him – and take that moment to spend with their kids, they were overwhelmed. A number of them were in tears. I wish people could have witnessed that moment. There is elation that their hero is there, but there is also admiration, too. It's just very meaningful."
And for Perkins, it's a perfect example of who Kyle Turris is.
He found that out the first time the two met face-to-face at an Italian deli in Kanata.
Perkins was optimistic it would go well, considering Turris' old roommate was Matt Carkner, a former Senators defenceman, who along with his wife, Kary, are huge supporters of the Condors.
"We were a couple years in to our program and we still trying to figure out how to meet people within the special needs community beyond what we could do through the school boards and that type of thing," said Perkins. "We didn't understand fully how hesitant parents were to sign kids up for something because a lot of programs start and municipalities aren't able to keep them going, so they get pulled for lack of money or whatever. I think a lot of parents knew that – particularly with hockey – if they gave their kids a taste of it and then it was pulled, it would be harder on them then if they never tried it in the first place.
"We didn't know completely that we were battling that until Matt came along and registration doubled that year. Obviously, we were able to meet more parents, but we started hearing that theme over and over again: 'When we knew that Matt and the Senators were involved, we knew it was going to stay around for a while.' So, it elevated the profile of the program, which is very difficult to do for a grassroots program. He's just such an amiable guy. Matt and Kary are just tremendous people. The credibility that he brought on many levels was unbelievable."
It's one of a handful of things Perkins was thinking about when Turris came over to his table.
"Kyle is a very soft-spoken guy, a gentleman through and through," offered Perkins. "He's very engaging and he was very curious about the program. We spent about two hours at the deli that day. He just wanted to hear as much as he could about what we were all about. 'Tell me how you got started. Tell me about the kids.' He was very interested in every bit of it. I had a yearbook with me and I told Kyle, 'Pick a page because we have so many stories and each one is a little miracle about the kids and the families.' We went through a good bit of the book. And you could just tell immediately that he was beyond engaged."
Perkins was, admittedly, a little lost for words after the pair shook hands and went their separate ways.
"It was very moving for me," said Perkins. "Kyle is the same age as my oldest son. So, I was kind of drawing some mental comparisons of my own about how my son might be reacting in a meeting with a complete stranger. But it struck me, too, that he had a certain level of familiarity with it because he had been Matt's roommate. I could tell through my conversation with Kyle that Matt had already instilled in him a bit of an appreciation for the program, the kids and the families. He was engaged from the very first moment."
Turris, the Condors honorary captain, still is.
For the past five years, Kyle and Julie have lent their time and support to special needs hockey in the Ottawa area.
Cant say enuf about @kyleturris & @julieturris !! Love you both tons! Thank u 4 being you!! #hockeyheroes #biggerthanhockey #condorshockey pic.twitter.com/iiuCMr2UGg

— Capital City Condors (@condorsottawa) February 15, 2017
Perkins admiration for both continues to grow.
"Kyle is an exceptionally humble guy," he said. "He and Julie cherish the rights things in life."
There are hundreds of moments, Perkins noted, that perfectly exemplify the bond between Kyle and the Condors families.
Two, in particular, come to mind.
"One mom said, 'Kyle doesn't just hug the kids, he embraces them.' You can't fake that. And that's true, especially with these kids.
"They don't have the same filter necessarily of every kid you'd encounter," continued Perkins. "You can't fabricate with kids, especially with these kids. So, when you see Kyle with the kids around him and he's either down on his knee or leans down to look them in the eye, he just stops and talks, calls each one of them by name – he doesn't just hug them or pat them on the shoulder. That one mom put it most perfectly. I think that speaks volumes. It's his way of convincing them that they are extremely important to him. I think that represents everything about this.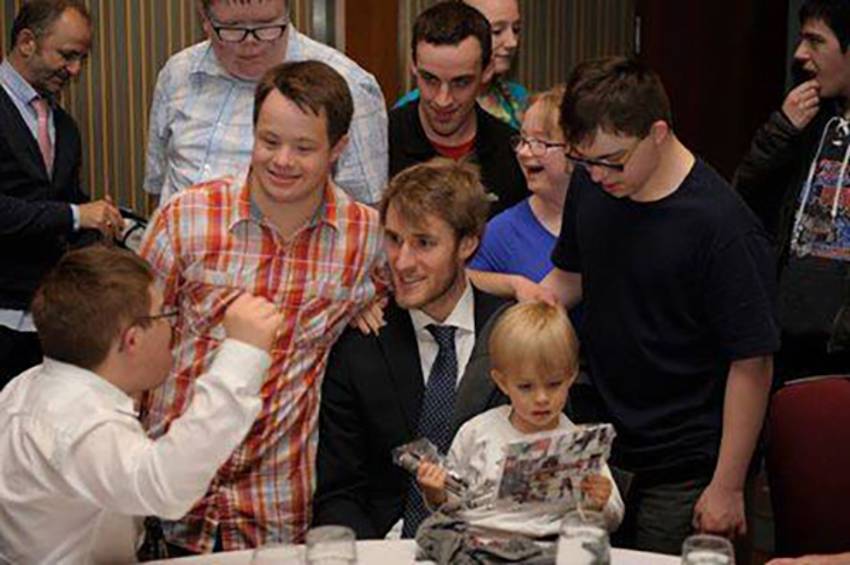 "I remembered this one morning when we had a local TV station come in and do a little story on Kyle and the program," continued Perkins. "They interviewed one of our players. They asked, 'Who is your favourite Senators superstar?' This girl mentioned the name of another player on the team. Her mom was kind of over her shoulder and that answer caught her attention. When the interview was over, the mom came over and said, 'You didn't say Kyle was your favourite Senators superstar.' This girl looked at her mom and said, 'Mom, Kyle is my friend.' To me, that's so profound. To them, he's their hero, and they know exactly how much he means to them. He's beyond their hero. He's taken the time to be their friend. Tell me that doesn't say it all."
When Kyle and Julie were married, the Condors delivered a heartfelt gift to the couple, one they shared at their reception.
Perkins thinks about it often.
"If people had any idea how many times I pull up our Facebook page or watch any of the videos of Kyle and the kids, it might be surprising," he noted. "The kids put together a video that we were able to take out to Kyle and Julie's wedding. We interviewed the kids and they sent congratulatory messages to them on their big day. I still watch that video all the time. I kind of well up when I watch it. Kyle and Julie love the kids, but boy are they ever loved by the kids and the families, too."
The feeling is no doubt mutual.
*
The annual Kyle Turris and Capital City Condors Golf Classic takes place on June 5.
For more on the Capital City Condors, visit their official website: capitalcitycondors.org/.