Nate Thompson appreciative of his NHL career as he enters retirement
Thompson received an outpouring of support from former teammates upon announcing his retirement.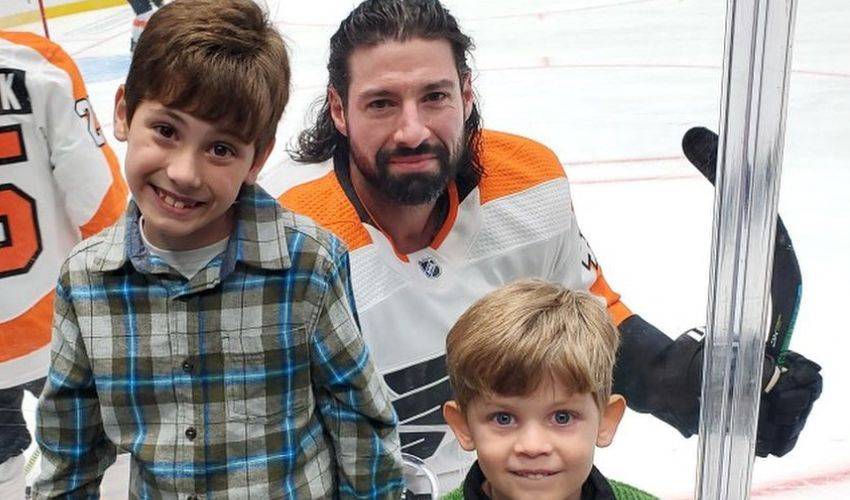 Feature Photo: IG / @nthompson44
---
Over nearly 850 NHL games, Nate Thompson was a role player who earned five-star reviews from those he played with.
After a long professional career, Thompson, 38, announced his retirement from the game on July 19.
Twenty years after being drafted in the sixth round (183rd overall) by the Boston Bruins in the 2003 NHL Draft, and suiting up with nine teams, the native of Anchorage, Alaska, will now move on to the next chapter in his life.
And while he has had time to reflect on his hockey life, it has been the words of many others, including former teammates, who have helped him put it all into perspective.
"It was almost a little bit overwhelming," Thompson said, of the outpouring of messages he received both publicly and privately. "When I did announce I was retiring, I was not anticipating the amount of support and respect that I received. I didn't know the magnitude of the career that I had. You reflect on it, but when people acknowledge it, that is very humbling. It's a career that I am extremely proud of."
Thompson played 305 games with the Tampa Bay Lightning over four seasons from 2009 to 2014, while he also made stops with the Boston Bruins, New York Islanders, Anaheim Ducks, Ottawa Senators, Los Angeles Kings, Montreal Canadiens, Philadelphia Flyers and Winnipeg Jets.
His calling card on each of those teams was that of a gritty, blue-collar fourth-line forward – a player tasked with putting in the work that was not always reflected on the scoresheet.
The centre relished that role.
"That's part of the reason I played so long, that I was able to do those things, the unheralded things that don't always go noticed. To have the support and praise from my teammates and coaches over the years, to know that a team does need guys like that, especially in the important games down the stretch and in the playoffs, it means a lot. That was me, that's the type of player I was, and it meant a lot to me to embrace that role and play my part."
Thompson overcame addiction midway through his career and was able to maintain his role on the ice. He opened up about his past in 2020 as he celebrated three years of sobriety.
"I'm proud of the fact that I was able to keep myself relevant for so long. I was never really a guy who was in and out of the lineup. … To be able to sustain it as long as I did and do to it as a career fourth-line guy, it's something I look back on with a lot of pride."
Thompson, who tallied 65 goals and added 99 assists in the regular season, along with 21 points in 86 playoff games, admitted that all of it went by faster than he had ever imagined.
The words he heard often as a rookie were the same words he found himself sharing when he was in the latter stages of his playing days.
"I blinked and my career was over," he said with a laugh. "It goes by extremely fast. When I first started out, the older guys would always tell me, 'Soak up every second because before you know it, it will be over.' And they were definitely right."
One thing that will remain a constant, however, is the impact Thompson had on some of the game's younger stars.
Max Domi was one of Thompson's former teammates who took to Twitter to congratulate him on his retirement.
Those words, and others from past teammates, are deeply meaningful to Thompson.
"It's special. I look back on my career and I'm just grateful that I was able to do it like I did and as long as I did. I'm also extremely grateful for everything I have. The accomplishments and the relationships I've built over the years are all because of hockey. It's given me a lot. I was able to make a lot of great bonds over time."
Just as did with fans everywhere he played.
"It's a privilege to play in some of the places I did, in front of great fans, in amazing cities. I'm very lucky to have had the connections I did with the fans. I always say that the players and the NHL, all of it, is as good as it is because the fans support us. It's pretty cool to be able to have that connection with them."
One of the many fond memories Thompson will take away from his treasured playing career.