After the Buzzer | Nate Thompson
This October, Thompson skated in a milestone NHL game, celebrated a birthday, and three years of being sober – all within six days.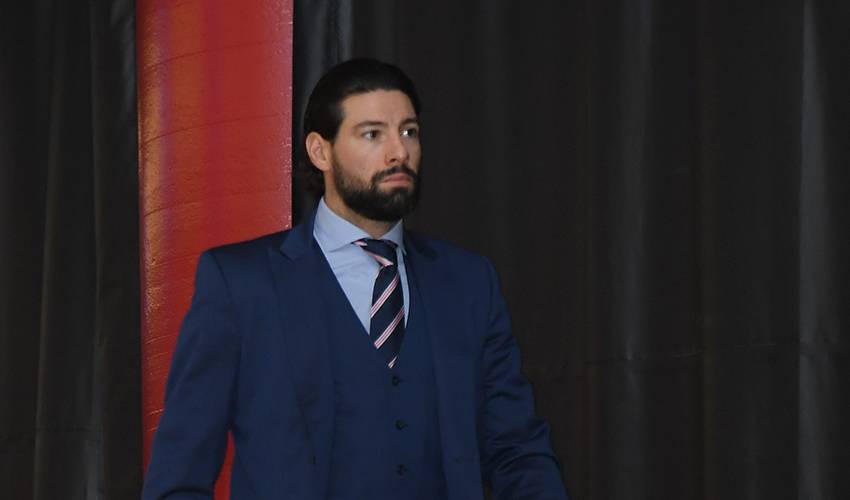 Feature photo: Getty Images.
From their bond with fans to their efforts in the community – and everything in between – 'After the Buzzer' is a weekly series taking readers beyond the rink to shine a light and provide insight on players' lives away from the game.
---
Nate Thompson may have recently reached the 700 games played plateau, but the journey to get there hasn't been without its twists, turns, and life-changing moments.
The 35-year-old forward opened up to share some of the ups and downs he's endured, and how he's found happiness on and off the ice.
IT TAKES A VILLAGE
This October, Thompson skated in his 700th NHL game, celebrated a birthday, and three years of being sober – all within six days.

"I did not envision ever getting to that amount of games. When I came into the league, for me, at the beginning, it was just making the NHL, or just playing some games. It just slowly evolved into, 'Okay, I can make a career out of this.' Next thing you know, it goes by so fast. So many people helped me a long the way. I think it's a group thing. It starts off with your parents sacrificing for you, then there are minor hockey coaches, other coaches along the way, teammates – there are a lot of people different people in my life that were a huge support system for me to get where I am now. The biggest thing is that I have never let myself get complacent. I've always been a guy that's had to earn everything."
FAMILY MATTERS
In August 2018, Thompson married Sydney Thompson (née Kaplan). He has nothing but high praise for his wife and her family.
"I'm a lucky man. As they say, it's always a goal to outkick your coverage… and I've done that. From the time we started dating – she comes from a Jewish family – I've spent a lot of time, including the holidays, with her family. It was so welcoming They've always been great to me. I feel very fortunate."
A NEW CHAPTER
Thompson made the decision to convert to Judaism after meeting Sydney, and they were married by a rabbi.
"I never really had strong ties to any religion, but I had faith. After being with her family for so many holidays, I thought, 'Alright, I guess I'm pseudo-Jewish.' So, when we decided to get married, we talked about it [his converting], and it was my idea. If we have kids, we should raise them Jewish. Why not? So I decided that would be a lot easier if I converted. I did that, and the rest is history."
THREE YEARS
Just over three years ago, when he was with the Anaheim Ducks, Thompson made a life-altering decision.

"I was recently telling a lot of people that I wouldn't have 700 games without being three years sober. I think that kind of goes hand-in-hand. I think it's the accomplishment I'm most proud of… over three years ago I wasn't in a good place. For me - I know it's different for everyone – there are different rock bottoms, and three years ago I was at mine. I had to make a decision to change my life, or things were going to get worse. Because of that, and continuing to work on myself in recovery, all those things you have to do change your life and change the way you live… I'm here today talking to you about it."


"The support I've had from so many people – my wife, my family, the guys, and friends – it's been pretty incredible. It's amazing what getting sober has done for me. Not just me, really. At the time, I was harming myself, but I was also harming everyone else around me. Overall, I'm just a better version of myself. It's a big deal, and I'm proud of it. But I have to continue to work on myself, and do the same things over and over."
PARTING SHOT
"I am so proud of everything he has overcome and to see him achieve such a big accomplishment shows me how much love he has for the game. I'm proud of his hard work and dedication, and to be his wife." - Sydney Thompson