Luke Schenn feels right at home in his return to Toronto
Although he spent 11-plus years playing elsewhere, Schenn felt right at home almost immediately upon his return to Toronto.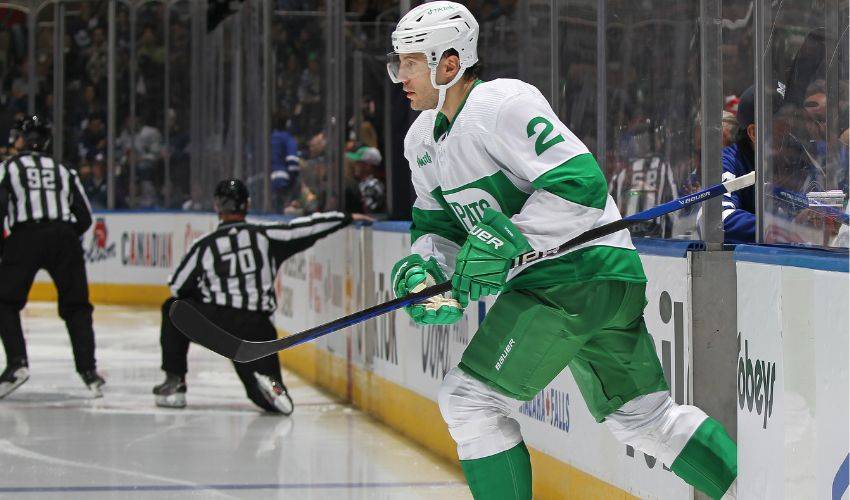 Feature photo: Getty Images
---
It has been a mix of new faces, old places and some familiar spaces for Luke Schenn since his return to the Toronto Maple Leafs via trade on February 28.
To say that it has been a whirlwind since the veteran defenceman was dealt from the Vancouver Canucks back to the team that originally drafted him nearly 15 years ago would be a vast understatement.
"It's been a crazy couple of weeks, let's put it that way," quipped Schenn, whose wife, Jeska, gave birth to their third child on March 13, less than two weeks after the trade. "But everything has gone better than I expected. My wife is doing great. We're getting a lot of help from her mom and sister, so we've been lucky with that. I'm hoping to get them to Toronto in the next few weeks, so it will be nice when all of us our together."
Schenn, who was acquired in exchange for a 2023 third-round pick, played his first game in his return to the Maple Leafs on March 2 and his first home game on March 17.
Although he spent 11-plus years playing elsewhere, the 33-year-old - not quite sure what to expect when he first arrived back in Toronto - felt right at home almost immediately.

"When you get traded, it can be a little awkward when you go to a city you don't have a lot of familiarity with, not knowing how to get around, the facilities, or the city in general. In a way, it really is like coming home, getting back to the place where it all started. I was surprised. Everything came back so quickly, how to get around the city, how to get to the practice rink. Every little thing came back."
Including the moment Schenn found himself back in the team's home digs at Scotiabank Arena.
"It was so funny. I hadn't been in the dressing room in 12 years, and I found myself walking into that room and I went over to my old stall. I took off my street clothes and opened it up and it was like everything came back to me. It's kind of crazy how everything has come full circle."
An in-demand name leading up to this year's trade deadline, the defenceman with over 920 career NHL games to his name has since played in Vancouver, Tampa Bay, Philadelphia, Los Angeles, Arizona and Anaheim after playing for the Leafs early on in his NHL career.
Now, he will look to add a third Stanley Cup ring after winning a pair of championships with the Lightning.
"When I first played in Toronto, I appreciated what it meant to be a Maple Leaf, but I don't think to the extent that I do now because you don't have the same life experience and same maturity. It's a little extra special to come back for sure. There have been times in my career where I've been going through free agency and I thought, 'I wonder if I could ever get back and play with the Leafs.' It never worked out, but the timing worked out this time. I couldn't be more happy with it."
Even if that means it will be a few weeks before the Schenn family is reunited in Toronto.
Fortunately, the couple has several people pitching in to help until that happens.
Having that peace of mind when the puck drops has been huge for Schenn.
"I've been with Jeska since the start of my career and [she] has supported me every step of my career. From the outside looking in, it may seem the life of an athlete's spouse is easy, but it's not. With my career, we've had plenty of moves, and she's always supported me. Once you have kids in the mix – our second was born during the pandemic and he was two months when I had to go into the bubble and five months when I got back – it creates an entirely different dynamic. So, this is the second time she has had to take care of a newborn while I'm playing hockey. It's not the way we had it drawn up, but she's been unbelievable. Thankfully, we have a great support system of family and friends who are there to help us out."
Just as it has been throughout a career that hasn't always played out as Schenn expected.
Highs, lows and everything in between, the Saskatchewan native has rolled with the punches.
"My first year in the league was 2008 and here we are 15 years later. It has gone by fast. I wouldn't have expected my career to go the way it has. There have been a lot of ups and downs throughout my career, and the downs haven't been easy, but you get through them and learn from them. It's gone by fast, but I still feel I have some time left to keep going. My mindset is to get better with age, and I'm going to continue to do that. I'm not going to take anything for granted and enjoy it as much as I can."