Remember That Feeling
Luke Schenn working hard to see the Leafs pick up where they left off in 2010-11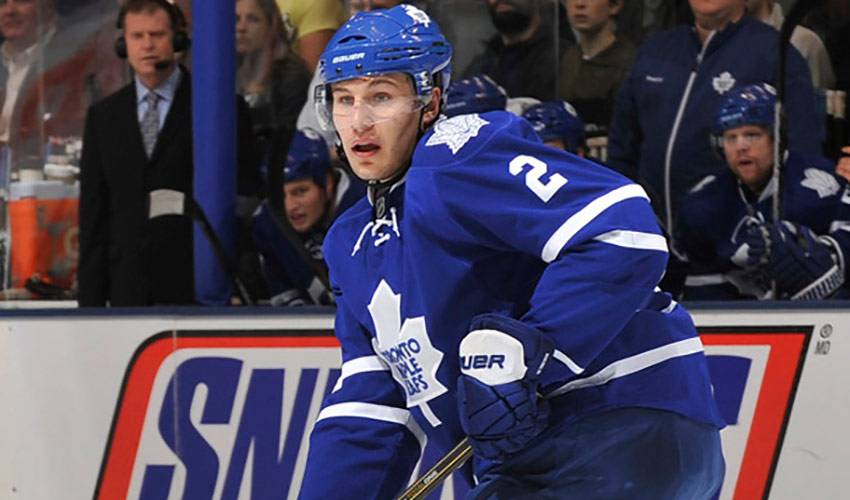 He's a former Kelowna Rocket whose NHL career has already taken off, a young defenceman eager to see his team launch a serious bid at a playoff spot in 2011-02.
It's hard to believe 21-year-old Luke Schenn has already played three big-league campaigns and in 231 regular season games.
The Saskatchewan native, who played three seasons in the Western Hockey League, has, in spite of his age, already become one of the game's top blueliners.
"In some ways, it does seem just like yesterday that I was drafted," said Schenn, the fifth overall selection in the 2008 NHL Entry Draft. "It's always a special thing look back on. You always hope you'll get drafted to play in the NHL, but being selected by Toronto was extra-special. It's hard to believe it actually came true."
It's easy to understand why the Original Six club would want Schenn in the lineup.
Schenn joined Kelowna during their Memorial Cup run at the end of the 2004–05 season and debuted with the Rockets during the 2005–06 WHL season, earning honours as the team's Rookie of the Year.
He served as an alternate captain for the team during the 2007–08 season.[2] Later in that same season, Schenn was named to the WHL's roster for the Canada-Russia Challenge, and skated in the Canadian Hockey League Top Prospects Game, where he served as a team captain and scored a goal. During his days in Kelowna, Schenn, named to the WHL's Second All-Star Team after the 2007–08 season, was often paired with Buffalo Sabres defenceman Tyler Myers.
"It takes a lot of hard work and dedication at every level of the game," said Schenn, who appeared in 19 playoff games with the Rockets. "And obviously, you have to maintain that level of commitment once you get to the NHL."
It was evident early on that Schenn was destined to be a mainstay on the Maple Leafs blueline.
During the 2008-09 pre-season, Schenn was anything but out of place, flashing the skating and shooting skills that made him a highly sought after player.
On October 27, 2008, Schenn was told he was staying with Toronto for the rest of the season.
"That was a big honour and I was grateful to see they had confidence in me," said Schenn, who recorded his first NHL point (an assist) in a 6-5 shootout win against the New Jersey Devils. "All that does is make you want to be better and to help the team in any possible way."
And even though the pressure of playing in one of hockey's most high-profile cities can take its toll on the most seasoned veterans, Schenn, who recorded his first multi-point game in an 8-6 win against the Calgary Flames on March 14, 2009, wasn't fazed.
"There's always pressure and the fans in Toronto love their hockey," offered Schenn. "But for all that pressure that exists, I think the most pressure comes from within. You want to win and you want to do your part to help see that happen."
While there were some ups and downs in his sophomore campaign of 2009-10, Schenn managed to fight through the difficult times. By season's end, he was playing some of his best hockey.
At the end of 2010-11, Schenn had tied his career high for goals with five, and set new personal records for assists with 17 and total points with 22, while appearing in all 82 games for the Maple Leafs.
He also earned rave reviews from the coaching staff and teammates for his strong performance throughout the schedule.
All signs point to the upcoming season as being a big one for Schenn. His primary goal, however, is getting the Maple Leafs, who last won the Stanley Cup in 1967, back into the Eastern Conference playoffs.
"We take a lot of heat for that," said Schenn, with a grin. "I know for a fact that no one on our team is even close to being born then. We've taken heat for not making the playoffs, but we have a brand new team in the past year and a half and we have big expectations."
Even in the off-season, just days removed from Boston winning the Stanley Cup, Schenn already has the new season on his radar.
"We all want to get the job done," he noted. "We got a bit of a taste of what the playoff push is all about down the stretch last year. We were fighting for a spot and hopefully, we all remember what that felt like. We want to make it to the playoffs just as bad as everyone else does."