Schenn reflects on evolution to leadership role
Luke Schenn has happily embraced his role as an elder statesman on the Vancouver Canucks, and reflects on the journey that got him there.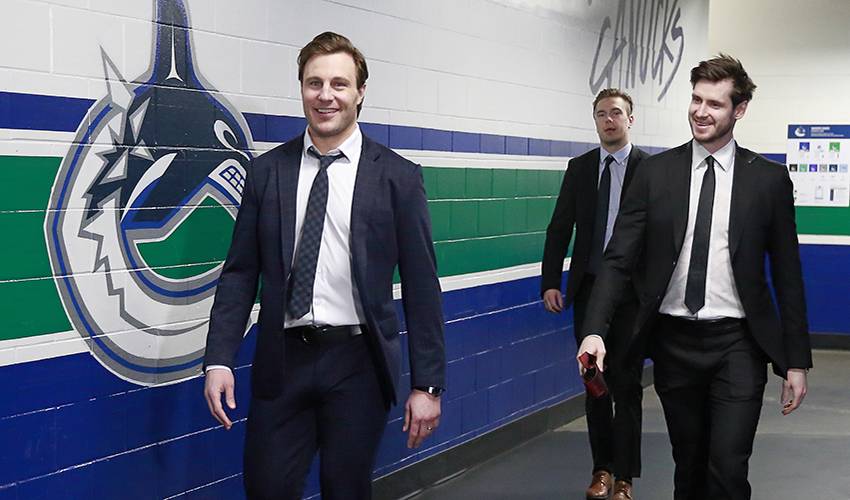 Feature photo: Getty Images
---
He didn't have the best seats in the house but for Luke Schenn the view and what it inspired, was crystal clear.
It was over 20 years ago when Schenn, along with his younger brother, Brayden, got their first opportunity to take in a live NHL game. It was a moment both the hockey-playing siblings from Saskatchewan had long looked forward to.
"Usually, once a year, growing up, my parents and my brother, we'd go out to the Rocky Mountains for a little ski trip," started Schenn. "We'd go to the Lake Louise [Alberta] area. One year, for Christmas – we usually went on the ski trip just around New Years – my dad got me and Brayden tickets to a Calgary Flames game, which was on the way to where we stayed."

"I would have been about 10 back then. It was the Flames versus the Ottawa Senators. We couldn't have sat up any higher in the building, but it didn't matter. Me and Brayden, we were just blown away, just being in an NHL building and seeing all of those talented players. I remember the whole experience, showing up to the arena, and seeing NHL players live in action."
It was something the Schenn boys hoped to one day achieve themselves.
Luke, two years older, went on to become a standout defenceman in the Western Hockey League and struck gold with Team Canada at the 2008 World Junior Championship. Brayden blossomed into an offensive star with the Brandon Wheat Kings of the WHL, and won back-to-back silver medals, in 2010 and 2011, with Canada at the world juniors.
"My goal was to get drafted, make an NHL lineup, and go from there," recalled Luke, taken fifth overall by the Toronto Maple Leafs at the 2008 NHL Draft. "I played my first NHL game in Detroit. They were raising the Stanley Cup banner and I look across the ice and there was Lidstrom, Rafalski, Draper, Maltby, McCarty, Osgood, Datsyuk, Zetterberg, Chelios, Holmstrom and all those guys. I couldn't believe I was in the NHL and lining up against those players."
It brought back recollections of the game at the Saddledome 10 years earlier.
"You're in the stands and you think about what it would be like to be one of those players. And then it happens, and it really is hard to put into words how great that feeling is. You play your first NHL game and right then, it's sort of that thought that you can die a happy man because the dream you had actually came true."
But it would get even better – much better, in fact, for the steady blueliner.
Now, nearly 900 games and two Stanley Cups into an NHL career that has included stops in Toronto, Philadelphia, Los Angeles, Arizona, Anaheim, and now, Vancouver – Schenn looks back fondly on the path, not always an easy one, that led him to this point.
"As your career gets going, you just want to play as long as you can. As far as expectations, I wanted to push myself to play as long as I can. I think the biggest bonus is that I got to win the Stanley Cup twice [in 2020 and 2021 with Tampa Bay]. There have been a lot of ups and downs in my career, for sure, times where I've had to really grind through some adversity, times where I've been rewarded, and now, I'm at a point where I'm still young enough and I can still try to get better and push it as long as I can."
He's happily embraced his role as an elder statesman on the Canucks, a leader who looks out for his teammates on and off the ice.
The 6-foot-2, 225-pounder laughs at how his own life, inside and outside of the game, has changed since his early NHL days.
"You blink and it's flown by. I'm one of the old guys in the room now, which is crazy. I remember when I was in Toronto, you'd see the older guys – players like Francois Beauchemin, Nik Antropov and Curtis Joseph, bringing their kids into the dressing room after games. Now, that's me bringing my kids into the rink after games. I love it [his leadership role]. I had a bunch of older guys take care of me when I was young. There are some really talented players on our team here in Vancouver and if you can be that veteran guy that everyone can get along with, that everyone can talk to, show up to work every day and put in a good effort – I think it's all about being a pro."
And that's exactly what Schenn is.
In addition to his contributions as a key leader, the father of two boys, Kingston and Weston, is constantly working overtime at his craft.
"I enjoy the game more than ever. I think that's based on age and experience, but also, when you look at the path you took. Three or four years ago, I had to work things out and go down to the American Hockey League for a bit. I have a way better appreciation for things now, and I want to keep going. I feel good. Old guys get labelled that way because I started young, but I still feel great. Thirty-two isn't old, and I still feel I have some miles left."
More than a few, he hopes.
"As your career gets going, you just want to play as long as you can. Here we are, year 14, and it's flying by. I want to keep playing and I'm loving every bit of it in Vancouver. I wouldn't trade any of it for anything."
Currently averaging over 17 minutes of ice time per game, Schenn still feels very much like the kid who once sat high up in the Saddledome, wide-eyed at the thought of making it to the NHL, who would later become the hopeful rookie in the league looking to stick around.
It's something that comes to mind often during the season.
"The biggest thing is, for me, is that the longer you go, is how incredible it all is, but also the appreciation you have for your career. Every city you go to, every building you play in, it brings back memories of earlier in your career."