A Winter Classic veteran and first-timer – Foligno and Dumoulin gear up for fun at Fenway
The 2023 Winter Classic is set for January 2 at Fenway Park in Boston.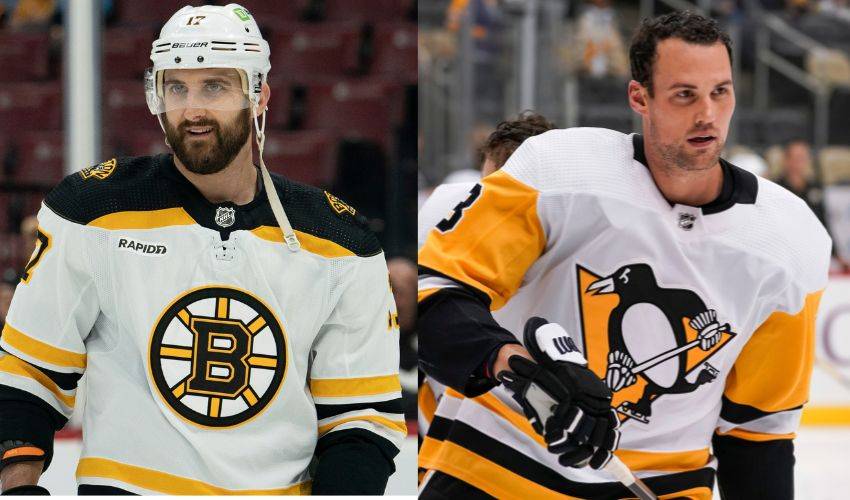 Feature photos: Getty Images
---
Nick Foligno and Brian Dumoulin are ready to hit the outdoors for the 2023 NHL Winter Classic.
The annual regular season outdoor game, one that traditionally takes centre stage during the onset of the new year, will mark a first for veteran Bruins forward Foligno, and a familiar scene for Penguins defenceman Dumoulin.
Taking place at historic Fenway Park, home to Major League Baseball's Boston Red Sox, the afternoon contest between Boston and Pittsburgh represents the 14th NHL Winter Classic, the 36th NHL regular season outdoor game, and the first of two outdoor games scheduled for the 2022-23 season (the 2023 Stadium Series will feature the Carolina Hurricanes and Washington Capitals at NC State's Carter-Finley Stadium on February 18).
"It's funny," started Foligno, who has played in over 1,050 NHL regular season games. "Somebody said to me, 'You've got to be the guy with the most games played that's never had a Winter Classic.' I've got to be up there. I'm really excited about this. Anyone that's ever played the game, especially in the northern U.S. or throughout Canada, being outside and playing hockey is any kid's dream."
This will be Dumoulin's third NHL outdoor game. It will also be his third time playing at Fenway, but the first experience at the big-league level.
During his U.S. collegiate hockey years, the 31-year-old from Biddeford, Maine, played in two outdoor contests at Fenway, including a memorable win in 2012.
In 2019, he was part of the Penguins squad that took on Philadelphia in the Stadium Series outdoor game played at the home of the NFL's Philadelphia Eagles. Unfortunately, Dumoulin was injured and had to leave the game, a 4-3 overtime loss for Pittsburgh.
Two years earlier, Pittsburgh bested Philadelphia 4-2 in a Stadium Series game at Heinz Field, home of the Pittsburgh Steelers. Dumoulin had an assist in the contest that saw 67,318 fans take in the action.
"Obviously, that game was tough, being knocked out of that one in Philly," started Dumoulin. "We played a home game at Heinz Field and that was really cool. I played twice at Fenway when I was in college. I think the Bruins played the Flyers and a couple of days later we played BU (Boston University) and I remember it being sold out. We had special jerseys at BC (Boston College) for the game. It was really special. We lost the game 2-1, so it was kind of sour. But the whole experience was amazing. The next year, we played Northeastern at Fenway, and we ended up winning, so that was a great memory."
Both players have fond recollections of their childhood outdoor hockey days.
Foligno, whose father Mike played 1,018 NHL games, and whose brother Marcus plays for the Minnesota Wild, made sure winter trips to see his grandparents in northern Ontario included plenty of time enjoying the game outside.
"I was lucky to have grandparents in Sudbury who had an outdoor rink right across from them. So, every time we'd come up for Christmas, I got to play there. I'd run over and skate for hours until I was freezing cold, or they had to turn the lights off. Those memories stay with you. It's such a neat experience and atmosphere, and it always sets up to be a great time for everyone involved."
Dumoulin, originally selected 51st overall by the Carolina Hurricanes in 2009, had several outdoor hockey options growing up in Maine.
Regardless of the venue, braving the elements to play hockey during the winter was a staple of his childhood.
"We had a rink where I grew up in Biddeford. It seemed at that time a lot of ice time was taken up and it was tough to get ice time outside of your practice schedule. A lot of friends grew up playing hockey too, so it was a lot of fun to play outdoors. We had a little pond in our neighbourhood, so we'd head there to skate when I was growing up. We also had an outdoor public skating rink, West Brook Skating Rink, where we could go and play for hours and hours. There weren't any nets or walls, but we'd play cross ice, and it was so much fun. You could kill a whole day being outside. I was lucky to have a lot of places to play hockey outside."
West Brook was forced to closed down in 2017 due to disrepair, but Dumoulin still recalls fond memories of the local spot.
"It's almost like freedom when you can skate or play outdoors. You can be out there as long as you want, and you can play and do whatever you want. There's no limit to how big the ice surface is. You just play. No matter who you're playing against, you just want to win and do some trash talking. It's that freedom. There are no time limits, no clock, you just play."
This edition of the Winter Classic marks the fifth time the Bruins will play in an NHL outdoor game, as well as the second time the NHL has played an outdoor game at Fenway Park. The game will mark the sixth outdoor contest for the Penguins. The Bruins won two of their three games in the Winter Classic, while the Penguins own a 1-1-0 Winter Classic record.
Foligno, in his second season with the Bruins, is hoping to make his first NHL outdoor experience a winning one.
"I've always admired this group from afar, playing against them. I always found them to be a hard team to play against, but honest players. Then, when you talk to them or have an exchange with them, they are so professional and such good people. I think those are the people I've always jived with. You play the game hard, and you play it to win, but away from the rink and off the ice, you're a good person. And that's the culture they've built here, so I was excited to join this group and see what it was like from the inside. It's been nothing but great since I've been here.
"It's reinvigorated me again. I'm healthy and I'm really enjoying myself. I think going through the health problems I had the past two years have really made me appreciate everything. I'm healthy and I'm playing at the standard I expect to play at. Any player will tell you when you get there the game is so enjoyable for you and I'm looking forward to just being that player for this team that I expected to be when I got here last year. I have an opportunity to help this group. We're building something special here. We talked about that from day one. We want to do something memorable."
Foligno will have plenty of support in the stands for the Winter Classic.
His fan base includes his wife, Janelle, and the couple's three children, Milana, Landon, and Hudson.
"My wife, my extended family, especially my kids, who are at an age where they can enjoy it, appreciate it and hopefully remember it, this will be special to share with them. I'll be able to skate on the ice with them before the game, have them there to cheer me on – my wife bought all the insulated gear – so everyone is pumped about this. These are the moments that we can all remember. It will be pretty special to have that and share that for years to come. I don't think you could script any better with Fenway and all the history surrounding it. Just Boston in general, the sports scene is phenomenal. The fans care about their teams and have a huge passion for sports. To be in that venue, we're looking forward to that. It's going to be a lot of fun to step onto the ice in those surroundings."
Just as it will be for Dumoulin and his family.
The game itself, he offered, will have more of a playoff feel to it once the puck drops.
"It's such a cool event and something great for us to have. It's the middle of the season, but it almost makes it feel like a playoff game atmosphere with the build-up and intensity. It's almost like a Game 7, where it's an important game to win."
Although he is familiar with playing at one of baseball's most historic venues, this time will provide some new opportunities for Dumoulin – especially with his wife, Kayla, along with their son, Brayden, and the couple's parents in attendance for the game.
"I don't remember having a practice at Fenway when we were in college. We got to the game and played, so now we're going to be there beforehand, and have a practice and a family skate. Now, having a family, and having more roots in Boston, and lived there longer, it's even more special now. I'm definitely not taking anything for granted. It will be something my wife, our son, my parents and her parents, and everyone else who is coming won't ever forget. It's going to be special in so many ways. Getting to spend time with my family in Boston is something I'm really looking forward to. They don't get to go on many road trips, so this will be special and something they can really feel part of. It will be even more special if we get the win too."
Foligno has been counting down the days the moment the game was announced.
No need to ask if he is pumped about getting his first shot at big-league outdoor action.
"Now, to have this opportunity in the NHL, it's such a great event. I think fans love it … this is hockey in its purest form."