Foligno and Kane on allyship and the future of hockey
Nick Foligno and Patrick Kane are honouring Willie O'Ree with their skates, but they're also honouring a commitment to the future of hockey.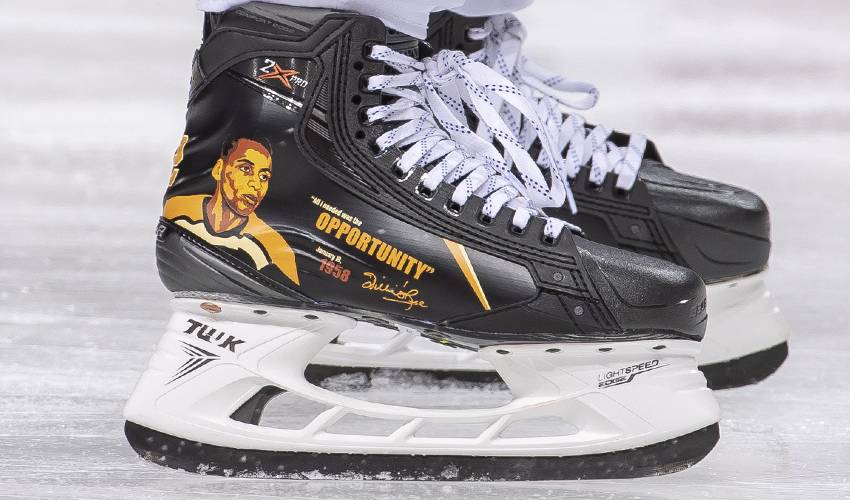 Feature photo: Getty Images
---
For Nick Foligno and Patrick Kane, it is one of the bigger honours in their hockey careers.
When they were recently asked if they would like to wear custom-made Willie O'Ree-inspired skates created by Bauer, both Foligno and Kane quickly accepted the offer.
Foligno and Kane are part of a group of over a dozen players – more than half of whom are white – planning to wear the skates during the month of February, paying homage during Black History Month to O'Ree becoming the first Black man to play in the NHL when he debuted January 18, 1958.
"It was nice to be asked if I wanted to participate and obviously, I jumped at the opportunity," said Foligno, captain of the Columbus Blue Jackets. "It's a great message for a lot of reasons. First and foremost, to honour Willie O'Ree and what he did for the league and so many players that benefited because of what he was able to do in helping to pave the way for people of colour. To honour a player and person like him, he's made such a huge impact on our game. I'm proud to be able to wear the skates to bring light to what he's done for hockey."
Kane, in his 14th NHL season with the Chicago Blackhawks, was equally humbled to strap on the skates.
"Willie O'Ree has made and continues to make a powerful impact on our sport, and it was important to me to honour and help bring awareness to his legacy alongside the NHL and my fellow Bauer Hockey athletes," said the three-time Stanley Cup winner and 2016 Ted Lindsay Award recipient.
The idea for the skate was spearheaded by NHLPA member Wayne Simmonds, J.T. Brown who is currently playing professionally in Sweden, and player agent Eustace King. The skate's graphic and design were fashioned by California artist and president of Terry Smith Creations, Terry Smith, who also created the San Jose Sharks logo.
The skates features O'Ree's image and the date of his first NHL game accompanied by his famous words, "All I needed was the opportunity." His jersey number, 22, is highlighted in yellow on the heel and tongue of the skates.
Currently, the plan is for Bauer – who specifically designed the skates for each player in Blainville, Quebec – to have each participating player autograph their game-worn skates and then put them up for auction. The money raised through the NHL auction program will be going to the Black Girl Hockey Club, a non-profit aimed at advancing Black women in the hockey community.
"The Black Girl Hockey Club is proud to be the recipient of this very generous donation from Bauer and Mr. O'Ree that will allow us to continue our work in building a space for Black women in hockey through programs like our scholarship fund and community learning events," said BGHC executive director, Renee Hess.
Foligno and Kane hope the initiative sends a clear message about supporting diversity and inclusion in the hockey world and beyond.
"I want to listen and try to understand," said Foligno. "We realize now that other people's lives are affected so much differently than ours. I look at everyone I play with as teammates, and it's hard to think people would ever see others in a different way, but that's the reality of the world we live in, and we have to find a way that everyone is included and everyone is respected."
"Wearing the special skates during Black History Month represented an opportunity to thank him [O'Ree] for continuing to pave the way for a more diverse hockey community and making our game better," offered Kane.
Foligno and his wife Janelle, who are parents to three young children (Milana, Hudson and Landon) have already had conversations with their children about racism.
It's dialogue the couple will continue to have with their children.
"It's something we always talk about. That's what's nice about being in Columbus – it's a melting pot of so many different cultures and races. Our kids get a first-hand look at having friends that don't look the same as them, but everyone looks at the other as just friends. I'm really enjoying that experience as a parent, to have those conversations, and to see how they treat others. I think at the end of the day that's what it all comes down to – it's the respect you have for others. That's something that has lacked in our society for a long time and hopefully, we can have those discussions that keeps it in the forefront."
Foligno is as committed to being an ally away from the rink as he is to when it comes to what the future of hockey will look and feel like.
"There's a call in our game to do better now and I want to be part of that change."
The 33-year-old also wants hockey to be a sport that's welcoming of everyone.
"I don't want anyone not loving our great sport because they've been left out or are made to feel that they don't belong. Everyone deserves to have the same opportunity... that's the biggest message out of this. I want everyone to know that if they love the game as much as I do, that they have right and every opportunity to play it."