Slavin family savouring playoff intensity
Not only is Jaccob Slavin enjoying a strong postseason campaign, the blueliner is up for his second straight Lady Byng Memorial Trophy.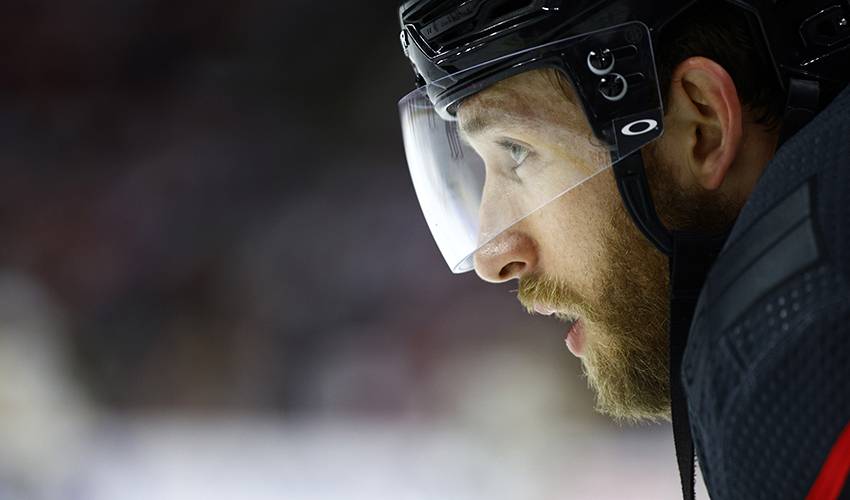 Feature photo: Getty Images
---
The tears have turned to cheers – accompanied by some serious fashion style – for Emersyn Slavin.
There was a time, not that long ago, when one of the youngest Carolina Hurricanes fans would cry seconds after the red goal light went on at PNC Arena in Raleigh, North Carolina.
But that's certainly not the case anymore for the daughter of defenceman Jaccob Slavin.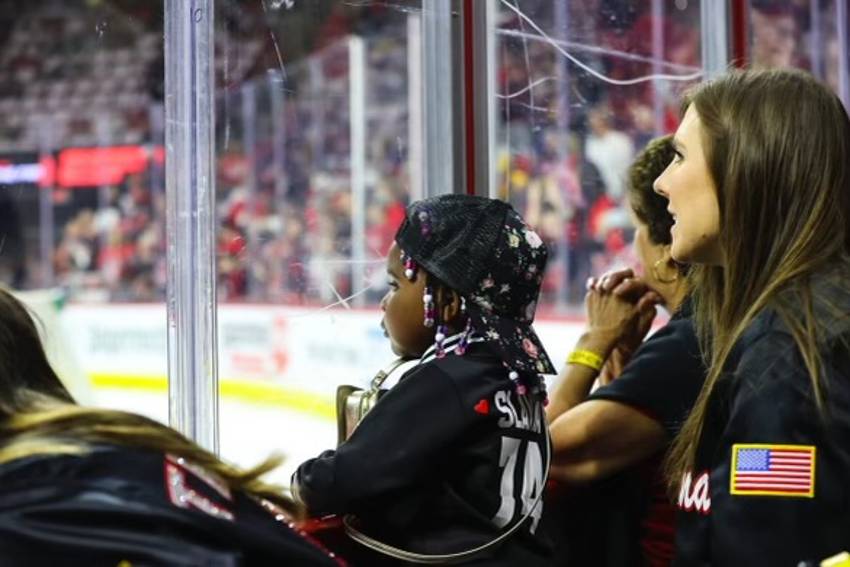 "My wife [Kylie] and my daughter are some of my biggest supporters," started Slavin. "It's a blast now that Emersyn is three. She's able to come to the games now and have fun. In Game 7 of our first-round series against Boston, we played at 4:30 and it was perfect because she was able to stay for the whole game. PNC is an extremely loud building. Earlier in the year, she would cry every time we scored a goal because it got so loud. So, we sat her down and said, 'This is the playoffs and it's going to be very loud. You have to be ready for it.'" Emersyn heeded her parents' advice.
She was engaged from puck drop until the horn sounded in Carolina's 3-2 win of Game 7 over the Boston Bruins – a victory in which her dad picked up a pair of assists over 24:03 of ice time to help send the team on to a second-round series against the New York Rangers.
"Now, she has so much fun. My wife has a video of her doing the 'Skol' clap with everybody else out there. Their support, it's just awesome. Win or lose, I know they are always there for me. My wife loves this time of the year. Once playoffs come around, she gets more and more excited. She gets really into it which is always fun to me."
Slavin, who tallied eight points, in the First Round, is also enjoying his time in the postseason.

The 28-year-old scored twice, along with six assists (his eight points tied to lead first-round scoring for his club alongside teammate Tony DeAngelo) , accompanied by a team-best plus-10 rating.
Ahead of puck drop on Game 1 of the Second Round in Raleigh, Slavin was announced as a finalist for the 2021-22 Lady Byng Memorial Trophy alongside Kyle Connor of the Winnipeg Jets and Jared Spurgeon of the Minnesota Wild.

As the reigning 2020-21 winner of the trophy, he would become the first player to win in consecutive seasons since Martin St. Louis did so in 2009-10 and 2010-11 should he repeat with the honour. He would also become just the second NHL defenceman to win the award in back-to-back seasons, following Red Kelly (1952-53 and 1953-54).
The blueliner, however, is dialed in on team accomplishments at the moment.
"We have a very special group here, guys who play with a lot of heart. I think that's one of the greatest aspects of this team, that we have a great locker room and great people off the ice, guys who care about each other and who want to win," said Slavin.

"We have a group that is highly competitive and consistent. Everyone is skilled, but if you bring that competitiveness, it means you have a good chance to win every night. That's where our depth comes in and the compete level comes from every guy in the lineup."
This is Slavin's fourth straight post-season appearance, a streak that began in 2018-19.
There have been plenty of lessons learned along the way since Carolina's run to the 2019 Eastern Conference Final.
"That first-ever playoff experience I had was the seven-game series against Washington in 2019," Slavin recalled of the double-overtime Game 7 first-round win against the defending Stanley Cup champs.
"I don't know if I've had a playoff series that's matched that intensity, to be honest. That was my first taste of it and obviously, it was a lot of fun. It was so competitive and full of emotion. I think the thing I've come to realize is that every little play matters. The 50-50 puck battles are always huge, but in the playoffs, it's just that much more magnified. One little battle can cost you a game. Winning four games in a series is never easy, so you have to take advantage of every opportunity and win you get."
The Colorado-born blueliner is also tuning in to watch the playoffs more often than he has in recent years.
Although he doesn't watch every off night, when he does, he's admittedly entertained by what he sees.
"I've started to watch more and more over the years. You have fun watching other guys around the league, guys you've played against the whole season, and you grow to like their game and the plays they make. You'll catch yourself thinking, 'Wow, that guy is really good.' I enjoy watching. It doesn't mean I turn the TV on every night, depending on what the family is doing, but I don't mind watching."
Slavin's personal fan base enjoys every opportunity they get to watch him play.
He's grateful for the widespread support.
"My siblings and my parents have always been a huge support system for me, and I know they are always watching every game. I have two little brothers that are still playing hockey and one, Josiah, is playing with the Blackhawks organization, so I'm following him and he's following me. We're always pumping each other up and encouraging one another."
Just like Slavin does with his youngest, and perhaps most fashionable fan.
"Emersyn has an absolute blast being there at PNC and cheering us on. It's great to see that big smile on her face and to see how just happy she is."