Jaccob Slavin: Growing up Erie
From building springtime igloos in the backyard to helping out his dad with the family business at the auto shop, Jaccob Slavin talks growing up in Erie, Colorado.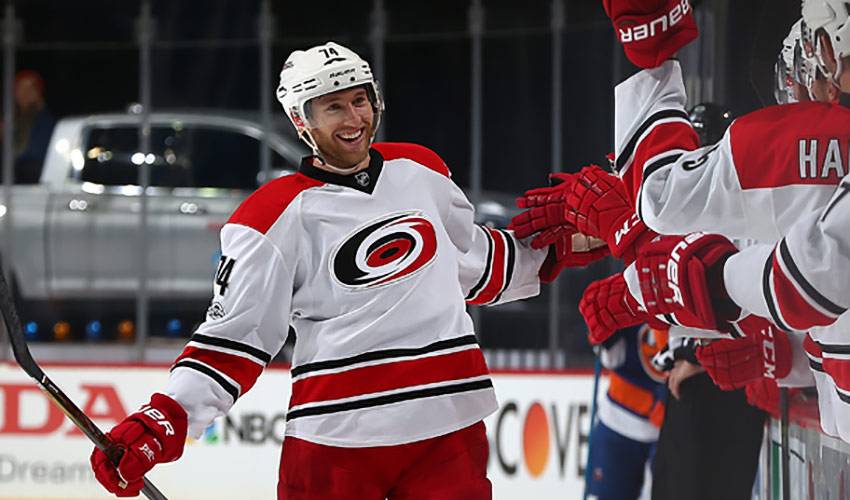 One of Jaccob Slavin's fondest recollections of growing up in Erie, Colorado? An unexpected extended spring break and a backyard igloo.
Years before he would first skate on hockey's biggest stage in 2015, Slavin, now in his third season with the Carolina Hurricanes, was living the small-town life in Erie, Colorado, a town of around 25,000 people situated about 25 miles north of Denver.
The 23-year-old defenceman admits he could rhyme off a long list of cherished childhood memories of growing up in Erie.
But one in particular stands out above the rest.
"I grew up with four siblings (Justin, Jordan, Josiah and Jeremiah), so it was always a lot of fun regardless of what we were doing," started Slavin. "We all loved hockey and everything was always a competition. Whether it was mini-stick hockey or seeing who could get the biggest cookie – it was always competitive.
"But one specific memory that sticks out from those days in Erie – the weather in Colorado is crazy – is from when I was either in fifth or sixth grade. We had spring break for a full week and right when it ended, we had a huge two- or three-day snowstorm and we got the whole next week off school as well because of the snow. We just had two full weeks of fun. We built an igloo in our backyard. The whole time was just awesome."
So, too, were family trips during one of sports highest-profile events.
Although he didn't have any part-time jobs growing up, Slavin, who once umpired a Little League baseball for a couple of weeks, often helped out his father, Robert, who owns Divine Coaches, an auto body shop found just outside of Erie.
The business, which the elder Slavin has owned for over 35 years, is still going strong.
"Every summer, from the time I was 15 until I was about 20 or 21, I would work with my dad and help him around the shop," said Jaccob. "It was great to be able to spend that time together."
These days, the former National Collegiate Hockey Conference blueliner is busy helping the Hurricanes build towards a playoff spot in 2017-18.
Slavin, who made his NHL debut on November 20, 2015, has earned a reputation as one of the game's most promising young defenceman.
He saw improvements in nearly every category in 2016-17, including in several key areas, specifically, points, plus/minus, blocked shots, and takeaways.
If Carolina is to make the playoffs after missing the cut the last eight seasons, Slavin, who registered a +23 last season, will no doubt play a big part in seeing it come to fruition.
"That's what you play for, to get the chance to compete for the Stanley Cup," said the 120th overall pick in the 2012 Entry Draft. "You just want to build on the positive things throughout the year."
A much tougher task than building a backyard igloo, but a welcome challenge for the pride of Erie.