Filip Forsberg has milestone moments on his mind as he approaches the NHL Stadium Series
Forsberg is playing some of his best hockey to date – on pace to surpass several of his career-best offensive numbers.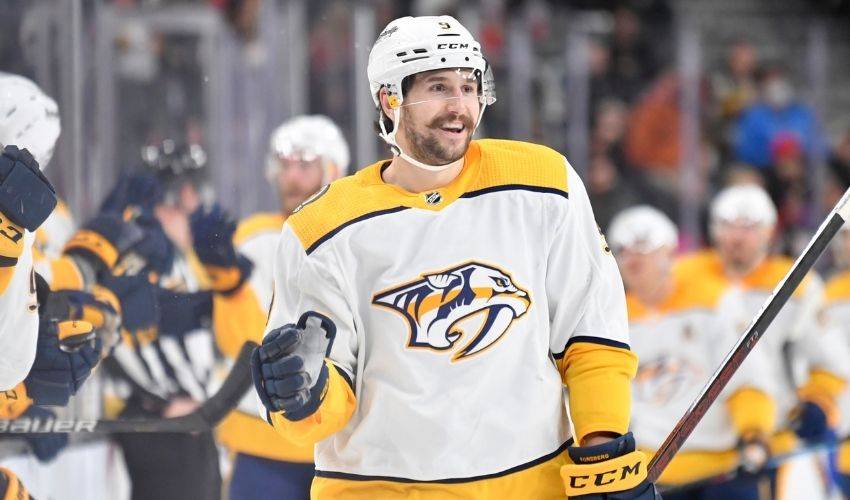 Feature photo: Getty Images
---
It appears Filip Forsberg loves being part of milestone moments.
As an 18-year-old Nashville Predators rookie trying to his mark in NHL circles, the night of April 23, 2013, couldn't have gone any better.
Consider it a unique hat trick of sorts.
The young phenom recorded his first big-league assist on what was the 200th goal of David Legwand's career, in a 4-3 Predators home win over Calgary.
"I was fortunate enough to have my first point be that goal for David," recalled Forsberg, now 27. "It was just such a great moment to be part of. I felt very lucky."
Legwand's tally got Forsberg thinking about what it would be like to reach that mark himself one day.
"I thought that was pretty special, not only to be part of it, but to wonder what it would be like if I could do that one day."
On January 27, he got his answer.
"You always dream about achieving something like that because there aren't any limits when you dream about it," Forsberg told NHLPA.com. "The older you get, the more realistic your dreams become. But, here we are, years later. It's gone by really fast, but it's been a lot of fun. It's pretty cool to have been part of David's 200th goal and to now being able to accomplish that myself."
Forsberg, the Washington Capitals' 11th overall selection in the 2012 NHL Draft, is playing some of his best hockey to date – on pace to surpass several of his career-best offensive numbers.
Averaging over a point per game this season, the veteran of over 500 games played has reached the 20-goal mark for the seventh time and is primed to eclipse the 33 goals he tallied in 2015-16, having already scored 26 goals through his first 38 games of the 2021-22 season.
"The main thing you always want to do is find a way to help the team win."
This weekend, Forsberg and his teammates will aim for a victory outdoors at Nissan Stadium, playing host to the Tampa Bay Lightning as part of the NHL Stadium Series.
"We were fortunate enough to play in the Winter Classic two years ago, but it's going to be even better when you get to host an outdoor game. It's going to be a lot of fun. We had an outdoor rink for a few years in my hometown [Ostervala, Sweden] before they built it in and a put a roof over it. That rink is still there, so it brings back a lot of memories of when you would play outdoors."
Outdoor hockey was a staple of Forsberg's childhood. So, too, were other sports.
All of those experiences – on the ice, diamond or pitch – played a huge part in his NHL journey.
"I played soccer and a little baseball. Sports have played a huge factor in my life. So, back then, if it wasn't hockey, it was a soccer tournament, or playing street hockey or soccer at this little field we had next to our house," recalls the Predators' alternate captain. "You remember just hanging out with your friends and having fun, but the older you get, the more you realize you picked up things from sports that you never thought you would. In the winter, we'd have nice little snowbanks on the side of the road after the trucks would clean the roads. It was like having your own built-in rink."
Forsberg, a huge fan of Liverpool, of the English Premier League, is still hoping he will get the call to join one of the game's most decorated organizations.
"I'm still waiting. I try and post some soccer stuff every now and again, just to let them know I'm still looking for a part-time job with them. … I try to watch the weekend games if I can. I took my dad to see Liverpool play when he turned 50. It was the first time for us going over there, so it was really special. My brother is an Arsenal fan, so it made it [a Liverpool victory] even better."
For now, Forsberg will keep his focus on hockey and, perhaps, being part of some more milestones down the road.
When he isn't helping lead the offensive charge for the Predators, or watching his beloved Liverpool, he can be found spending some quality time with his fiancée, Erin, or playing video games with his teammates.
"I just enjoying having that time to be with Erin, to have that chance to be together and unwind. I also play a lot of video games, including FIFA [soccer], which takes your mind off hockey just for a little while. When we're on the road, we have a little crew on the team that brings along some games to play. With the way the technology is today, it's easy to pack it up and bring it along with you. So, any time you have to relax and enjoy some down time, you really appreciate it."
While it remains to be seen what milestone he reaches next, the one certainty is that Forsberg has a penchant for them.
"Any time you can reach a particular milestone, it's pretty special. They are something you dream about it, so when they do happen, it's an amazing feeling."