Annual hockey clinic a summer highlight for Filip Forsberg and attendees alike
The 29-year-old was the main attraction at the Filip Forsberg Hockey Clinic in Nashville in early September.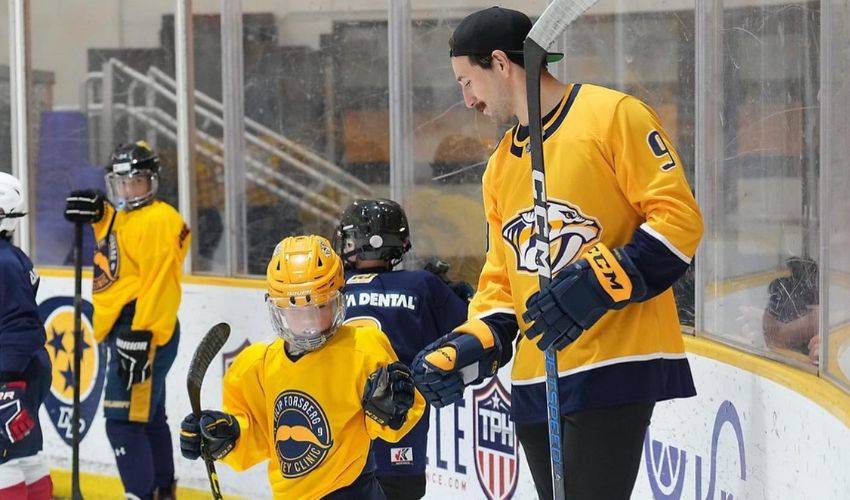 Feature Photo: IG / @predsnhl
---
The 29-year-old was the main attraction at the Filip Forsberg Hockey Clinic in Nashville in early September, a chance for local youth hockey players to sharpen their skills and learn more about the game.
Put on in conjunction with the Nashville Predators Foundation, this year's clinic was attended by over 100 local youth from ages seven to 14 and was designed to help kids reach their full potential through different skill stations.
Forsberg, who has played his entire NHL career with Nashville, was joined by Ford Ice Center hockey instructors and Preds Amateur Hockey Development staff.
"It went great. It's just a smooth-running event now," said the veteran of 616 NHL games. "The people who run the Preds foundation and everyone associated with it, behind the scenes and at the actual clinic, do an amazing job. That makes it so easy for me. The table is already set and ready to go, so all the credit goes to them."
Drafted 11th overall by the Washington Capitals at the 2012 NHL Draft, Forsberg has made it a priority to be in Nashville for the clinic, which includes 60 minutes of on-ice instruction.
Throw in a pizza party, a 30-minute Q&A with Forsberg, an autograph session, two tickets to a Predators home game and the event, not surprisingly, was sold out quickly after registration opened.
"We've been fortunate to have this clinic for the past few years, and it feels like it's getting better every year," said Forsberg. "Some kids have been there from day one and others are experiencing it for the first time. Everyone that comes seems to really enjoy it. You see a lot of happy faces."
If you happen to be Forsberg, you also hear a lot of wide-ranging questions.
"You get asked a lot of interesting ones, from top to bottom. It's fun to be able to talk hockey with the kids. You can see how much the games mean to them and if you can play a little part in helping them enjoy it even more, that's a nice feeling. If I could put myself in their shoes and have the chance to go to a clinic like this, I know I would enjoy it. We bring in some players to help out and every person that is part of it – players, coaches or kids – enjoy it all so much."
Perhaps none more than Forsberg.
Although he is a seven-time 20-goal scorer and a standout on the Predators wing, Forsberg is most frequently approached about discussions surrounding his offseason clinic.
"It seems that wherever we go for charity events, people always bring up the clinic and how much they appreciate it, that they want to come again. It just makes you happy. It's a small time, just an afternoon, but it makes people happy. It's a no-brainer for me to be part of it."
Outside of that off-season staple, Forsberg, who celebrated his birthday in mid-August, enjoyed a memorable gift that he is sure to remember for a long time.
"We were back home for a month, which was great, to see family and friends, and to decompress after the season. We've been mostly in Nashville throughout the offseason, but we did go to London for my birthday. We saw a soccer game there, which was a big highlight. We saw Liverpool play Chelsea in London. Liverpool is my favourite team, so it was amazing to get to see them live."
One more reason why it has been one of the best offseasons that Forsberg has experienced.
"From the clinic to being back in Sweden, and then the soccer game, it's been a great past few months. I'm excited and can't wait to get the season started. Hopefully, that is memorable too."