After the Buzzer | Filip Forsberg
How Filip Forsberg get his kicks, connects with his fans and communities, and why is he happy to be horsing around – so to speak?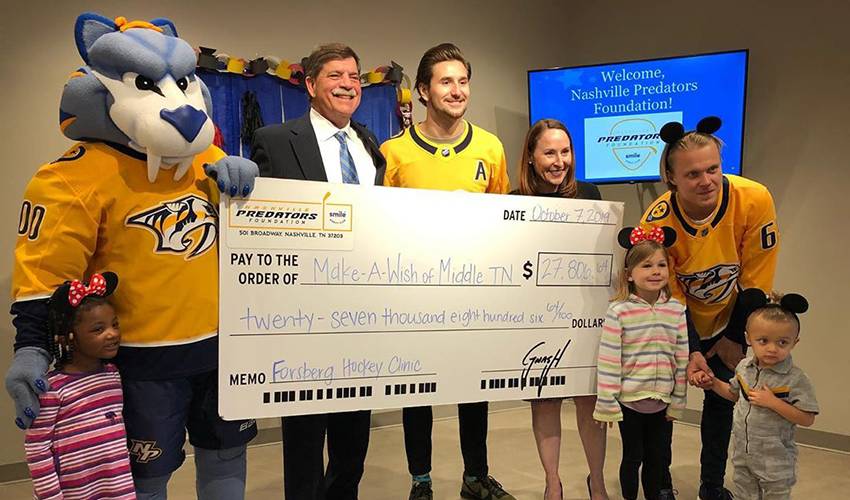 From their bond with fans to their efforts in the community – and everything in between – 'After the Buzzer' is a weekly series taking readers beyond the rink to shine a light and provide insight on players' lives away from the game.
---
Filip Forsberg is off to a hot start in 2019-20, currently on pace for a career offensive season. Aside from his top-shelf on-ice talents, the 25-year-old is also a genuine difference-maker away from the rink.
How does the Swedish native get his kicks? How is he connecting with fans, kids, and families? And why is he happy to be horsing around, so to speak?
Get all the answers After the Buzzer…
MAKING WISHES COME TRUE
Forsberg has happily and humbly lent his time and support to the Make-A-Wish Foundation. This September, Forsberg and the Nashville Predators Foundation hosted the Filip Forsberg Hockey Clinic that benefitted Make-A-Wish Middle Tennessee.
The forward led the clinic to help young players heighten their hockey skills, and invited wish kid Asher, who joined the team when his wish was granted to be a Nashville Predator for a day.
"It's been great. Asher, who came in and signed as a Predator (this March) – that was kind of the start of it. I just saw how much he was loving all of it, and I remembered being a kid, and skating around like that. I spent some time with him, and skated with him a little bit after practice when he was visiting. I got to know his family. He's a big inspiration for all of us. After that, I had the opportunity to take over the hockey clinic. That was my first year, and it was really cool experience. I'm already looking forward to next year."

SEEING REDS
When it comes to soccer, Forsberg, who played the game until he was 13 (he still plays in the summer with his friends), doesn't mind wearing his heart on his Liverpool sleeve. The forward is a big fan of the English Premier League club.
"My dad was a fan growing up, and I got my first jersey when I was five or six, something like that. I didn't know a ton about it back then, but started to learn more and more. The last couple of years, it's been a lot easier being a fan. I went to Anfield with my dad when he turned 50 two years ago. It was unbelievable. They played Arsenal, and they won 4-0. My brother is an Arsenal fan, so it made it even sweeter. It was great. I definitely want to get back there soon."
A HORSE IS A HORSE…
Forsberg got into horse ownership after friend and fellow countryman, Detroit Red Wings forward Jacob de la Rose, gave him an opportunity to be a co-owner of a Standardbred racehorse.
"The goal is to get my horse there (the Elitlopp, Sweden's most famous horse race) one day. I wasn't really a huge horse enthusiast, but Jacob is. There's one guy in my hometown, Leksand, where we are spending our summers, who is into it. He's on TV, and knows a lot about it. He said he had a horse that he believed in, and that Jacob could buy into. They bought the horse together, and then Jacob asked me if I wanted to join. I said, 'That would be cool.' It's more of a fun thing to do with your best friend. After that, this summer, we won a couple of races. It's so much fun. It really gets your adrenaline going when you're watching the race. It's really cool. It's been a great experience so far."
NASHVILLE NUPTIALS
Forsberg always enjoy chance to get back to his native Sweden, although he'd prefer it to be much later in the spring. What stood out about his time there this summer?
"It was a little longer, unfortunately, than it has been in recent years. You try and make the most of the time when you're back home, catching up with family and friends. That's the priority the first couple of weeks. Then you get back into training, and get ready for the upcoming season. [Teammate] Roman Josi got married, so I was actually over here in Nashville for that. That was probably the highlight of the summer."

PARTING SHOT
"We're very lucky to live the life we do, and to play hockey, the game we love. With a kid like Asher, everything he's gone through at a young age, anything we can do to help him, we jump at that opportunity. He really is an unbelievable kid."