Patrick Kane on honing his craft, respect from his peers
Whether it's NHLPA Player Poll or his Ted Lindsay Award, Patrick Kane appreciates any time he gets the players vote.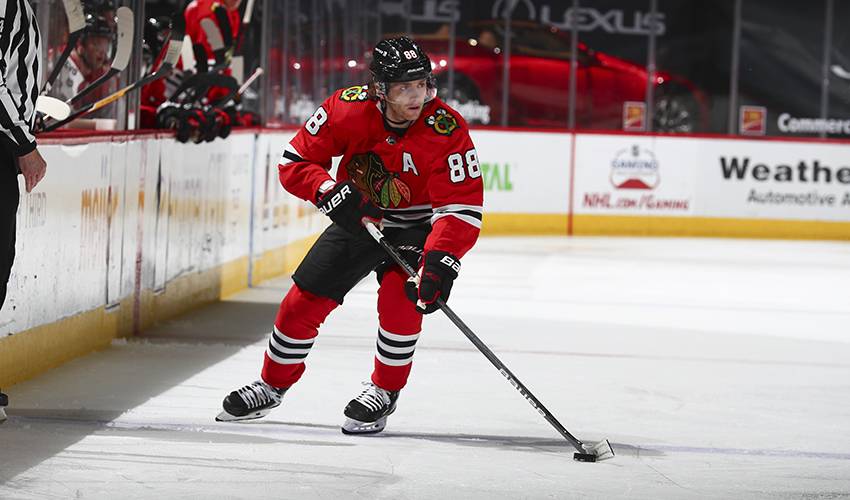 Feature Photo: Getty Images
---
Patrick Kane has been a student of the stick-handling game for as long as he can remember.
Well before he became recognized as one of the best stick-handlers in the NHL, Kane, recently voted the top player in that category by his peers in the 2020-21 NHLPA Player Poll, was already hard at work on his craft.
It didn't matter where or when it was, or who it happened to be with, the Chicago Blackhawks forward always found a way to get in his hockey fix.
"I was the kid who carried his hockey stick and hockey ball with him everywhere he went," Kane told NHLPA.com. "Even when I was nine or 10 and we'd go up to Toronto for a tournament, my dad would carry my hockey bag into the locker room, or the hotel, and I would always have my ball and stick. Up the flight of the stairs or in and out of people in the lobby, it [stick-handling] was something I really enjoyed."
On numerous occasions, Kane was able to convince his siblings to join in on the action.
"Even when we'd get back to the hotel, I'd ask my sisters to play goal for me. We'd play out in the hallway and the door would be the net. I'd try my best to stickhandle and get one past them. In our basement, we had a nice area where I could shoot pucks and stickhandle. I enjoyed all of that."
Kane also enjoyed watching hockey greats showcase their skills whenever they would come through his hometown of Buffalo, New York, to play the Sabres. It wasn't just what the players did during the game that grabbed Kane's attention. Prior to puck drop, he'd settle in to get an up-close view of warm-ups – a chance to take mental notes, and then use what he learned to incorporate it into his own game.
"One of the things that was nice for me was when I was younger, we would go to a lot of Sabres games and I was always sitting behind the other team's bench. So, I was able to see the best of the best coming in to play Buffalo. I would always go to warm-ups and see the best players on the ice and watch what they did. I'd try to copy those moves too. It was pretty much everyone – [Joe] Sakic, [Peter] Forsberg, [Paul] Kariya, [Teemu] Selanne, [Alexei] Yashin – that I would watch. As I got older, just before I got into the league, I really enjoyed watching guys like [Pavel] Datsyuk, [Evgeni] Malkin and [Sidney] Crosby."
These days, Kane finds himself as the one to watch – a veteran standout possessing a top-shelf arsenal of elite offensive skills. It's part of the reason Kane's name appeared in a few other categories in this year's NHLPA Player Poll too.
In the best passer in the league category, Kane (20.30%) finished a close second behind Nicklas Backstrom (20.72%) of the Washington Capitals (20.30%) – with only two votes separating them.
The 32-year-old also placed sixth (3.48%) when players were asked, "If you need to win one game, who is the one player (any position) you would want on your team?" McDavid led the way (36.74%) while Sidney Crosby (23.04%) placed second.
When it came to his stick-handling honour, Kane was reminded of another NHLPA accolade that he received and offered up why votes from his peers means so much to him.
"It's pretty special. When I was able to win the Ted Lindsay Award in 2016, I thought that was almost better recognition than the Hart [Memorial Trophy] because it's voted on by the players. The players know so much about the game from being able to play against different opponents, and to see how other players play. So, this is special, to see that I was named best stick-handler. It's something that I pride myself on, trying to be good with the puck. I've put a lot of work into that since I was a little kid. To hear that from my peers, it's very special, considering it's coming from the best players in the world."
It's a group that Kane is proud to be part of.
"There are so many players in the league who are good with the puck and who are able to make plays pretty much every time they get it on their stick, whether you're talking about McDavid, [Nathan] MacKinnon and other guys that I enjoy watching. Just to be up there with that type of company is great."