Prices remain committed to honouring Indigenous heritage, helping community
From the meaningful conversations to helpful action, Angela and Carey Price remain committed to honouring their family's Indigenous heritage while helping the community.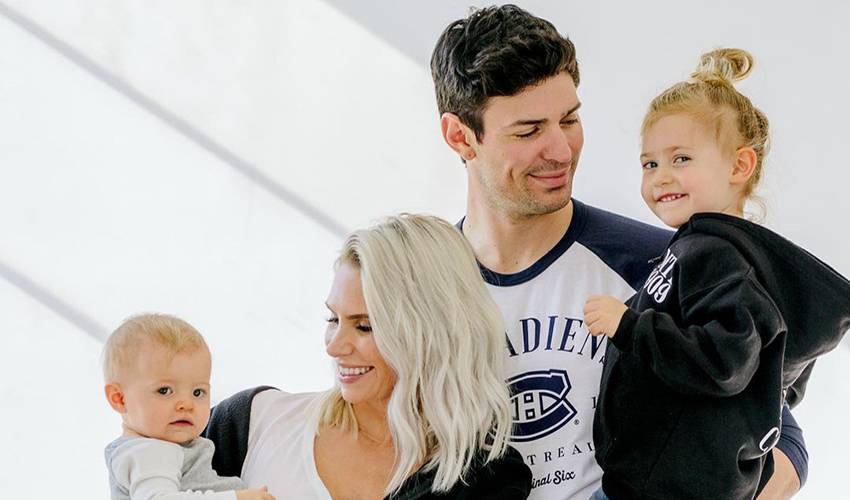 Feature Photo: IG / @byangelaprice
---
When the news broke, Angela Price didn't hesitate to come up with a game plan to help.
The discovery of the remains of 215 Indigenous children on the grounds of a former residential school in Kamloops, British Columbia, has dominated headlines and prompted necessary discussions throughout Canada and around the world since they were uncovered in May.
For Angela, whose husband is Carey Price, Montreal Canadiens goaltender and member of Ulkatcho First Nation, the news unfortunately didn't come as a surprise.
"Unfortunately, that wasn't much of shock to hear that. Carey's grandmother is a residential school survivor, so we've heard her stories. I already knew the dark history of residential schools."
The news prompted Angela to step up and take action.
"I've always liked to help Carey, especially with his work in the Aboriginal communities. When it came to the news about the remains that were found in Kamloops, I wanted to do something above and beyond."
And that's exactly what Angela set out to accomplish. After a few days of mulling over options, she decided to build upon an idea that originated in 2017. Angela, in conjunction with Jeff Petry's wife, Julie, designed CHic – a line of Montreal Canadiens women's fashion sold on the team's official online shop. The close friends also have their own clothing brand, Line Change, which donates a portion of proceeds to charity. The idea to raise money for the First Nations Education Council through the CHic line attracted widespread attention the moment it was unveiled.
"We decided to launch a crew neck shirt first, but the Habs were so great and told us that they'd allow the whole line to be 20 percent off throughout the month of June and the proceeds would go to charity. We chose the First Nations Education Council here in Quebec. The team already had a relationship with them, so we wanted to help support them. It all came together really nicely."
Angela is grateful for the outpouring of support from across Canada and other parts of the world. The initiative also included a shoe drive for Indigenous youth led by the Canadiens organization.
"I think everyone has been touched by the Kamloops residential school story. Everyone wants to help somehow. When people realize something they can buy is going towards something so deserving, it's a win-win. We have received so many kind messages. And I think the numbers speak for themselves. The first day of sales, when we announced the 20 percent, I think we did just a little under $20,000 that day. People didn't just say, 'Good on you,' they stepped up to help."
The heartfelt response was certainly appreciated.
"I think peoples' eyes are really opening and in speaking to people recently, they knew about residential schools but they didn't realize the history and the pain that they have caused. Whenever people see a story like that, they're always willing to reach out and they want to help."
Help can also be a gesture as simple, yet meaningful, as a conversation, like the one Carey recently had during a road trip to Winnipeg for a playoff game against the Jets. On his way to Bell MTS Place June 4 before posting a 30-save shutout, Carey took a few moments to speak with a residential school survivor.
Gerry Shingoose, who was forced to attend a Catholic-run residential school in Saskatchewan from 1962 to 1971, was sitting in front of St. Mary's Cathedral when the goaltender and some of his teammates passed by. At the end of their conversation, Shingoose gifted Price an orange ribbon and tobacco tie.
"Knowing he's a generational survivor, and he knows the history, and he knows our truth. It was good to make that connection with him tonight. It made my day," Shingoose told CTV News after meeting Price. She was later gifted warmup pucks from the Canadiens Second Round.
Angela, meanwhile, was watching proudly from Montreal.
"I was so proud of him," said Angela. "That's who he is, and it shows how important his connection to his culture is. In such a pressure-filled time, it shows where his priorities are, to understand what it means to speak with someone who went through a horrific time. That's where his heart is."
It's also where Angela's is too. She and Carey are ambassadors for the Breakfast Club of Canada, an organization that helps children by providing access to a healthy morning meal before school in an environment that enables their self-esteem to grow and flourish.
Those types of experiences, along with the connection to Indigenous culture through her husband, have motivated Angela to become involved in several initiatives and causes over time.
"Early on, I didn't have as much understanding as I do about residential schools and the importance and significance of Indigenous people and their culture. I'm still learning more now. In the last five years, after having kids, hearing the stories about the residential schools and all of the struggles Indigenous people have endured and continue to endure, it touches you more deeply. And the fact that it's my husband's and children's heritage, that touches you on a whole different level."
It's why the couple makes it a priority to speak regularly with their children about their Indigenous heritage.
"Whether it's taking them to the reservation where Carey grew up and sitting down with Carey's grandmother, their great-grandmother, and hearing her stories, we want them learning about the culture and immerse them in that as much as we can."
Angela and Carey Price will also continue to dedicate time and effort, both together and individually, in helping Indigenous peoples have their voices heard and stories told.
The latest endeavor is just one small part of a much larger plan.
"We're also brainstorming something bigger and more long term," said Angela. "We are committed to doing whatever we can to help make a change."