Dylan Strome going from dog dad to girl dad
When he and his girlfriend Tayler found out they were having a baby, Dylan Strome was heading to the bubble. More on how their pup Wrigley stepped up to help the couple on and off the ice!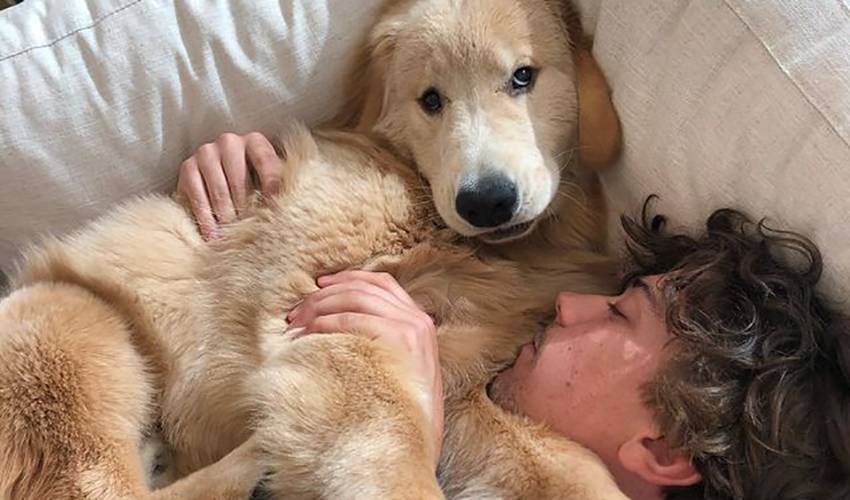 Feature photo: IG / @wrigleystrome
---
Chicago Blackhawks superfan. Instagram star. Chew toy aficionado. Good luck charm. Best friend. Dylan Strome's dog is all that and more.
When Strome and his girlfriend Tayler McMahon made the decision to buy a dog last year, the couple, after doing some serious homework on the topic, zeroed in on a particular breed, namely, golden retriever.
"Tayler had wanted a dog for a long time and her family has a golden retriever," started Strome. "Growing up, I had dogs my whole life. I just love dogs and I know Tayler really wanted one. Eventually, we found a breeder, and as it turns out, they're big Blackhawks fans. One day, after all-star break, we drove up there and there were three in the new litter. They were so cute and we couldn't say no. We ended up going back a few weeks later when they were ready to go home."
Originally, both eyed a certain pup, a laid-back sort that fashioned a brown collar.
But that wasn't the one they would end up getting.
"The breeder told us that we might get to pick, but we also might not," recalled the Blackhawks forward. "We liked the one that was pretty calm. When we went back, they told us we were getting the one with the green collar. It was a little shock, but we couldn't be happier with our guy. He was a little bundle of energy right from the start."
"The one with brown collar was in my arms the whole time and he was so sweet," added McMahon. "The other one was biting and squirming. But at the end of the day, the breeder makes the final decision. We ended up getting his brother, the one with the green collar. And it's turned out to be great."
Fittingly, the pup was given the name Wrigley, an homage to the famous stadium on the North Side of Chicago that's home to Major League Baseball's Chicago Cubs.
Soon after Wrigley arrived in his new home, McMahon created an @WrigleyStrome Instagram page to showcase his adventures.
From sporting Blackhawks gear to hanging out Strome's teammates' canine companions, the life of Wrigley has caught the attention of the social media world.
As of January 19, the page has attracted 14.8k followers.
Included in the multitude of images is a photo of Strome proudly wearing a 'Dog Dad' t-shirt. There's also a video of Strome roller blading in a parking lot near his off-season home in Mississauga, ON, as Wrigley happily bounds alongside him.
"He's awesome," said Strome. "He just has so much energy and he's so happy to see me all of the time. He just wants to play. And he just loves his toys. Anything that makes him happy makes us happy."
That would include teeth marks in a hockey stick left by the front door.
As Strome recalled, he was in the midst of a scoring slump last season and was looking for any way to light the lamp.
He didn't anticipate Wrigley would be the one to help break his goalless spell.
"I had the stick just laying around the condo. We had just got him, and he tried to start chewing it, so I thought I'd bring it with me to the next game. And I scored two goals the next game with that stick. Next time I hit a slump, I'm bringing a stick home for sure."
Whenever he does walk through the front door, Strome knows what to expect from his four-legged friend.
The greeting he gets is hardly low-key.
"It's funny because in the three or four weeks leading up to the start of the season, I've been going to the rink at nine. He knows that I get home around 1:30 or 2:00. Every time, I get a Snapchat from Tayler of a video of him crying at the front door. It's like he knows the exact time I'll be getting home. When I get in that door, it's full jump up, paws around me, and I get the biggest hug. He goes for my [PPE] mask or the hat I'm wearing. It's definitely a nice thing to come home to."
It's also something McMahon cries foul over.
Well, somewhat.
"I don't know what I did with this dog, but he has serious attachment with Dylan and I'm chopped liver," she said with a laugh. "I'll ask myself, 'What did I do wrong?' I feed you. I take care of you.' The first month we got Wrigley, Dylan was gone almost all of that time, and he was still attached to him the most."
That, however, could change in the coming months.
The couple is expecting their first child (a girl) in March. Strome texted a photo of Wrigley lying on McMahon's baby bump, so there could be hope yet.
"That would be nice, wouldn't it?" she offered. "When we found out we were having a baby, it was the day Dylan left for the bubble. So, it was just Wrigley and me. Knowing he was here with me while Dylan was away made it so much more bearable for me. He is the best thing in the world. If you've had a bad day or you're stressed about something, all they care about is being happy and being around you."
Strome and McMahon aren't quite certain how Wrigley will react to having a new person in his life, or to the former's t-shirt that reads, 'Girl Dad.'
The good news for the now one-year-old dog is that he won't be lacking in attention or toys once his sister arrives.
"He's part of our family," said McMahon. "We're so lucky to have him in our lives. He loves playtime with Dylan and I know Dylan enjoys it too, so that won't be changing at all."
Nor will the amount of photos and videos that are uploaded to Instagram.
"How it all started was because of Ralph and Burt [Blackhawks forward] Alex DeBrincat's dogs, who have their own Instagram," noted McMahon. "So, I decided to do a page for Wrigley. Within five minutes of getting him home, I posted a video of him destroying a roll of toilet paper. It went semi-viral, and he ended up gaining a good following from that. It's so fun to do and if I can brighten someone's day by posting something, I'm happy."
If only McMahon could find a way to even-up the attention scale, it would be pure bliss.
"It's a work in progress. I'll keep on trying, but I've got a ways to go to make it 50/50."