From Wrigley to Weslie - Dylan Strome embraces life as a new dad
New dad Dylan Strome on fatherhood, furry friends and his biggest fan.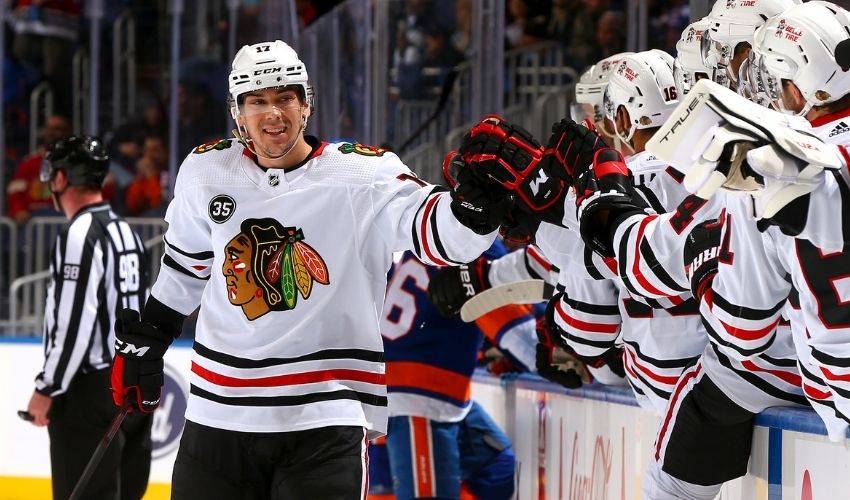 Feature photo: Getty Images
---
Dylan Strome is enjoying every minute of the dad life.
Since last March when his fiancée, Tayler, gave birth to their daughter, Weslie Margaret Strome, being a father is about as good as it gets for the 24-year-old Chicago Blackhawks forward.
The couple has been soaking up every moment spent with their first child over the past 10 months.
"Everything is going well," said Dylan, with 233 career NHL games played. "It's a lot of fun and it makes you change your perspective when you get home from the rink. It's not about sitting on the couch anymore. She's awesome and we're lucky in a lot of ways. She's a really good baby."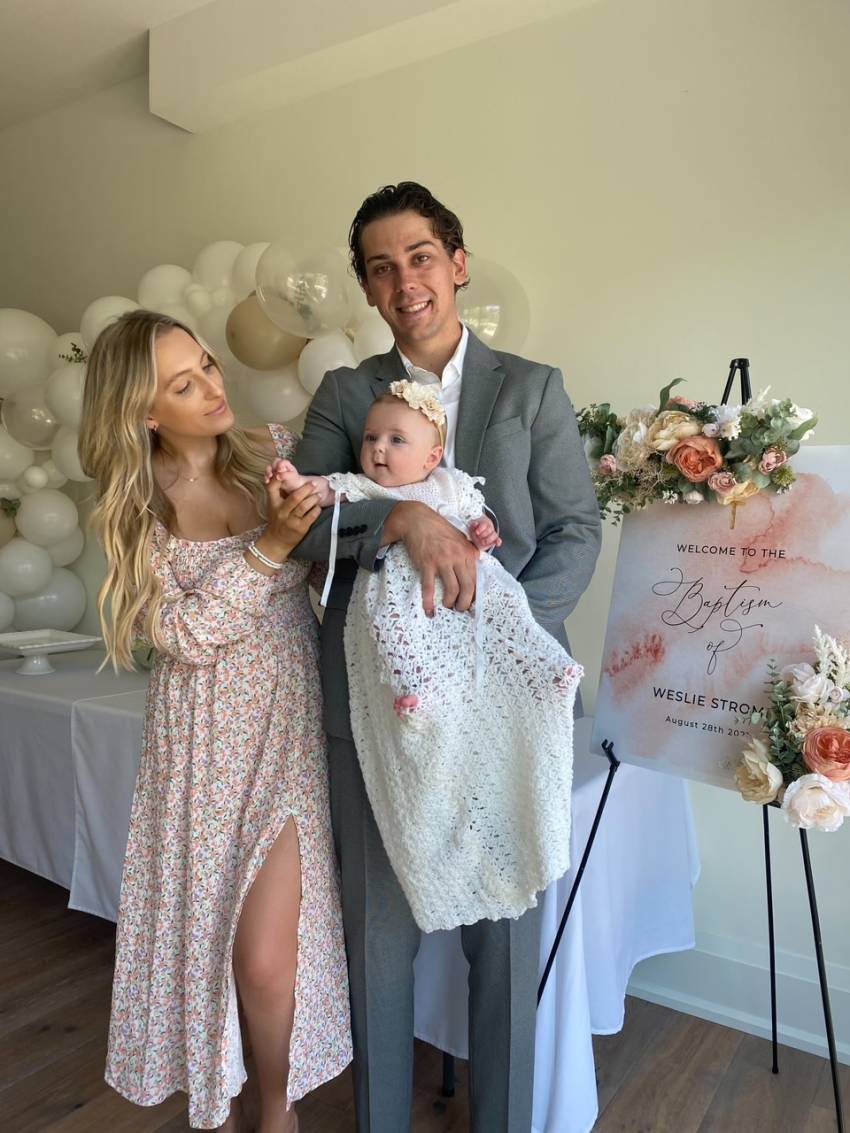 "My favourite part about being a mom is the feeling of being this tiny human's whole world," added Tayler. "It doesn't matter if it's a bad day, a good day, or an okay day, at the end of it she still looks at you with the sweetest toothless smile like you're her favourite person in the world."
Parental advice has come from far and wide, including family, friends, teammates and plenty of others.
Several pieces in particular have stuck with Strome.
"There's been a lot of good things I've heard. One of them was to get sleep when you can because you'll need to, but we've been really fortunate in that she's a great sleeper. I guess one thing that stands out from guys on the team who have kids is to enjoy your time at the rink, but at the end of the day, there's lots more to life than just hockey, and to put that into perspective. You have to find that balancing act, but I'm enjoying every minute of it."
Weslie has already found a solid teammate in the form of Wrigley, the family's golden retriever.
So far, it's been peace and love between the two.
"When I'm home, he always wants the attention from me, so he's right up in our grill, looking for some love and attention. He understands and he gives her space. She usually wants his toys and he usually wants her toys, so that's kind of the way it goes. But it's been really good. He's calmed down a lot since she was born."
Strome's older brother Ryan, who is a forward for the New York Rangers, has two girls of his own, Harper and Quinn.
Could the cousins form a formidable line one day?
"We don't know what will happen, but being from Canada, it's pretty much hockey all the way. Growing up, we played lacrosse in the summer, but hockey was always the main sport. The possibilities are endless and it's just exciting to see what they will want to be when they grow up, whether that's sports or outside of that. We bought Weslie a little golf putter, so we're working on the golf game these days."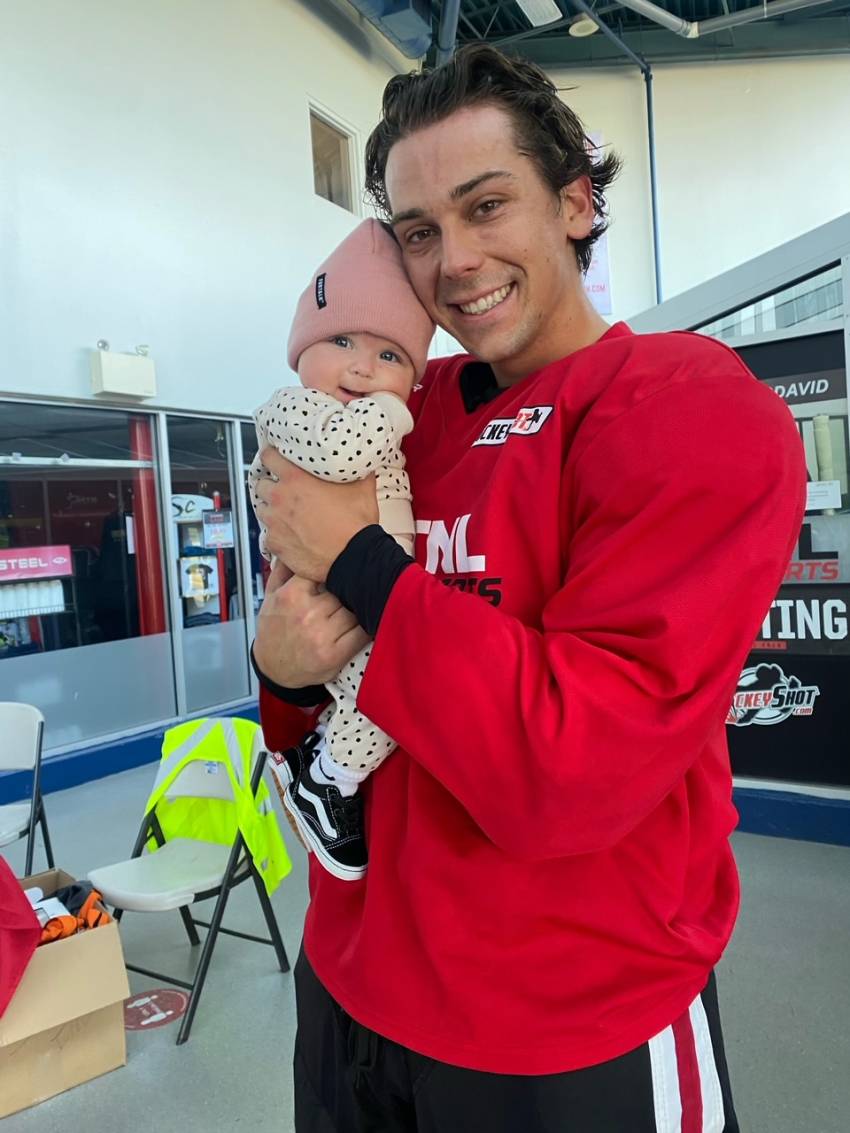 For now, Dylan and Tayler are content to enjoy all the firsts that come with becoming parents.
These days, it's all about keeping pace with Weslie.
"In the last couple weeks, she's started to move around a lot and do the inch worm thing. She's crawling around from place to place, so it's not just putting her down and giving her some toys. She's into everything. She likes going over to the dog bowl and seeing what's going on over there. It's fun because now she's moving and you get to interact and play with her more. She's babbling along, but she's getting close [to talking]. We thought we might have heard a 'dada' yesterday. It's getting exciting."
When Dylan and Tayler get some alone time to unwind, the television viewing of choice is a familiar subject for the couple.
"We're watching a lot of hockey," said Dylan. "We try to watch a show here and there. Weslie goes to bed around 7, so we get most of the night to ourselves. But I think for both of us, it's a little boring because we're so used to watching her and playing with her. She also loves to eat, so it's a big production. She sits in her high chair – Tayler does a great job cooking for her – and ends up having a big mess on her face. It's a big clean-up after, but it's all worth it."
The face full of food look is something Dylan's mother Trish is quite familiar with.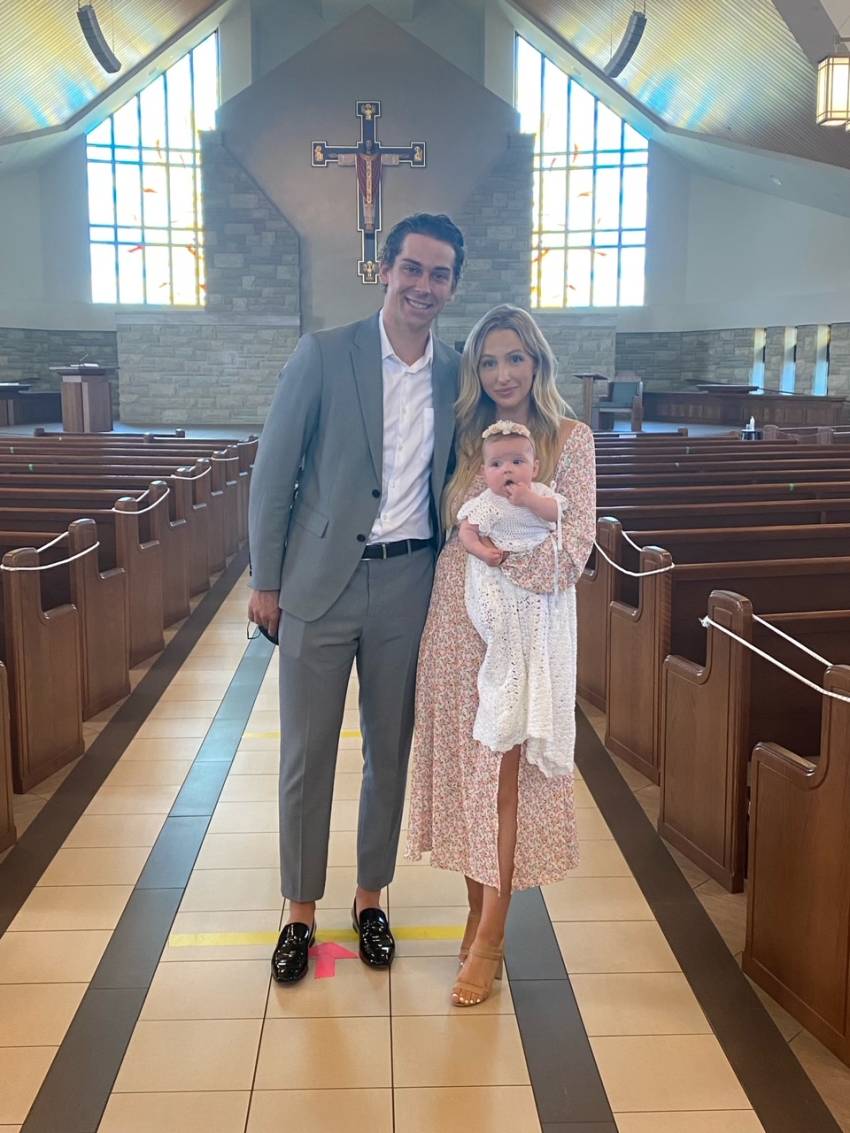 "I think I was a pretty messy eater when I was young, so she might get that from me. My mom loves being grandma and she gets emotional when she talks about that. She says that she feels like she's looking at me 24 years ago."
Trish Strome isn't the only one enjoying all things Weslie.
The youngster has built up a fan base in a short period of time.
"It's awesome. She was the first grandchild on Tayler's side, so they are super excited. For my parents, Weslie was the second grandchild, and Ryan and his wife recently had a baby. It's been really great to see how happy everyone is."
Which is exactly what one of the newest Chicago Blackhawks fans is whenever she gets an up-close look at her dad at United Center.
"She comes to the home games and she loves it," said Dylan. "The guys will come up to her and tap on the glass, and she gets a kick out of that. It's cool she gets to see that. She loves all the colours and the bright lights. I don't know … maybe hockey is in her future."