Strome brothers upping their game, grateful for big picture
There was a time when hockey games between the Strome brothers featured a couple of uncalled penalties, a few tears and some momentary hard feelings.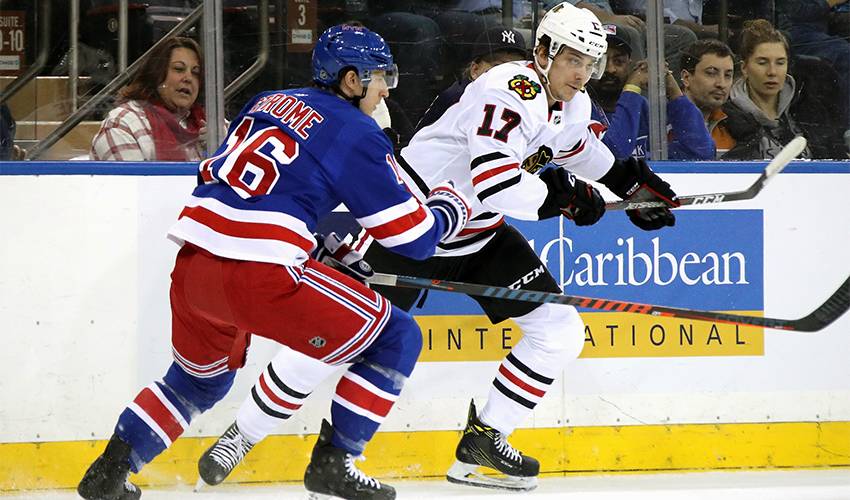 There was a time when certain hockey games between the Strome brothers featured a couple of uncalled penalties, a few tears and some momentary hard feelings. But these days, it's all smiles for Ryan, Dylan and Matthew.
Years before Ryan and Dylan were skating in NHL circles and Matthew was hearing his name called at the 2017 NHL Draft, the siblings often spent countless hours playing hockey inside and outside their family home in Mississauga, Ontario.
Mini-stick matches in the basement, a regular occurrence, could get quite spirited. And that would be putting it nicely.
"It was usually whoever starts crying, loses," said 22-year-old Dylan, coming off his best NHL season to-date, which included a 17-goal, 51-point campaign (in 58 games) with the Chicago Blackhawks. Factoring in his 20 games with the Coyotes before being traded November 25, he reached an even 20 goals as part of 57 points to cap off his 2018-19 season.
"It was usually Matt and myself playing because Ryan is four years older than I am. So it was usually Matt and I battling out in the basement. There were definitely some wins and losses for both for us. But all that competitiveness turned into friendship."
When Ryan did throw his stick into the ring, so to speak, the intensity level amped up considerably.
"Having younger brothers was and still is really special," said the New York Rangers forward, who came to the club via a trade with Edmonton November 16, 2018. "Usually, to match the age gap, it would be them against me. Then they ended up getting bigger than me. Growing up with them, it was a lot of fun. We brought out that competitiveness in one another and I think it's paid off for all three of us."
Ryan, 421 games into his NHL life, flourished in 63 games with the Rangers in 2018-19. He scored 18 goals and added 15 assists with the Blueshirts.
Dylan, with 106 NHL games to his name, was an offensive catalyst for the Blackhawks the past season, capitalizing on the opportunity to play alongside some of the league's top forwards, including Patrick Kane.
A finalist for this year's Ted Lindsay Award, Kane has had high praise for the centre his joining the Blackhawks.
"A lot of guys on our team had career years," noted Kane. "You look at young guys like [Dylan] Strome and [Alex] DeBrincat. They're still young, but they had big years for us."
"It's nice to hear that," said Dylan. "Getting to know him, play with him and be around him a lot, you learn how special of a player he is and what a great guy he is. It's definitely great to play on a line with him and to call him a teammate. He and everyone on the team made me feel very welcome. My first game, I was on a line with Patrick and Alex [DeBrincat]. That makes you feel pretty good."
Pretty good is an accurate way to describe how the two eldest Strome brothers are feeling about their careers these days.
The icing on the cake would be seeing Matthew, who was named captain of the Ontario Hockey League's Hamilton Bulldogs in January, join them on NHL ice.
"We're very supportive of each another," said Dylan. "Ryan has been in the NHL a while, so his advice to me is more about life in the NHL, what he's learned along the way. With Matt, it's me giving him advice, just little things here and there. I get wisdom from Matt too. We all watch each other's games and keep in touch with one another."
Watching one another play is one thing.
Playing against one another is something altogether different for Ryan and Dylan.
"It's pretty weird," said Dylan. "This year, in New York, we got matched up against one another almost every shift. We took about eight to 10 faceoffs against each other. We talked a little bit out there, but nothing much. We lost the game and I haven't beaten him yet… 0-for-4."
Ryan is good with that record.
"I've got his number so far," said the fifth overall pick of the New York Islanders in 2011. "Every time we play against each other, we match up against the other one's line. I try to be as serious as I can. I know all it would take is one or two words or us looking at each other the wrong way and I'll burst out laughing. But I'm really happy for him. I've been traded a few times and he's just a young kid. It's tough to get traded when you're young, but fortunately for him, he went into a situation where he knew a lot of guys and they were really great with him.
"When you learn from guys like Jonathan Toews, Patrick Kane and Duncan Keith – that's been huge for him. You see a lot more confidence in him this summer. He's a confident kid and he always has been, but I think this year was really good for him."
In Chicago to train over the summer, Dylan, who recently won silver with Team Canada at the IIHF World Hockey Championship, is looking to up his game in 2019-20.
"I went back home after the tournament and then headed to Chicago. I'm getting back to work and working hard. I'll do some golf, but training is my first priority. You want the season to start next week, but you have to put your work in, get a little stronger, a little bigger, and work on your game."
Just like his two siblings are doing.
"If you take a step back and look at the big picture – it's three brothers playing hockey and drafted to the NHL," said Ryan. "For the three of us to be playing pro hockey, it's really special. Sometimes you might take it for granted, but you realize how lucky and privileged we all are, how many amazing people we've met along the way and how many great life experiences we've had. Hopefully, we get to have some more to that."