Miller prepared for triumphant, emotional return
Go ahead and ask Kevan Miller how he's feeling, he won't mind.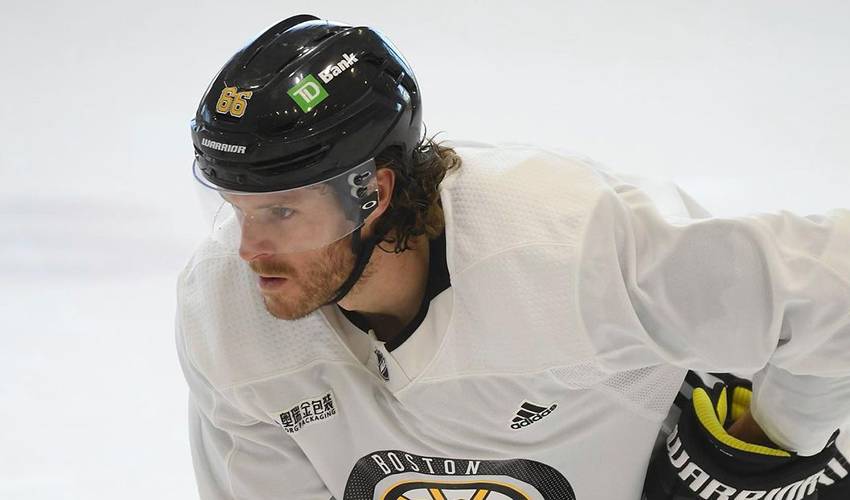 Feature photo: IG / @kevan_miller86
---
Kevan Miller figures it's time to put the circle on the calendar.
There were several times over the past 21 months when the rugged Boston Bruins defenceman would literally put a circle around a particular date, a motivational exercise to boost his hopes of getting back on the ice.
But after multiple surgeries on his knee and numerous setbacks, Miller eventually chafed at the very thought of pinpointing a certain day to push for as part of his recovery process.
"You'd see some sort of light at the end of the tunnel and then there would be these hiccups," Miller told NHLPA.com. "I'd circle dates as to when I targeted being back and then there would be a setback."
In early January, that all changed.
He was back on the ice with his Bruins teammates on the first day of training camp ahead of the 2020-21 NHL season. Miller took part in every drill and co-led the post-practice stretch with newly named captain, Patrice Bergeron.
"It's really good to be back with the guys, to be part of the group again, to be back in a healthy manner. "Participating in drills, watching video, gearing up for games… it's a really good feeling."
None of that will compare to how the 33-year-old will feel the night of January 14 when Boston plays their first regular season game of the season, a road test against the New Jersey Devils.
Miller doesn't know how many minutes he'll play, how many times he'll touch the puck, or what the final score will be, but he is certain of one thing.
"I can tell you that I do know it will be emotional."
That he got to this point is a minor miracle.
Suffering a broken kneecap on a collision on April 4, 2019, Miller's journey to recovery included four knee operations, oftentimes painful rehab sessions, and little, if any, guarantee he'd play another NHL game.
"I had my doubts, but as soon as we got to a certain point in my rehab, I knew it [resuming his career] would come. I figured all the work and time that I put in would hopefully pay off. I'm just really grateful to be where I'm at now."
There were times, more than a handful, when the physical and mental aspects of the injury took its toll on the 6-foot-2, 210-pound Miller.
"After surgeries, it was the physical part that was the toughest. That would be about two or three weeks. And then it became the mental struggle. It was a rollercoaster. I would go from being on crutches for five or six weeks and then you start rehabbing and moving around again. You'd see a glimmer of hope and then I'd be faced with another surgery."
Even in the most frustrating times, Miller resisted any urge to throw in the towel.
As for what got him back on the ice, the undrafted California native points to a team effort.
"I'm fortunate to have the love and support of my family, close friends, guys on the team, trainers, doctors – there were so many people that helped me get to where I always wanted to be. Teammates and friends were constantly checking in on me. For me, I'm a man of faith, and I leaned heavily on that. I think it's a combination of those things. I love the game and I had no thoughts of hanging it up. My goal was to get back and play and to contribute again."
His teammates are thrilled Miller is getting that chance.
"I'm really happy to see him back on the ice and have him back with us," said Bergeron. "With everything he's been going through in the past 20 or so months, his perseverance and work ethic during that time has been inspiring to see. I'm glad that it's behind him and he's feeling healthy again."
Charlie Coyle echoed that sentiment.
"Having Kevin back is such a boost for our team. Not only because he's a big player for us, but also because of what he's gone through and how he's battled and worked his way back. It's inspiring for all of us."
For Miller, being part of the team again is better than he had imagined.
Having the chance to live, breathe and talk hockey on a regular basis is a welcome relief.
"My first day walking into the rink, after being cleared for COVID – it's one thing to be around the guys when you're healthy as compared to when you're injured. You come in every morning when you're injured and you get 25 questions of, 'How are you feeling?' You answer that over and over again. It's almost selfish when you think, 'Oh, man, I have to answer that again,' but they're just checking in on you because they care. And for that to go on for over a year – you're not a part of the jokes, you're not a part of the ups and downs of the season – you don't get to ride that rollercoaster. You're there, but you're really not.
"Coming back, it's just nice to have something else to talk about, right? When you get off the ice in practice, it's those chats you really missed – talking about how hard practice was, or that you couldn't feel the puck out there. It's good to be in the mix again. I've been waiting a long time for that."
Just like Miller has been waiting to circling the calendar again.
He feels that time has finally come.
"Throughout my injury, I circled a lot of dates. I'd look at a particular game and aim for that. I got to the point where I stopped circling them because it was wore at me between my ears and my body. I signed this year to come back and play, so I didn't want to jinx it by circling any dates. But I think I can get to that point now and that's opening night. I'm excited to pull that jersey over my head… it will be an emotional night for me."