From captain to fan, Ellis enjoying WJC with an eye on Tomasino
Ryan Ellis thinks the world of the World Junior Championship.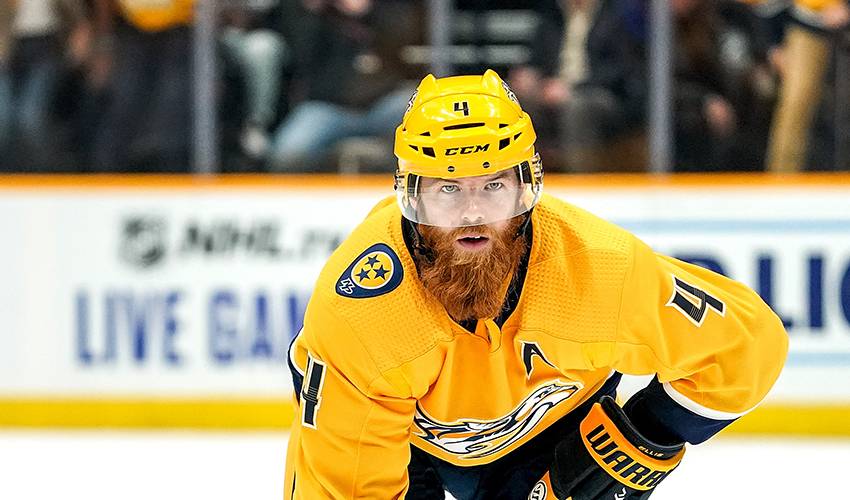 Feature photo: Getty Images
---
Ryan Ellis thinks the world of the World Junior Championship.
Growing up in southwestern Ontario, the young kid with NHL aspirations was glued to the television set whenever the top young players on the planet gathered for one of hockey's most iconic events.
And when he did tune in, he often wondered what it would be like to have the chance to represent his country on the world stage one day.
"There are always different memories when I look back to the days dreaming of wanting to play for my country and then actually having that honour. I loved watching the games and of course, you thought about if you could actually have that chance one day."
Ellis, a veteran of 527 NHL games, all with the Nashville Predators, would go on to become one of most decorated and distinguished players to ever wear the Team Canada sweater in the world junior ranks. He won gold in 2009 and took home silver in both 2010 and 2011 (he was team captain in 2011).
In 19 career world junior games, Ellis posted an impressive 25 points, including 20 assists.
He also struck gold at the 2007 World Under-17 Hockey Challenge, where he played for Ontario, and again at the IIHF U18 World Championship in 2008. He also suited up for Team Canada at the 2014 and 2016 World Hockey Championships, winning gold at the latter.
"It's such a big honour to be able to wear those colours. I can still remember the times when you're either waiting for a knock at the door or a phone call to hear that you made the final cut. There was a lot of anticipation the night before, whether you were going to be on the team or not. It was almost like being a kid at Christmas. It was a cool experience doing it that way. The first time making the team… that's really special."
The defenceman, who celebrated his 30th birthday January 3, has enjoyed the opportunity to watch this year's edition of the annual tournament in between his preparations for the upcoming NHL season.
"I haven't seen every game, but I've been following Canada whenever they're playing, and then catching a period here and there of other games," said Ellis. "It's something I always enjoy seeing. You start out as a fan, you're fortunate enough to play in it, and then you end up as a fan again. It's fun."
This particular tournament has taken on special meaning for Ellis.
The 11th overall selection of the Predators in 2009 has struck up a friendship with Philip Tomasino, Nashville's 24th overall pick in the 2019 NHL Draft, and a member of Team Canada's current world junior squad.
"I know Tomasino a little bit. He's been skating with me of late and lived with me for a little while too. It's fun to have someone you know playing in it and it gives you another reason to cheer. I'm always waiting for him to get on the ice, and then watching him play. He's having a really good tournament, which has been great to see.
"I've sent him a few messages and we chatted briefly, but I've been there, and you need to be in the zone, doing all the things necessary to become a champion. I just told him to make the most of the opportunity and to enjoy it all."
It's the mindset Ellis used throughout his three experiences at the world juniors, highlighted by Canada's gold medal win 12 years ago.
Recently, he was selected as one of the top 25 World Junior players of all time in a list compiled by a panel of 12 world junior experts.
Slotting in at No. 14, Ellis is part of an elite group that includes names like Peter Forsberg (No. 1), Pavel Bure (No. 2), Wayne Gretzky (No. 4), Jordan Eberle (No. 5), Alex Ovechkin (No. 11), Carey Price (No. 12), Jaromir Jagr (No. 18) and John Tavares (No. 19).
"We don't have TSN down here, so I hadn't seen it, but I had someone reach out and they told me about it. It's cool to be mentioned with those guys on the list, but more importantly, it's about the teams we had. We were able to win it once, but you'll never forget those moments you had with the players on those teams."
Ellis certainly hasn't, especially at this time of the year.
Gold or silver, the world junior experiences still mean the world to him.
"My first year when we won it… that was obviously very special. I didn't play a ton, but that didn't matter. We were treated really nice in Ottawa. Winning on home soil was special. The next two times were heartbreaking losses, but all of those moments teach you lessons along the way, both on and off the ice."