CA13 is more than a brand
Cam Atkinson is expanding his reach, but CA13 is more than a brand. It's a promise.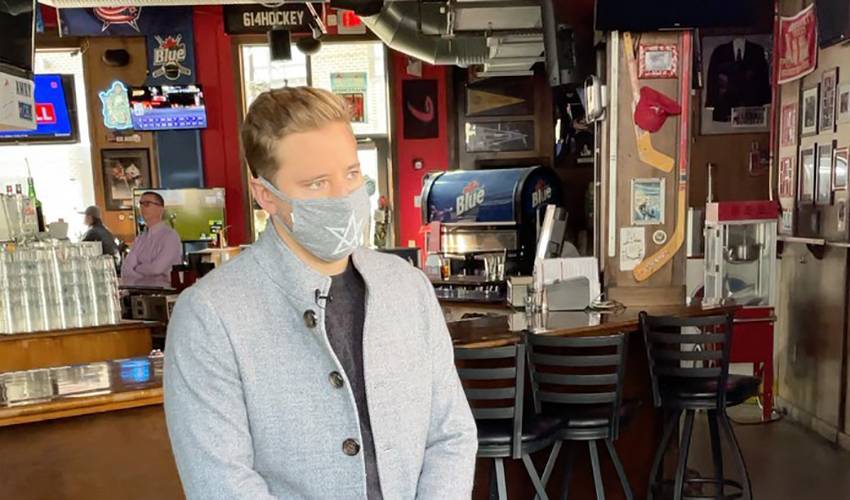 Feature photo: IG/ @theCA13
---
It bears his initials and jersey number, but just like every charitable initiative he's undertaken, it's never been about Cam Atkinson.
CA13 is more than a brand, it's a promise.
Atkinson recently posted his pledge to be a difference-maker in the NHL city he and his family call home and has been showing he is a man of action.
"It's not about me, it's about the city of Columbus," said the 31-year-old right wing of the video that he shared November 26. "I wanted the video to be about how much I love Columbus, and how great the city and the fans have been to myself and my family. We wanted it to be a genuine message to people, to show them what I'm trying to do, which is giving back to others."

Through CA13, Atkinson's actions are quickly showing why you can find the mantra "Work Hard, Do Good" in the brand's Instagram bio.
A merchandise line bearing the logo Atkinson had designed by 614 Hockey features everything from t-shirts to jogging pants, hats, hoodies and more. One hundred percent of the proceeds raised through the sale of apparel and other CA13 gear will go back into the Columbus community.
"I know it's not going to be groundbreaking money, but every dollar goes somewhere and it helps to make a difference. We haven't decided exactly what we'll be giving back to, but it will all be local Columbus restaurants and businesses that definitely need a boost during these times. We really just wanted to get the buzz going and put out there that all the proceeds will be going out to places that need some help in Columbus."
Atkinson also kicked things off by surprising customers at R Bar in the Arena District with a $1,000 tab along with $3,000 from his Cameo appearances to support the local business that has been struggling to stay open.
"Showing this much love for our company that we've worked so hard for; the staff appreciates it. Obviously, I appreciate it and it's just been overwhelming with everything that's happened," co-owner Michael Darr told reporters.
Creating his own personal brand has been on Atkinson's radar for the past few years. Seeing CA13 come to fruition is a source of pride for the 157th overall pick of the Blue Jackets in 2008.
How CA13 can help benefit people in his own backyard is a big motivator for the forward.
"Where do I start? My good buddy Jared Gladstone, who is the founder of The Athlete Assist [a lifestyle management and marketing firm for professional athletes] – I've been working with him for two or three years now, just helping me out with my brand.
"I felt now, during this pandemic, was a good time to unveil my brand, when we have a lot of time on our hands. It's a great opportunity to give back. Giving back is something that was instilled in my brothers and I at a very early age. Especially around the holidays when times are tough, and then you add the impact COVID-19 has had – people are going hungry, jobs are being lost and businesses are shutting down – you really just want to help in some way."
His CA13 line of merchandise is off to a good start. Feedback Atkinson's received has been overwhelmingly positive so far.
"They did a great job with the logo design. I wanted to try and incorporate my name and number. The star logo speaks to my Force Network Fund. The design company wanted to incorporate my philanthropy as well as my number inside the whole design. I think it turned out great."
The Force Network Fund is an initiative that raises money and awareness to support military and first responder charitable organizations.
From hosting Cam's Carnival (the fundraising event which helped celebrate his 30th birthday) to his work with the Force Network Fund – which includes $40,000 raised for a COVID-19 testing machine through a 5k run in June – Atkinson's many off-ice pursuits rival his numerous on-ice contributions.
The COVID-19 testing equipment, used at OhioHealth Riverside Hospital, has an accuracy rate in the 95-99 percent range. To date, there have been approximately 20,250 tests on the system, with between 50-150 per day utilizing the machine. The cost for each test, which includes the necessary reagents and supplies, is $51 USD.
Now, you can even add Cameo to his list of fundraising initiatives.
Atkinson recently joined the video-sharing website where people can pay for personalized video messages from their favourite athletes, actors, entertainers, singers, and other personalities. A Cameo from Atkinson costs $70 with 100 percent of the proceeds going to local spots that need assistance.
The Connecticut native sees it as an ideal vehicle for him to connect with fans.
"I think getting to talk with fans is the most important thing. That's why I started doing Cameo. It won't be millions of dollars – I wish it were – but it's a way for me to interact with fans, for them to get to know me on a more personal level. All they usually see is in between the glass and you wearing a helmet and hockey gear. It's just a cool way to interact with fans."
Dec. 17, Blue Jackets fans will have the opportunity to interact even more with Atkinson in addition to captain Nick Foligno with a virtual Q&A event hosted by The Fourth Period. Funds raised will in part go to support The Hearts Playbook, Nick and Janelle Foligno's foundation that strives to build stronger communities in heart heath.
And it's also a way Atkinson can provide another big assist to a special place.
"It's so important to use the platform I have to give back, especially to the city of Columbus that I call home now. Both of my boys were born here and we plan on living here after I'm done playing hockey. I love this city."