Atkinson hosting virtual 5K for COVID-19 testing machine
Cam Atkinson is raising funds for a COVID-19 testing machine through his upcoming Force Network Fund Virtual 5K with plenty of support from his Columbus Blue Jackets teammates.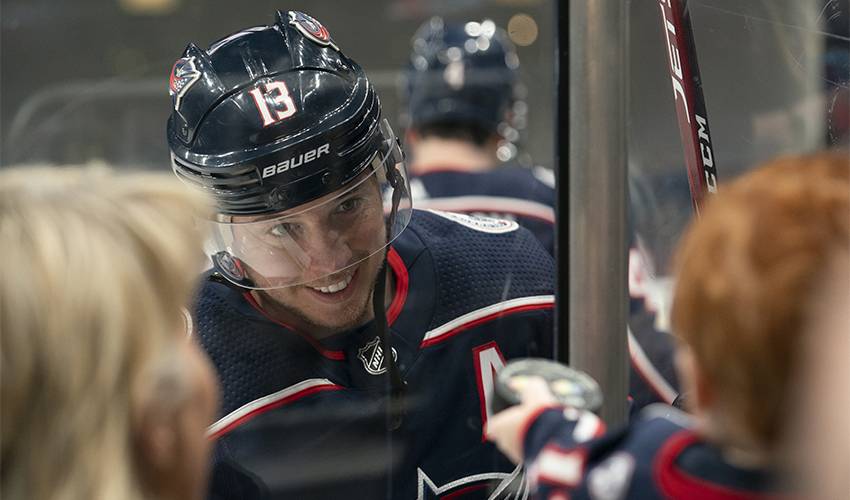 What's in a name? For Cam Atkinson, it's something more meaningful than he ever could have imagined.
When the Columbus Blue Jackets alternate captain got the call, the one telling him that funds raised from his upcoming Force Network Fund Virtual 5K would pay for a COVID-19 testing machine at OhioHealth Riverside Methodist Hospital, he was nearly speechless.
And when Atkinson was told he could choose the name that would appear on the machine, the 30-year-old was initially at a loss for words.
"Early on, we didn't know what we were going to give back to, whether it was the healthcare workers, doctors, nurses – we weren't quite sure what we were going to do," the right wing told NHLPA.com.
"We had thought about donating the money towards PPE (Personal Protective Equipment), but I reached out to a few buddies who are associated with OhioHealth (a family of not-for-profit, faith-based hospitals & healthcare organizations) and they mentioned the testing machine. I'll be able to name the machine whatever we'd like. It's going to be in Riverside Hospital, the place in Columbus where my wife gave birth to our two sons. It's a win-win all around, and it's also very humbling."
Atkinson took to social media to share the news.
"One hundred percent of these proceeds will be going to a specific machine that's going to go inside Riverside Hospital," he said in a Twitter video. "The biggest challenge right now is all of the patients coming in to get testing in-house, getting those quick, rapid and accurate results. And sure enough, this machine is going to be able to do that, and give you those results the same day."
It all started with Atkinson brainstorming fundraising ideas shortly after the curtain temporarily closed on the 2019-20 NHL season in response to the coronavirus pandemic.
Atkinson, who founded the Force Network six years ago with his uncle, Rob Robben, as a way to give back to the best military and first responder charitable organizations, learned of a previous Virtual 5K charitable event.
The more he researched the idea, the more it resonated with him.
On April 22, the Force Network Fund Virtual 5K (there's also an accompanying Virtual Kids Run), taking place June 4-7, was unveiled.
The cost to sign up is $35 for adults and $15 for kids. Participants receive a Force Network Fund Shirt unique to the COVID-19 response and a Military Style Challenge Coin.
"Typically, through my foundation, we do a big event every year, but with the current circumstances, we had to change it up and do something a little different. A partner of mine associated the Force Network Fund… his wife let us know about another virtual run that took place a while ago. I thought it was a great idea because you can participate anywhere in the world. It's not expensive and you know all the proceeds are going to a great cause. With the help of teammates and players around the league, everyone has been helping out promoting it, sharing it with their friends and family members. We've had a lot of great success so far."
Atkinson is working hard to keep the momentum going, providing regular updates and interacting with fans via his Twitter page using the hashtag #FNF5K (Force Network Fund 5K).
"I'm going to keep promoting it and hopefully, more and more people retweet it, and get the word out. The best part is that it's not expensive – we wanted to make sure we could get as many people involved, to do it with their family and friends, while socially distancing – and that you don't need to beat a world record. You have three days to complete it. You can walk, you can roller blade, and you can bike. You don't even have to participate. Any donation is appreciated."
While his running skills are admittedly lacking, Atkinson expects his teammates, including one in particular, to ramp up their competitive ways before and during the race.
He also anticipates a few friendly jabs from his fellow Blue Jackets ahead of the event.
And perhaps even afterwards.
"Everyone knows I'm not a runner. There is definitely going to be a little competition between the players. (Nick) Foligno is a good runner. Being the leader and the captain, he likes to finish first in everything."
"Scott Harrington just signed up with his girlfriend," Atkinson continued. "You're just happy to have the guys participate and donate, knowing that we are supporting local. I've had a lot of positive feedback from guys around the league, and my good friends, who all want to help out."
Teammate Pierre-Luc Dubois is also looking forward to the event.
"Cam let us know about it in our team group chat. You can bike, you can run, you can roller blade – I just got mine a while ago, so maybe I'll do that," said Dubois.
Although the testing machine will bear a name of his choosing, the much-needed medical equipment will be, he noted, the result of a huge team effort.
"To know this machine will provide a big assist in the fight against COVID-19 is something everyone involved in the Virtual 5K can be proud of. I can't thank everyone enough."
---
Sign up for the Force Network Fund 5K here and to donate click here!