A little rain couldn't dampen Cam's Carnival
When you host a charity event, there are certain things that are far beyond your control. Just ask Cam and Natalie Atkinson.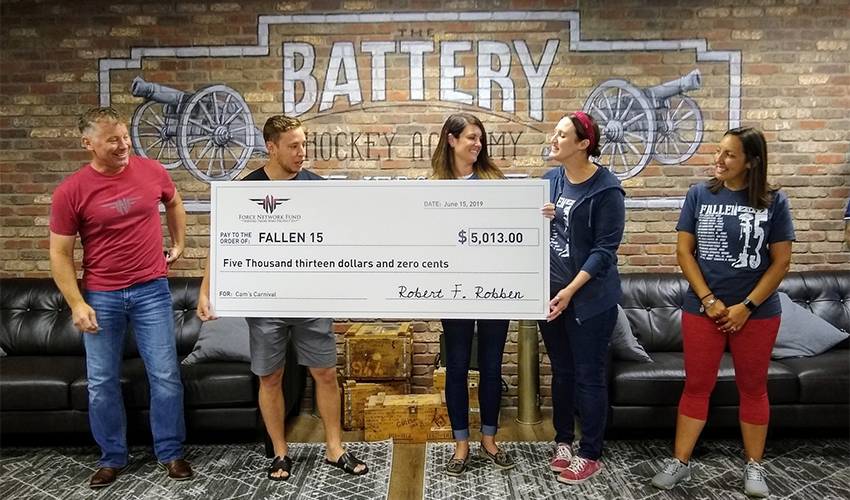 Not even the weather could rain on this carnival.
When you host a charity event, there are certain things that are far beyond your control. Just ask Cam and Natalie Atkinson.
The Columbus right wing recently hosted Cam's Carnival at The Battery Hockey Academy in Plain City, Ohio, a community event that also helped celebrate the forward's 30th birthday.
While the weather didn't cooperate, the charity endeavor was picture-perfect in every other way.
"It started to rain, of course, as we were driving up," said Natalie. "But we were so impressed with the turnout, regardless of the weather. The volunteers, the fans who came and gave their support, other players – it was really nice."
The day included an NHL 19 challenge featuring gamer and Blue Jackets fan The Nasher, a cornhole tournament with Columbus players, celebrity guests, a raffle, food, music and a dunk tank.
"We had a great turnout and the kids had a lot of fun," said Cam. "It turned out perfectly. A bunch of kids got to dunk me in the dunk tank, which I think was the highlight of their day. The water was cold, but it was for a good cause. The event, it's something we are going to do on a regular basis."
Atkinson, part owner of The Battery, a hockey training facility just outside of Columbus, is also one of the driving forces behind Force Network Fund, an initiative that raises money and awareness to support military and first responder causes.
Monies raised from the carnival went to a pair of Ohio organizations, namely, Operation Military Kids of Ohio, and The Fallen 15.
Operation Military Kids of Ohio supports the youth of military families throughout the deployment cycle. The Fallen 15 is a Columbus-based nonprofit created to honour those who made the ultimate sacrifice in Iraq and Afghanistan.
"I got to meet some of the women from The Fallen 15 and I don't know how they do it, how they move on after losing a loved one," said Natalie. "Cam's cousin was deployed on Wednesday to Afghanistan. His wife is pregnant with a little boy… it just hit close to home for us this year."
"My uncle and I, when we started the Force Network Fund, we wanted to give back to 13 different charities around the U.S. that involved first responders and military personnel," noted Cam. "We wanted to do something a little bit different this year and give back to two local charities that started in Columbus. To see the wives and kids speaking about losing a husband and a dad, it definitely puts everything into perspective."
The large turnout didn't come as a surprise to the couple.
"Not at all," offered Natalie. "The hockey community is the best of any sports league, I think. It's just so close. Everyone supports one another. You see that here in Columbus. The fans are amazing. It's such a great place for us to be."
And the carnival was a great way to recognize a milestone occasion.
"Well, I still got him a gift," Natalie said with a laugh. "But it was such a wonderful way to celebrate that day. He wanted to be with the community and help others."
The Connecticut-born forward, who has skated in 527 regular season NHL games, was quick to reciprocate the praise.
"She's been a rock star from the get-go," said Cam. "Having a young son [Declan], it's a 24/7 job. Without her support, whether it's during the season or at this event, things wouldn't go as smoothly as they do. She's the rock of the family."
And the Atkinsons are, without a doubt, beloved pillars of the Columbus community.