TLA finalist spotlight: Artemi Panarin
Ryan Strome is hardly surprised to see his fun-loving teammate up for some serious hockey hardware.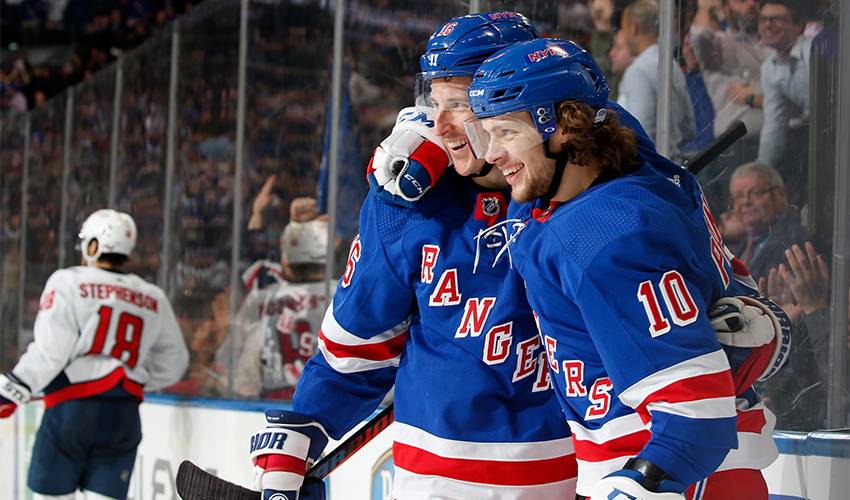 Feature photo: Getty Images
---
Ryan Strome is hardly surprised to see his fun-loving teammate up for some serious hockey hardware.
When Artemi Panarin was announced as one of the three finalists for this season's Ted Lindsay Award (TLA), presented annually to "the most outstanding player in the NHL", as voted by fellow NHLPA members – Strome was understandably thrilled with the news.
Panarin is seeking his first TLA alongside fellow finalists Leon Draisaitl of the Edmonton Oilers and Nathan MacKinnon of the Colorado Avalanche.
"His enthusiasm really comes to mind," said Strome of the 28-year-old New York Rangers forward. "He's got a great personality, a very happy-go-lucky person. A love for the game is also something you associate with him. He loves to score, but you see first-hand, just how hard he works. He doesn't have the typical way of working hard – he works on his own game and does quirky little things in practice – but he knows what he needs to do to be successful."

The numbers back up his approach.
Panarin played in 69 of New York's 70 regular-season games and he helped lead the Rangers to a place in the Qualifying Round after tying for the fifth-most standings points (37) since January 1.
He led all NHL players in even-strength points (71), tied for second in assists (63), tied for third in points (95) and placed third in points per game (1.38). He twice recorded point streaks of at least 12 games in 2019-20 (19 points in 12 GP, October 24-November 20; 19 points in 13 GP, February 7-March 1).
Beyond the lofty totals is a player constantly working at his craft, a driven competitor always seeking ways to gain an edge on the competition.
"He understands what he needs to do and the way he has to play, and he works hard in practice," praised Strome. "He hones his skills all the time."
It didn't take Strome much time to realize Panarin, who won the Calder Trophy as a member of the Chicago Blackhawks in 2016, was a special player.
"I think what really struck me was the talent and the confidence he had after signing his [free agent] contract," said Strome, of the left wing who inked a seven-year contract with the Rangers July 1, 2019. "I just like the way he came in. The first couple of skates, you noticed him. He put his head down, did his thing, worked hard, and did the drills to 100 per cent of his ability. He wanted to be part of the team, and as the season went on, you saw the character that he had. Day in and day out, he brought that work ethic, and that's what good players do. That's why he's nominated for the awards he is, like the Ted Lindsay. He's very deserving, obviously."
Strome, who had an excellent season of his own, won't try to emulate Panarin's effusive goal celebrations, but he is a huge fan of his teammate's post-goal leg kicks.
"He loves scoring. He's a really fun guy to be around. Just getting to play with him, having him push me every day to get better, to challenge me, to have that success with him – all of that was super fun for me to ride shotgun with him. He definitely has that contagious energy that rubs off on everybody, myself included."
For as much as Panarin takes great delight in turning the red light on, those individual goals are always done with a purpose.
"His compete level – I know that's a term that gets thrown around quite a bit – is designed to help the team win and be successful. When you sign a guy who you don't really know that well, you're not sure what to expect of him. You see him come in, watch that excitement he has when he scores goals, but realize the work ethic, competing for pucks, all those things that leaders do day in and day out – that all trickles down to the younger players. We're very fortunate to have those types of players on our team. I think that's what really helped make our team successful in the regular season. Hopefully, we can continue to build on that."
Having talents like Panarin in the fold will help boost those goals.
"Pretty impressive guy, to be honest with you," said Strome. "It's a real treat seeing a guy like that every day."
Panarin, the first Rangers player to be voted as a finalist since Henrik Lundqvist (2011-12), is looking to become the first Rangers recipient in 14 years (Jaromir Jagr in 2005-06).