2019-20 Ted Lindsay Award finalists: Draisaitl, MacKinnnon, Panarin
The NHLPA has announced the three finalists for the 2019-20 Ted Lindsay Award are forwards Leon Draisaitl, Nathan MacKinnon and Artemi Panarin.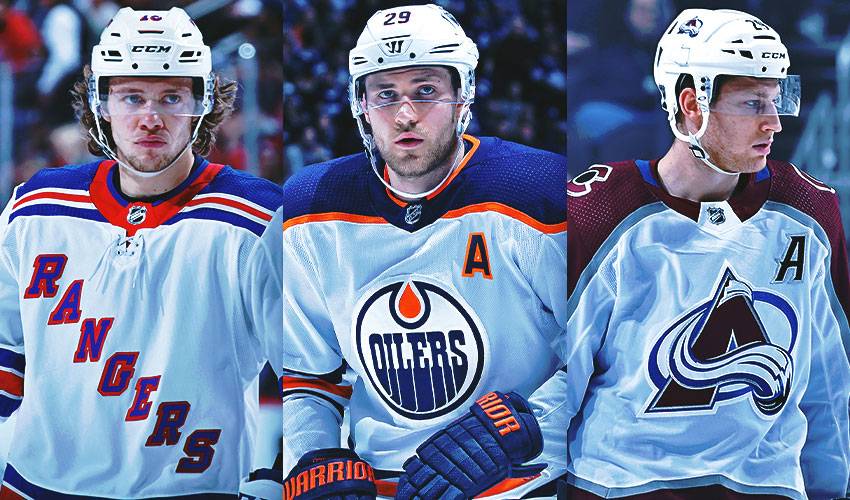 2019-20 TED LINDSAY AWARD FINALISTS:
DRAISAITL, MACKINNON AND PANARIN
…Top three vote-getters – from Germany, Canada and Russia, respectively – seeking first TLA
---
TORONTO (July 14, 2020) – The National Hockey League Players' Association (NHLPA) announced today the three finalists for the 2019-20 Ted Lindsay Award (TLA) are forwards Leon Draisaitl of the Edmonton Oilers, Nathan MacKinnon of the Colorado Avalanche and Artemi Panarin of the New York Rangers. The TLA is presented annually "to the most outstanding player in the NHL," as voted by fellow members of the NHLPA.
Each player is seeking his first TLA honour. MacKinnon is a TLA finalist for a second time (also 2017-18), while Draisaitl and Panarin are both first-time finalists for the award. All three players led their respective teams in scoring this season while helping reach the field of teams scheduled to return to play this summer.
The 2019-20 TLA recipient will be announced during the Conference Finals (exact date TBD). Formerly known as the Lester B. Pearson Award, the TLA honours its namesake and NHLPA pioneer, Ted Lindsay.
The three TLA finalists received the most votes from their fellow players based on their 2019-20 regular-season campaigns, and are listed in alphabetical order as follows:
Leon Draisaitl, Edmonton Oilers
Draisaitl played in all 71 of Edmonton's regular-season games as he helped lead the Oilers to the fifth-best points percentage in the Western Conference. The 24-year-old forward of Germany (Cologne, North Rhine-Westphalia) led the NHL in points per game (1.55), assists (67), power-play points (44) and average ice time among forwards (22:37), while he tied for first in game-winning goals (10). Draisaitl topped all scorers with 110 points – the first German-born player to win the Art Ross Trophy. He also finished second in both even-strength points (66) and power-play goals (16), and he placed fourth in goals (43) on the season. Draisaitl is looking to become the first German recipient of the TLA, and follow teammate Connor McDavid's back-to-back awards (2017-18, 2018-19).
Nathan MacKinnon, Colorado Avalanche
MacKinnon played in 69 of Colorado's 70 regular-season games to help the Avalanche secure the second-best regular-season points percentage in the Western Conference. The 24-year-old forward of Canada (Halifax, Nova Scotia) paced all NHL players in shots on goal (318). His 93 points ranked fifth in league scoring, 43 points ahead of his closest teammate. MacKinnon placed third in even-strength points (62), fourth in power-play points (31) and tied for fifth in points per game (1.35). A model of offensive consistency, he has scored at least 35 goals and 90 points while also recording exactly 58 assists for three seasons in a row. Now a two-time TLA finalist, MacKinnon looks to join Joe Sakic (2000-01) as the second Avalanche player to receive the award.
Artemi Panarin, New York Rangers
Panarin played in 69 of New York's 70 regular-season games while he helped lead the Rangers to a place in the Qualifying Round after tying for the fifth-most standings points (37) since Jan. 1. The 28-year-old forward of Russia (Korkino, Chelyabinsk Oblast) led all NHL players in even-strength points (71), tied for second in assists (63), tied for third in points (95 points) and placed third in points per game (1.38). He twice recorded point streaks of at least 12 games in 2019-20 (19 points in 12 GP, Oct. 24 – Nov. 20; 19 points in 13 GP, Feb. 7 – March 1). Panarin is the first Rangers player to be voted as a finalist since Henrik Lundqvist (2011-12), and he is looking to become the first Rangers recipient in 14 years (Jaromir Jagr in 2005-06).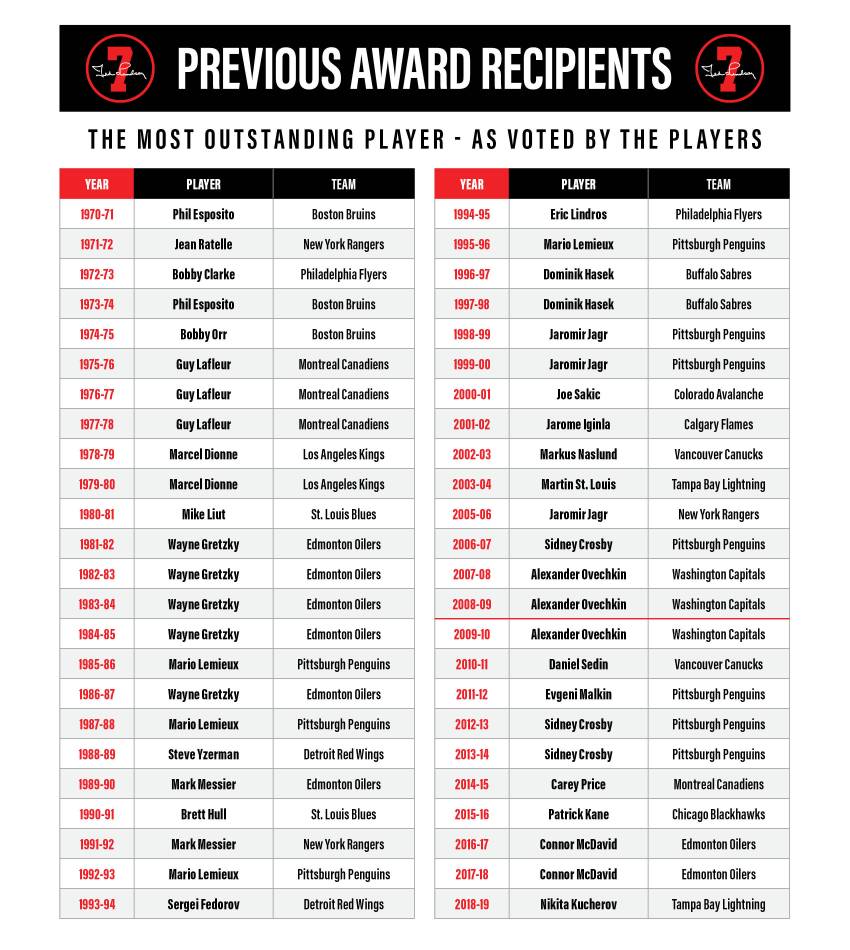 About the Ted Lindsay Award:
The Ted Lindsay Award (TLA) is unique as the only award voted on by the players themselves, carrying on the tradition established with the Lester B. Pearson Award in 1970-71. NHLPA members annually vote on the player they deem to be the most outstanding in the NHL regular season. Reintroduced in 2009-10, the TLA honours the legacy of its namesake – the late Ted Lindsay – an NHL All-Star forward known for his skill, tenacity, leadership and role in establishing the original Players' Association. For more information on the TLA, visit NHLPA.com. Join the conversation by using #TedLindsayAward.­­­­­­
-30-