Brouwer soaking in unique playoff experience
Though being away from his family will be tough, Troy Brouwer is soaking in the opportunity to win another Stanley Cup with his hockey family.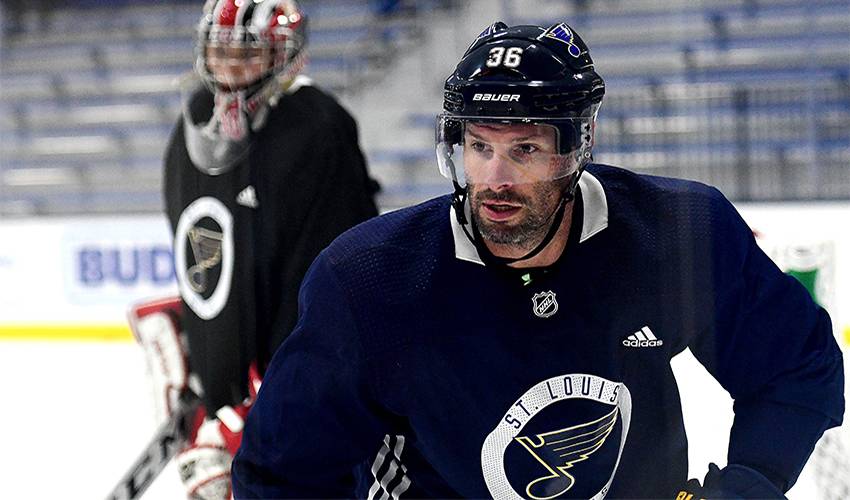 Feature photo: Getty Images
---
Four-year-old Cade Brouwer didn't want his dad to leave – that was until a compromise was reached.
Troy Brouwer knew the day was coming, and he knew it wasn't going to be an easy one.
When the time came for the NHL veteran to head to Edmonton in preparation for the resumption of the 2019-20 season, the reaction from those within his home, especially from his young son, was just what he had anticipated.
"Cade said, 'Dad I don't want you to go.' I thought to myself, 'Okay… I don't know quite how to handle this.' And then he looked at me and said, 'Are you going to win a Stanley Cup?' I told him that I'm going to try my best. He said, 'Okay, you can leave then.'
No pressure there.
"No kidding, eh? I know it was tough on them to see me leave. It was tough on me too."
When Brouwer arrived in his temporary home in Edmonton, he was pleasantly surprised to find a few things that put an immediate smile on his face.
On his bedside table was a photo of his wife, Carmen, and another of the kids. There were also two cards from Kylie and Cade fashioned out of construction paper. Kylie's read "I love you dad to the moon and back" and Cade's was a hand-drawn creation bearing the message "Go Dad, I love you."
"It means a lot," said Brouwer, who signed as a free agent with St. Louis last November. "It's tough to leave the kids. Kylie, who is seven, she understands. Cade, he knows I play hockey and he comes to the rink with me all of the time, skates on the ice with the boys after practices – he loves hockey. For them, knowing what I'm trying to do here, it makes it a little easier. To walk into the room, see their picture, see their drawings, and know they are supporting me – it does make it easier. It makes it more comfortable for me in knowing they're accepting of me trying to go and win a Stanley Cup."
It's been a rollercoaster season for the 34-year-old Brouwer.
He played in 13 regular-season games, averaging 9:28 of ice time per game while scoring one goal and fashioning a plus-1 rating.
Through a series of events, stints in the minors were averted.
"For me, this season, being sent down on a couple of occasions, you're in and out a little bit, so this chance to hang out with the guys has been even more special. It's when you really get to know guys rather than just having that one or two hours at the rink. You see them when they're relaxed and having fun."
You also get a front-row seat to see some of your teammates' previously unknown talents.
Twenty-four-year-old Sammy Blais is a perfect example.
"Ryan [veteran forward, O'Reilly] plays the guitar, although I've never heard him play," said Brouwer. "The only other one [when it comes to sharing music] would be Sammy, who loves to sing random songs at very random times. He doesn't know the words to a majority of the songs, but it doesn't stop him. This morning, he was singing "Ring of Fire," and he thought John Mayer sung it. So, that was fun. He had "John" sort of right, but that's about it."
Brouwer is relishing every moment, off-key ones and otherwise.
The veteran of 851 regular-season games and 102 playoff appearances isn't taking the experience for granted.
"Our player lounge is nice. It's been fun. Every night – it's akin to a presidential suite, something like that – there are two big TVs, a big couch and a nice big table where the boys get around, share some laughs, play some cards. It's just been nice to be with everybody and get back into that playoff setting where the guys hang out all day together. We'll start watching other games, play some cards and have some laughs. Those are the things – now that I'm getting older – that I'm going to miss the most when it comes to an end for me."
He's hoping these playoffs don't end any time soon.
Should St. Louis become the first team since Pittsburgh (2016-17) to win consecutive Stanley Cups, Brouwer would see his name etched on the iconic trophy for the second time.
He was a member of the Chicago Blackhawks team that won it all in 2010.
"I think they might have to put all of the significant others' names on there [the Cup] this time. With road trips, at least there's an end in sight. Now, for some, it could mean being away for three weeks or it could be the better part of two months. The unknown is the hard part for the ones at home."
Daily conversations with his family have eased some of the sting of being away from home for an indeterminate period of time.
"To have those pictures, the phone calls and the support – it's been encouraging. It makes it that much easier to come here when your family is pulling for you that much."
The tougher part is the challenge of winning hockey's greatest prize.
Brouwer is up for it.
"Any chance you get to play for the Cup, well, you don't need any motivation for that. You just come together as a team and everyone does everything they can to achieve that collective goal."