Teammates Talk On Alex Ovechkin
Troy Brouwer and Michael Latta give insight into what the hockey world should know about Alex Ovechkin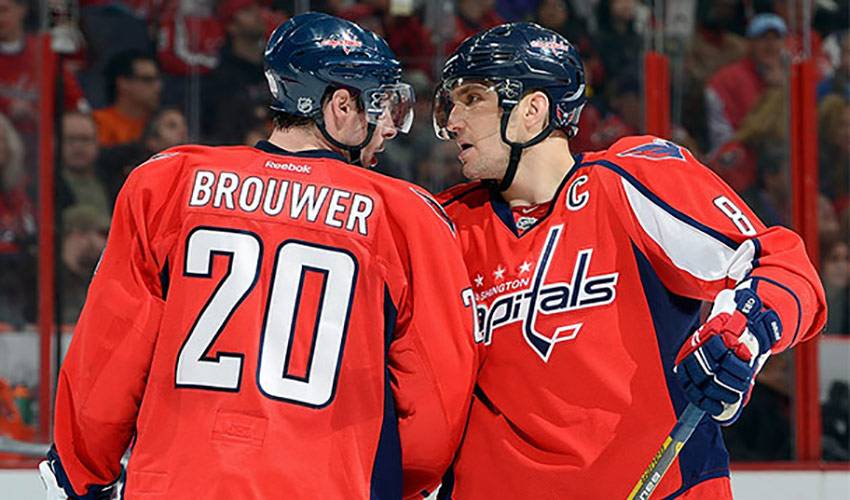 WITH TROY BROUWER & MICHAEL LATTA
He's one of the game's biggest personalities, and he recently became just the sixth player in NHL history to score at least 50 goals in a season six times. He's won the NHLPA's Ted Lindsay Award and Hart Trophy three times each, and is a six-time First Team All-Star.
Alex Ovechkin continues to show why he's one of the most elite offensive superstars to ever skate in the NHL. The 29-year-old captain of the Washington Capitals recently became the team's all-time leading goal scorer when he netted his 472nd tally.
The future Hall of Famer is in the midst of another huge season, leading the league in goals and closing in on the 900-point mark for his career.
Washington forwards Troy Brouwer @tbrouwer20) and Michael Latta (@Latta17) recently spoke to NHLPA.com about their teammate.
This is what they want the hockey world to know about @ovi8, in their own words.
TROY BROUWER
"When it comes to the seeing Alex's approach, I have learned not to take myself too seriously. He always likes to joke and keep it light. When you see how much scrutiny he gets some days and can shrug it off and keep playing, it is impressive. I've also learned that when you have a tough day or a tough game, you have to come to the rink the next day knowing it's a new day with new challenges."
"It's definitely better to have him on your team because he is a game changer. He has the ability to take over games and win them for his team."
"The one thing I would love the hockey world to know about Alex would be that he has the worst style ever! He only has a few suits and he wears a tuxedo shirt with one of his suits."
MICHAEL LATTA
"From being around Alex, I've learned to enjoy the game. It can be a lot in your first couple seasons, feeling the pressure to perform. You see why he performs at such a high level night in and night out because of the passion he has. He loves to score goals and he has a lot of fun doing it. He's a rare personality that has been really fun to be around and watch night in and night out."
"Aside from the fact that he's the best goal scorer hockey's seen in a long time, he hits like a truck. Not many superstars wear down other teams' top shutdown pair like a fourth line energy guy, but he does. Teams always have their top pairing out against him and he creates so much room for him and (Nicklas) Backstrom because no one wants to get caught with their head down while he's coming in on you. Any time you get that combination of scoring ability and physical presence, it's scary. He'll flatten you and a lot of the time, give you a minus, too."