After the Buzzer | Darnell Nurse
Darnell Nurse likes to do things by the book, at least sometimes, when he's at home or on the road.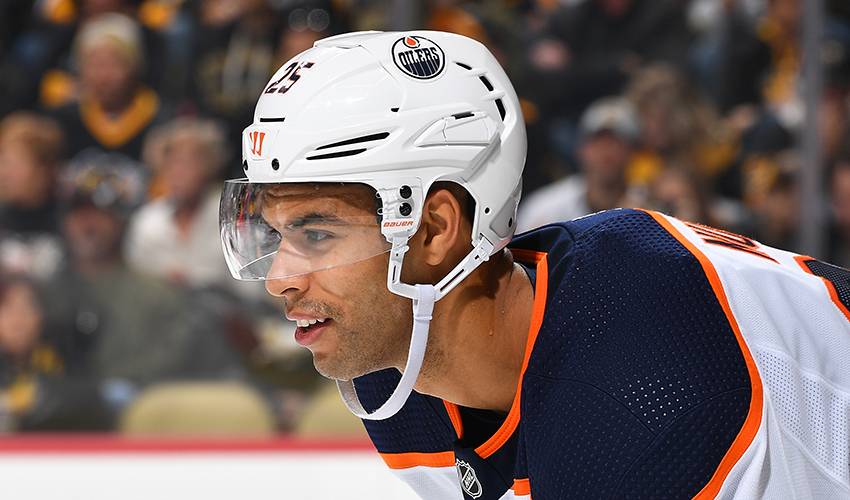 Feature photo: Getty Images.
---
Darnell Nurse likes to do things by the book, at least sometimes, when he's at home or on the road.
The Edmonton Oilers defenceman recently caught up with NHLPA.com and talked about life on the road, what TV series he can't get enough of, his love of hard-court action, and how his fantasy football team is faring.
TUNING IN
When it comes to turning on the tube, Nurse usually opts for sports action. But there's one show in particular that's caught his attention, a British series about a gangster family set in Birmingham, England, in 1919.
"On game day, I won't watch TV or anything, until after the game. Days in between games, it kind of just depends. If there's a good football, basketball or hockey game on, I'll watch bits and pieces of it. I'm a big Peaky Blinders fan. I watched that last road trip… I'm going to run out of those episodes really quickly. I'll fly through those. It really switches when it comes to what I watch."
BOOK IT
If he's not taking in an NHL, NFL or NBA game, Nurse enjoys picking up a good book to read. His latest favourite one 'provides kind of an instruction manual for the present day to help readers find their way around the 21st century, to understand it, and to focus on the really important questions of life.'
"There are a few books that I've been reading. I do that too. I'm reading 21 Lessons for the 21st Century by Yuval Noah Harari. He also wrote Sapiens. I read Sapiens – that was my big book last year. I like to read when I can. I really enjoy reading psych books. Thinking, Fast and Slow – that was a good book as well. I'm kind of different in the sense that I don't have a consistent, 'Down the road, I'll watch this show or that show.' It's more about what I'm feeling that day, which could be reading a book, watching a show, or watching a movie."
HE THE NORTH
Nurse enjoys any chance to hoop it up by watching his favourite basketball team in action. And when he's not watching the defending NBA champs, the 24-year-old will set his sights on a pair of Western Conference heavyweights.
"I'm a big Toronto Raptors fan. I like to watch them play. LeBron James, I just find him to be incredible, how each and every year he's the best player in the NBA. I also like to watch some of the Los Angeles Lakers games when they're on TV. Obviously, seeing what Kawhi Leonard did last year in Toronto makes me pretty interested in the Los Angeles Clippers. The time zone here in Edmonton is only an hour difference for the L.A. games, so you can actually watch some of the games."
BIG APPLE OF HIS EYE
When it comes to his favourite place to play on the road, Nurse opts for New York. From exploring the food scene, to walking around the city, the seventh overall draft pick in 2013 always has the trip circled on his calendar.
"I like New York because that trip is usually about five or six days, so we end being central, somewhere in Manhattan, which allows you to go around the city. One time, we didn't have a morning skate, so we were able to walk around the financial district before one of the games. It's just a really cool place to visit. There's always something interesting to see or do."
FANTASY FLOP?
Although his NFL fantasy team was a dud in 2018-19, Nurse is hoping to get back on the winning track this year and take all the spoils and with it, bragging rights amongst his teammates.
"Last year, my fantasy NFL team was horrendous. I might be the comeback gem of the year, though. My team has been pretty solid this time. We'll see how it finishes off. Last year, I had Christian McCaffrey (Carolina Panthers) and he was the only good player I had. This year, it's been better. I've had weeks where my defence has had 30 points and I've had weeks my defence has had negative one. I guess it depends on the week with my squad."
PARTING SHOT
"You can always go to really good restaurants every night and they don't necessarily have to be the same type of food. There are so many great places to choose from. New York would definitely be my favourite. We're kind of spoiled being in Edmonton when we do that trip – it's a five-day thing, so you get to enjoy the whole city." – Nurse, on why New York gets his five-star road trip rating.