Suzuki feeling the love from teammates, fans
Come this Christmas, Jonathan Drouin might be getting a Christmas gift from Santa Suzuki.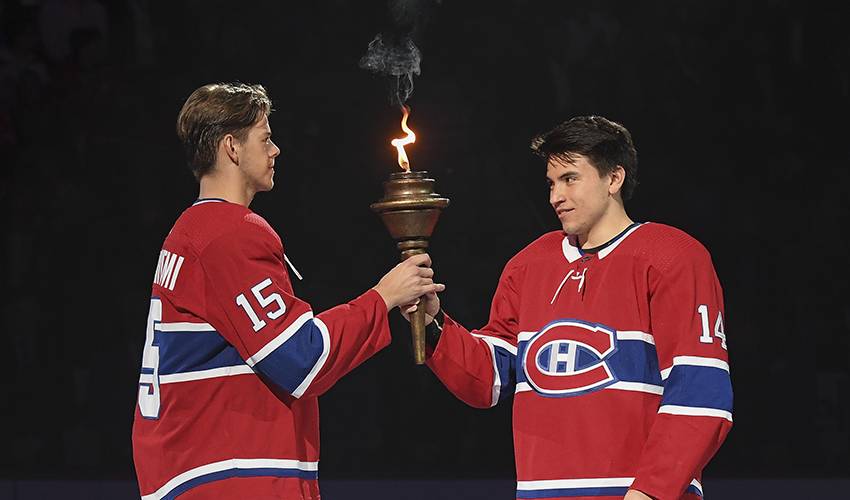 Feature photo: Getty Images.
---
Come this Christmas, Jonathan Drouin might be getting a Christmas gift from Santa Suzuki.
It was a gesture – from a more seasoned NHL player to a fresh-faced rookie – the recipient still hasn't forgotten about.
The Montreal Canadiens game against the Maple Leafs October 5 represented the second of Suzuki's career, a game close to his hometown of London, Ontario. The 20-year-old purchased four tickets on his own, but was looking to bring six family members to Scotiabank Arena.
When Drouin, now in his sixth big league season, found out, he bought a pair of tickets for Suzuki to make sure everyone on the forward's list was taken care of.
It was, among many things, a great example of the bond that forms between new teammates.
"That meant a lot, for sure," Suzuki told NHLPA.com. "He didn't have to do that, but he went out of his way to help me out and help my family out. It was very nice of him. My family loved that gesture."
Drouin isn't the only one has helped the former Ontario Hockey League standout fit in and feel comfortable playing on the NHL stage.
Several other Canadiens players have also offered their time and support to Suzuki.
"Max [Domi] and [Phillip] Danault, and so many guys I look up to – it's been really easy for me to go and talk about anything. They are always trying to help me out on the ice, too. It's awesome. I sit beside Phil Danault in the room, and he's always chatting about his past experiences, even sharing stuff away from the rink, where to eat, places to go in the city, things like that. It's been a lot of fun getting to know them, and they've been a big help to me."
Suzuki, who recently moved into a condo in downtown Montreal, is enjoying the chance to explore the city's food scene.
"We've been out to a few Italian places, and they're really good," said the 13th overall selection of the Vegas Golden Knights who was dealt to the Canadiens prior to the 2018-19 season. "It's been great to just get out and find out a little more about the city, and go to some really interesting places."
The 5-foot-11, 201-pound forward's biggest focus is on adapting to life on NHL ice.
Less than 10 games into his career – Suzuki tallied his first point, an assist on October 9 against the Buffalo Sabres – he's challenged himself to not overthink the game, an approach that's kept him more relaxed ahead of puck drop.
"I'm trying not to think too far ahead," he admitted. "I'm trying to earn my ice time and my spot every day. The first games have been hard, trying to adapt to the NHL style. I definitely have goals for myself that I want to try and reach."
The team's first home game of the season, October 10 against an Original Six rival Detroit Red Wings, was an eye-opening experience for Suzuki.
And it started a few minutes before the opening face-off.
"I was getting chills standing in the middle of the ice hearing the crowd roar every single time a player skated out," he recalled. "Just standing there, holding the torch at centre ice… it's definitely something I will never forget. Even when Carey [Price] came out, the whole place went nuts. It gave me chills all through my body."
Suzuki remains grateful for the backing he continues to get from his teammates. Drouin can likely expect to find something extra under his tree this Christmas this year.
"I told him I'd get him back somehow," said Suzuki. "Christmas, or something. I'm going to try and think of something nice for him."
Just don't expect Suzuki's token of appreciation to come in the form of hockey tickets.
That's already been covered.