Hutton sets gold standard with new mask
Carter Hutton's latest look has set the gold standard for goalie masks.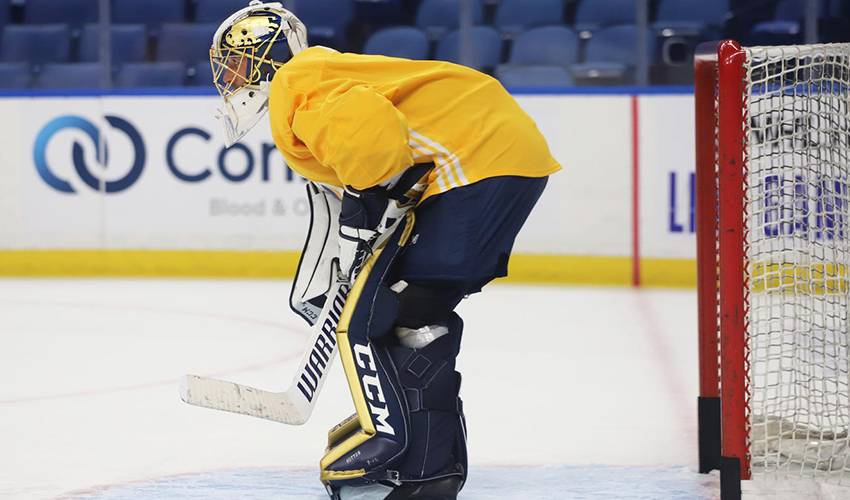 Carter Hutton's latest look has set the gold standard for goalie masks.
With the Buffalo Sabres set to embark on their 50th anniversary this season, the 33-year-old Hutton wanted to get in on the celebration with his own personal tribute.
His contribution comes in the form of a hockey work of art, specifically, a mask created by Jesse Acciacca of Jesse's Custom Design, which is highlighted by a stunning 23 karat gilded gold leaf.
Hutton, who starred at UMass-Lowell prior to his NHL career, is thrilled with the finish product that will serve as an ideal companion to the team's special golden anniversary jerseys in 2019-20.
"I think the cleanness of it stands out, it's not too busy," noted Hutton as to the mask's most notable feature. "Jesse, he wanted to keep it classic, but also have a little flair to it. I really love the gold, the connection to the 50th anniversary and the jersey. It's not too busy, but it's got enough stuff going on that it brings the gold to life. The gold leaf he used really pops. I think it's going to look even better when it's under the bright lights of an NHL arena."
Acciacca, based in Wilmington, Massachusetts, has worked with Hutton before.
On this occasion, the backstopper gave the artist free reign on coming up with the design.
"Carter is great," said Acciacca. "He usually lets me do my thing. He likes aggressive styles, usually. The first mask was based off a prior mask I did for him when he was with the Blackhawks… half-cyborg, half-chief. The anniversary one, he left it up to me. I wanted to keep it clean and simple to be opposite of his regular game mask. So, we kept it simple and let the gold leaf do its work, really pop off the mask and complement the new jersey look."
The mask is already receiving lots of rave reviews throughout the hockey world and social media.
"It's got lot of great feedback and I have to give Jesse all the credit," said Hutton. "He came up with the design, and I just helped with the back plate. I usually do the back plate, where I have designs for my family and other personal things. Normally, we do a more intense design for my regular season helmet, but for this one, I think he knocked out of the park with the classic feel, how clean it is, and with that great gold feature."
Hutton's back plate is equally impressive, albeit much different than the front and side designs.
The undrafted backstopper, who signed a three-year unrestricted free agent deal with the Sabres in 2018, took some time to mull over what he wanted to be featured, and then sat down with Acciacca to plan out the back plate.
"It's different things, each symbol represents someone in my family – my wife, my kids, and my dog. It's something different. In years past, I've had a fish, for a bunch of buddies back home. We do a fishing tournament, which is a tradition of ours. This year, I wanted to keep it simple, especially with the classic jersey. I tried to have my touch on it, but make it more about the Sabres. I think Jesse did a great job of having my touches on there – you play for your family and your friends – but at the same time, you want to honour the Sabres, too."
The entire process, from initial discussions and ideas, to early sketches and drawings, to the finished product, was an eye-opening experience for Hutton.
He couldn't be happier with the final product.
"The sketches and the pre-drawings, they never do it justice. Even pictures aren't the same until you see it in person, and the way it pops. Jesse's been painting my helmets for a long time, since I was in college. We have a very good trust factor. I let him run with it, and he definitely does a great job."
Hutton views the mask as far more than just a fashion statement.
"It's something you take pride in," said the Ontario native. "You want to look good too, but of course, it's all about stopping the puck. But those little things also help. These are some important years in my life. Obviously, you enjoy playing in the NHL, and these are some of the memories you get to keep with you. I have every helmet since I've played. I have a nice collection back at my house. It's something you look back on – having those individual helmets are pretty cool keepsakes."