My Top 5 | Casey Mittelstadt
The Buffalo Sabres will don special 50th anniversary jerseys this season, and you can count 20-year-old Mittelstadt as a big fan of the new look.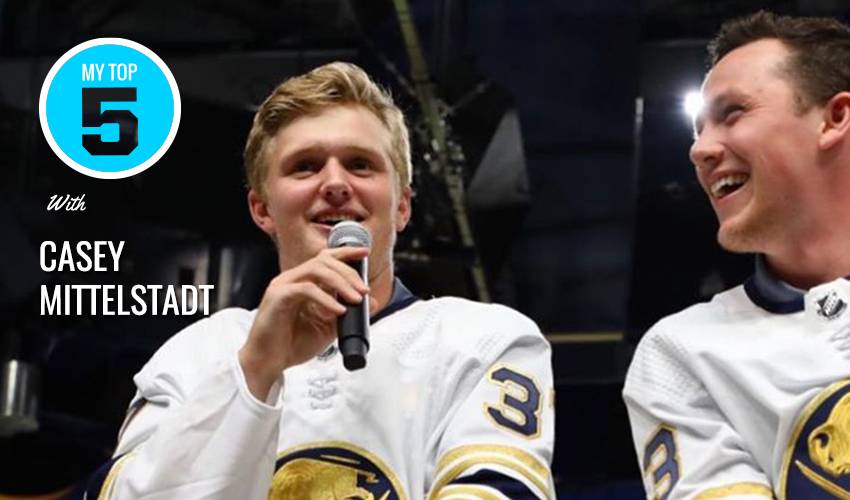 The players of the Buffalo Sabres will make their own fashion statement this season when they don the team's special 50th anniversary jerseys.
In recognition of The Golden Season, Buffalo will take to the ice for 13 home games wearing a commemorative jersey that pays homage to the past and celebrates 50 years of NHL hockey in the city.
You can count the 20-year-old Mittelstadt, who hails from Eden Prairie, Minnesota, as a big fan of the new look.
The eighth overall pick of the Sabres in 2017 dropped by NHLPA.com and gave us his Top 5 favourite sports jerseys of all time.
Mittelstadt's top jersey picks
---
1. Good as gold
"I love those new Sabres ones. They're really sharp. I like the balance. The gold is really nice, but there's not too much of it, so it doesn't look too shiny. I like the navy too. I've always liked white jerseys, so it's nice as well."
2. Twin spin
"I've been watching the Minnesota Twins a lot this year, and I really love their red jerseys. They are having a good year and I've seen a lot of games, and those jerseys really stand out."
3. March of the Penguins
"When I was younger, I remember the Pittsburgh Penguins wearing those baby blue jerseys for the Winter Classic. I like those ones a lot."
4. La La land
"The Los Angeles Lakers wore them – I can't remember if it was this year or the year before – and they were the old Minneapolis Lakers jerseys. They were light blue. I love those ones. I have a LeBron James jersey in that."
5. Sabre time again
"I'll stay on the Sabres. I love their black and red jerseys back in the late 1990s and 2000s. I really liked those ones. My high school hockey team was black and red, so those type of jerseys are always one my favourites."