Mittelstadt strikes off-season balance in hopes of delivering for Sabres
Casey Mittelstadt was in a hockey state of mind in the State of Hockey this summer.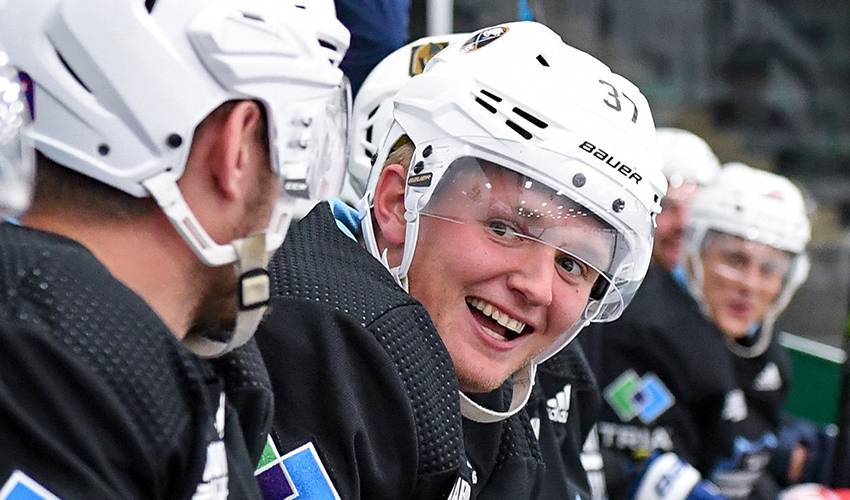 Photo courtesy of Temo Photo/Da Beauty League
---
Casey Mittelstadt was in a hockey state of mind in the State of Hockey.
There was a Cup on the line – not of the Stanley variety – but the summer gathering in Minnesota, known as Da Beauty League (DBL), still brought out the competitive side in the NHL players who skated in it.
For the 20-year-old Mittelstadt, set to start his second full-time big league campaign, it was the ideal way to prep for the upcoming 2019-20 NHL season.
"I think getting out there and being able to play in a game was the nicest part," said the Buffalo Sabres forward. "Especially as it [DBL] goes on, and you get into the playoffs, the intensity level and the pace go up. All of it gets you into that competitive mindset. I really like doing it. It's a lot of fun, and I'm sure I'll do it again next year."
Established four years ago, DBL is a summer league based in Minnesota for professional and college hockey players. Six teams play an eight-game regular season schedule and a two-game post-season schedule, with the John Scott Cup awarded to the winners.
The four-on-four league takes place at Braemar Arena in Edina.
"I loved it," said Mittelstadt, the eighth overall pick of the Sabres in 2017. "It's nice to see the guys, the people you played with, all the guys from Minnesota – it's good to get together, the hockey is great, and it's a lot of fun."
Mittelstadt, who was born in Edina, but grew up in Eden Prairie, Minnesota, will look to emulate some of his personal highlights from Da Beauty League when the puck drops on the new NHL season.
The centreman, who was named best forward for Team USA's bronze medal-winning side at the 2018 World Junior Championship in Buffalo, netted a DBL hat trick on August 14, with the third tally getting some love on Twitter.
"It's nice for the confidence," offered Mittelstadt, who was voted Tournament MVP. "It's also good to get you in that game mode approach. Our team started out bad, and the guys kind of got mad about it. You want to win and you want to play well. You get that good skate in, and a good sweat going. And then you start thinking about that first NHL game coming up."
A big key for a successful NHL season, noted Mittelstadt, is in finding the right balance during the off-season.
"You're obviously going 100 percent hockey the whole time during the year, so finding something to take your mind away from that for a bit is important. For me, it's pretty easy… I like to play golf in the summer. That's my getaway."
When Mittelstadt does turn his thoughts to the 2019-20 campaign, the six-foot-one, 202-pounder focuses on doing his part to help the Sabres get back into the playoff picture.
He likes what he sees in the new-look Eastern Conference club.
"There have been a lot of changes in Buffalo, but it's all good. Personally, I'd like to improve my numbers from last year. But I'm not one to put numbers down on paper. As a team, it's all about finding that consistency, and maintaining that throughout the whole year."
Mittelstadt's teammates, including goaltender Carter Hutton, appreciate what he delivers – both on and off the ice.
"He orders Chipotle for the guys before road trips and picks it up," said Hutton with a laugh. "He is a highly skilled player and sees the ice well. As a teammate, he has a great attitude, always has a smile on his face and is laughing. He's a really good person to be around during the grind of an NHL season."