Lindgren, Mittelstadt having a beauty of an offseason
There's no surer sign that a new NHL season is around the corner than the return of Da Beauty League – just ask Ryan Lindgren or Casey Mittelstadt.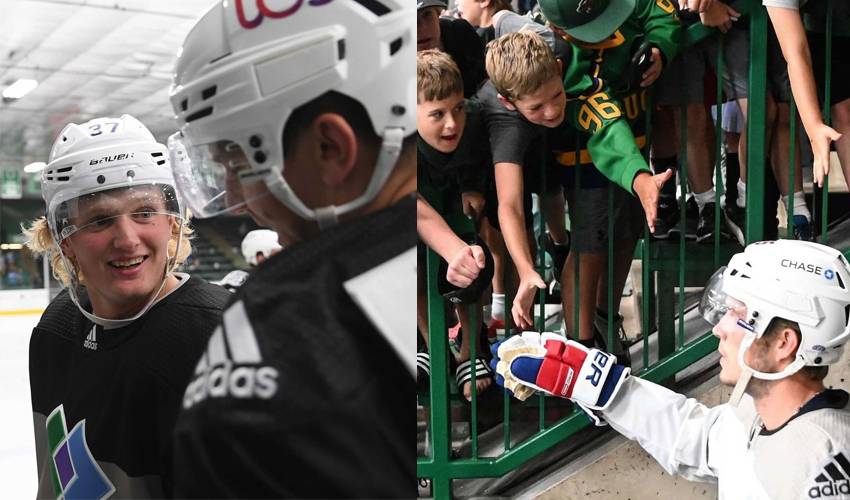 Feature Photos: TeMo Photo
---
Ryan Lindgren and Casey Mittelstadt are in a hockey state of mind with Da Beauty League (DBL) in the midst of another season.
The league that features NHL and collegiate stars playing four-on-four games with high-energy action for the chance to play for a one-of-a-kind championship trophy continues to be a big hit.
Established in 2015, the Minnesota-based league brings players together in front of local fans for a tournament that culminates with the winning team hoisting the John Scott Cup, named in honour of the 2016 NHL All-Star Game MVP.
After the league was put on the shelf last year due to COVID-19, DBL has returned to the ice at Braemar Arena in Edina. Mittelstadt and Lindgren have been playing alongside familiar NHL names like Brock Nelson, Brock Boeser, K'Andre Miller, Derek Stepan, Nate Schmidt and Erik Haula, who have been taking part in the six-team league.
The summer staple tournament isn't just good fun, ticket sales are also in support of great initiatives such as the United Heroes League, Shine a Ligh7 Foundation, Hendrickson Foundation and Herb Brooks Foundation. On August 23, Minnesota Special Hockey was once again back in attendance with young athletes getting the chance to show their skill on the ice while making memories alongside some of their favourite athletes.
"It's always fun," said Mittelstadt, the eighth overall pick of the Buffalo Sabres in 2017. "It's a good skate, it's fun to see some fans in the building after everything that went on last year, and to catch up with some of the guys that you don't regularly get to see. With this league, you get to make new friends, get to know guys better and learn about their stories – that's one of things that makes the league so unique."
The puck dropped on the 2021 season on July 14, with teams playing once a week in July, and twice a week in August. The championship game is set for August 25 at 8 p.m. ET.
"The first couple weeks, it's where everyone is getting back into it," said the 22-year-old Mittelstadt. "But once you hit August, guys are skating hard and working hard, and the games get competitive. When you get towards the playoffs, guys want to make it. So, the games get really competitive and lower scoring."
Lindgren, one of the young stars of the New York Rangers defensive corps, doesn't need to look at the schedule to know what time of the DBL season it is.
"You can really see things getting more intense when the playoffs get closer. When it's late in the game and you're down a goal or two, guys are trying really hard and they're giving it their all."
Mittelstadt, who has played 155 NHL games, and Lindgren, with 116 NHL games on his stat sheet, see the DBL as the ideal launching pad into the upcoming 2021-22 NHL campaign. And not just because of the conditioning component the DBL affords the players.
"It really does help, especially the last few weeks when things gets a little more intense," said Mittelstadt, a native of Eden Prairie, Minnesota. "It really helps with your timing, when you have a guy chasing you, things like that. It helps with your game and gets you ready for the NHL season."
Lindgren, who hails from Burnsville, Minnesota, agrees.
"With training camp coming up, Da Beauty League is a great way to compete a little bit, get your game ready, and have some fun, too," said the 23-year-old. "It's perfect for all of us. "There are so many great players out there. It's great competition and it really helps you get ready for the year."
Both agree it's hard to decide who gets more out of the experience, the players or fans.
Consider it a tie.
"The arena is pretty full every night and it's a fairly small rink, so the noise echoes pretty good," offered Mittelstadt. "It's nice to people in the stands, hear that chatter, and see that excitement. It's just great to see the stands full on a Minnesota night in the summer. It shows how much people here love hockey. It shows the type of hockey culture we have here."
The fan excitement is on full display well after the final buzzer sounds for the last game of the night, and it's not an uncommon sight to see players and fans mingling outside of the rink.
"I have so much fun going there, just seeing everyone and hanging out with guys you haven't seen for a while," offered Lindgren. "The fans love it and it's great to see everyone outside of the arena after the games, enjoying everything about it. You get to sign some autographs and get some pictures taken. It's a lot of fun for the players and the fans."
And it's also an ideal reminder for players like Mittelstadt and Lindgren of just how special it is to call the place known as 'The State of Hockey' their home.
"It's amazing," said Mittelstadt. "You kind of get used to it growing up, looking up to those guys from Minnesota that made the NHL. It's fun to be a part of it and it's fun to get to go back home and be part of something like the DBL."
"You feel very fortunate to be part of the Minnesota hockey world," added Lindgren. "There's definitely something really special about it."