Dumoulin dog the ultimate companion
Brian Dumoulin and Kayla Ermold knew at some point their wedding would go to the dogs. But that's just the way they planned it.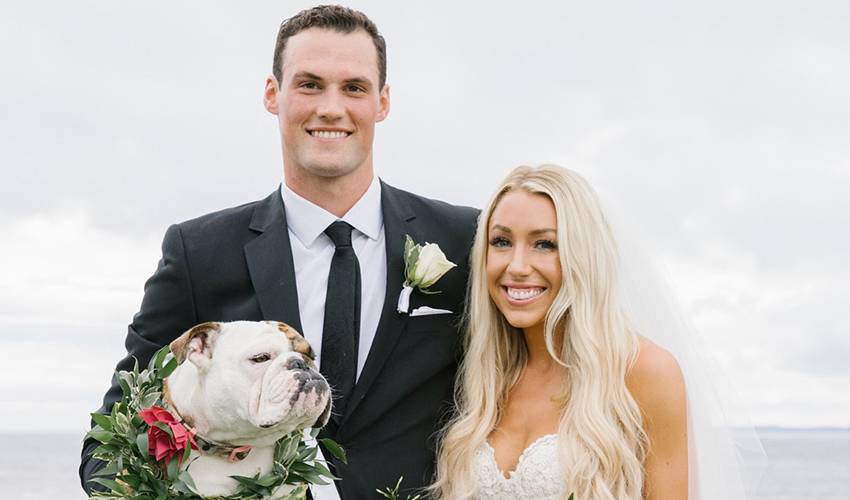 Brian Dumoulin and Kayla Ermold knew at some point their wedding would go to the dogs. But that's just the way they planned it.
It was a picture-perfect day to tie the knot in Kennebunkport, Maine last August, a day that brought out family, friends and some of Dumoulin's current and past Pittsburgh Penguins teammates, including Sidney Crosby, Justin Schultz, Ian Cole, Chris Kunitz, and Conor Sheary.
While all eyes were on the bride and groom, it was Roo, the couple's beloved dog, who attracted just as much attention for her contributions to the special moment.
The bulldog was a huge hit in her unofficial wedding party role.
"She walked down the aisle with my brother, actually," recalled Dumoulin. "We had our wedding outside. It was kind of a long walk to where we were getting married. She stopped for a pee in the middle of it. But she was a star. She lay down at that altar and just relaxed. We just wanted to her to be part of our day. She had a little flower necklace around her, so maybe she was a flower girl."
Roo has become a staple on Dumoulin's Instagram page. From Christmas photos to checking out a wine bottle with a familiar-looking face on the label, to just hanging out with her parents, Roo's pictures garner plenty of likes and comments.

The photos that make it on social media are a small fraction of the pictures the couple has taken since they welcomed Roo into their lives three years ago, August 22, 2016, to be exact.
Her birthday comes 18 days after the Dumoulins celebrated their first wedding anniversary.
"It was in October three years ago and I was on a road trip," started the 27-year-old blueliner. "Kayla sent me a picture of a dog that was on a website. We had been looking for a little while, but we hadn't found the right one. I think we were on Western Canada road trip. Kayla sent me pictures, and said, 'This one's perfect! Let's get her!' At first, I wished we could go see her – there's a breeder in Missouri. But we did it. I came home and Kayla had already picked up Roo at the airport. It was just amazing to coming home and see her there. It was pretty special. I still remember it. It was really cool.
"I've always wanted a bulldog," continued the two-time Stanley Cup winner [2016, 2017]. "I just like how they have that mean, tough face, but they are very relaxed and just love to cuddle. They definitely need a lot of attention, but they don't need a lot of big walks. They are just a great dog to have, especially living a hockey life, where we are travelling a lot and we're always on the go. She does great in cars and flies with us on the planes. She's a great traveller and a great companion."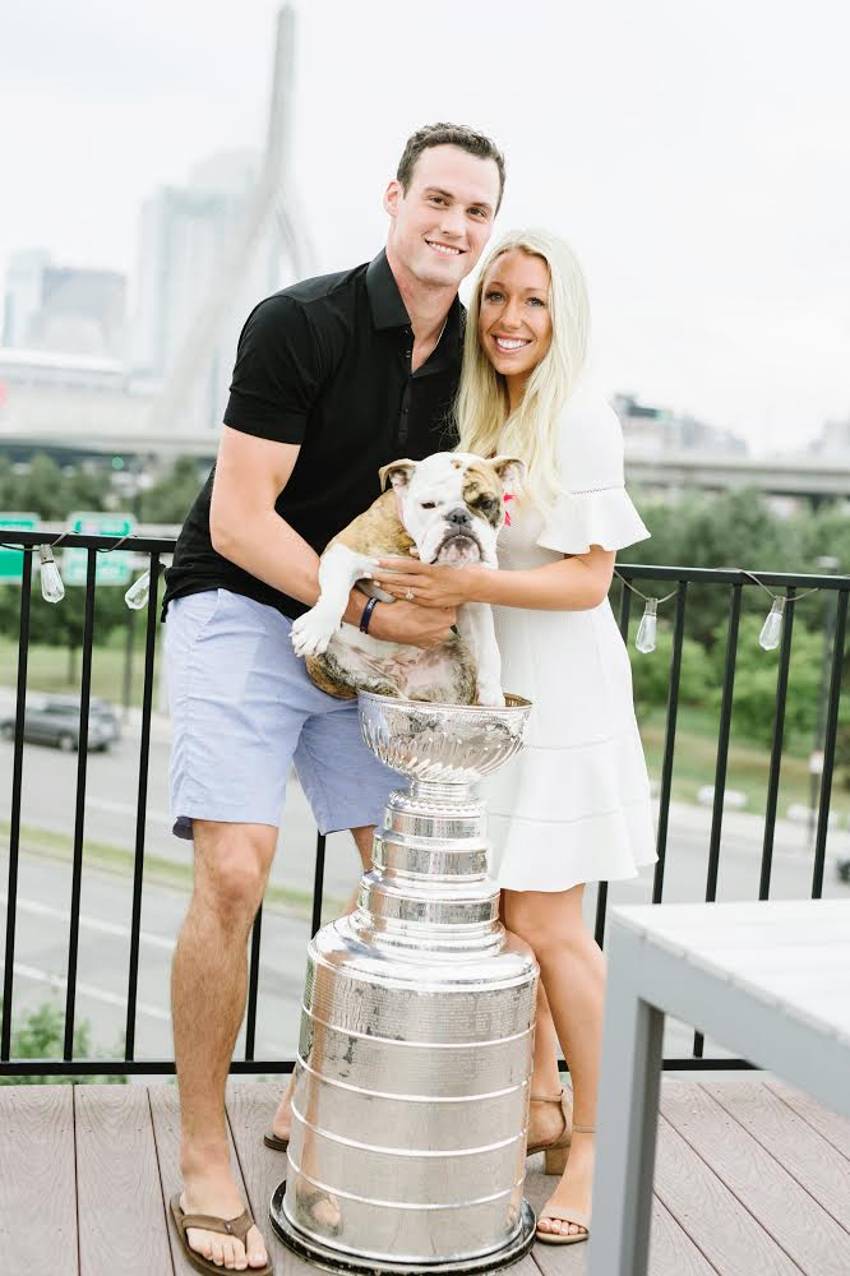 So, what's in a name?
"We didn't know if we wanted a boy or a girl, and we didn't care which one it would be. But if it was a boy, it was going to be Rufus, so it stemmed from that. We both thought it was pretty unique and cute. We both loved it."
For as long as he can remember, Dumoulin, who won an NCAA Championship with Boston College in 2012, wanted a bulldog.
Now that he has one, he couldn't be happier. Same for Roo.
"I just made a steak and of course she gets a few bites of it every time. She's a little spoiled, but she deserves it. Whenever we come, it's great to see how excited she is to see us. We're always happy to see her too."
With her birthday just two days away, what plans to Brian and Kayla have in store for Roo?
"If some of my teammates are in town, we'll try and get some of her dog friends together, something like that. For the most part, we'll just have a regular day. She doesn't like walking too much, so that's not likely to happen. We'll definitely get her some treats – she loves food and new toys. Pretty much any toy, she's got to have it."
As for what Dumoulin and his dog share in common, the veteran of 319 regular season NHL games has one that quickly comes to mind."
"She's just like a hockey player… she loves naps. She takes about two or three a day."