My Top 5 | Joel Edmundson
Buckle up, hockey fans. This week's edition of My Top 5 visits Stanley Cup Champion, Joel Edmundson.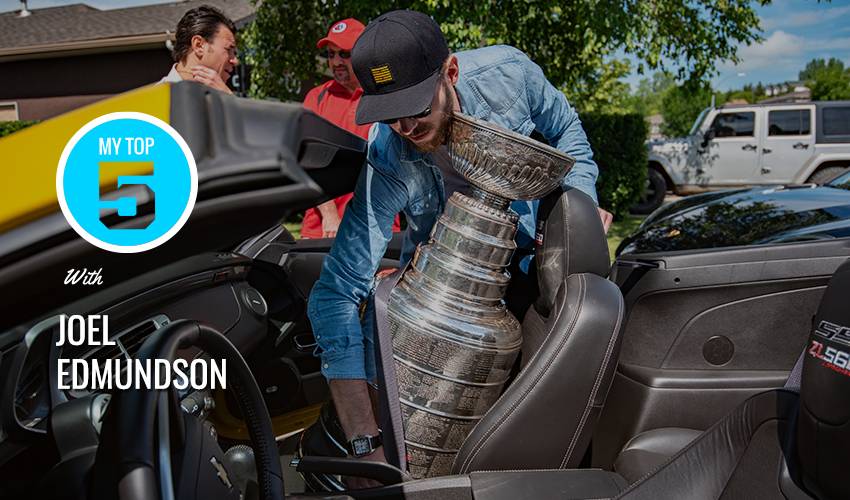 Buckle up, hockey fans. This week's edition of "My Top 5" visits Stanley Cup champion Joel Edmundson.
The defenceman, who hails from Brandon, Manitoba, got the most out of his day with hockey's iconic team trophy. From sharing it with fans, friends and family, to filling it full of a French-Canadian food favourite, Edmundson enjoyed every minute of his time with Stanley.
The 26-year-old even managed to take it for a road trip
"It's always been a dream of mine [to win the Cup]. We lost to San Jose in the conference finals [2015-16], but on those flights to San Jose, I'd think, 'We could actually win the Stanley Cup this year.' Then we lost, but it made me want it even more. We were dead last this year until about half way and then we came together as a team. We beat Winnipeg and Dallas and again I thought, 'Wow… we can do this whole thing.' And we did.
"It's something you could probably write a book or make a movie about. I would want to play myself. Might as well. You've got to start somewhere."
Edmundson's top moments with Stanley
---
1. Gravy on top
"I put some poutine in the Cup. I've always loved it… I think every Canadian does. It was the traditional one and it was from the only place in town that serves it. They took good care of me and it was pretty cool to do that."
2. Sharing the joy, part 1
"I took the Cup to the cancer centre in my hometown. I wanted to bring it there and share it with some people who are going through a tough time in their lives."
3. Sharing the joy, part 2
"It was really nice to share it with my family and close friends – people who I grew up with – on the day we had the Cup. It's pretty surreal sitting there looking at it. Everyone knows how hard you worked to get to that point. So to have that trophy sitting there and everyone's having a good time – it was a great night."
4. On display
"I opened it up to the public, which was about four hours. That was a really exciting moment, to be able to share it with hockey fans in my hometown. I took pictures with the fans and the Cup for about four hours. It was great. There were about 5,000 people and there were still a couple thousand left over."
5. Revved up
"I had a convertible, so I was driving around with the Stanley Cup in the passenger's seat throughout the town. People were stopping and taking pictures, honking their horns at me. I just thought, 'Why not?' So, I put it in the passenger's seat, buckled it up, and I had one of the Cup keepers with me – he was in the back seat. I made sure it wasn't going anywhere."